Implementing Your One-to-One Meeting Template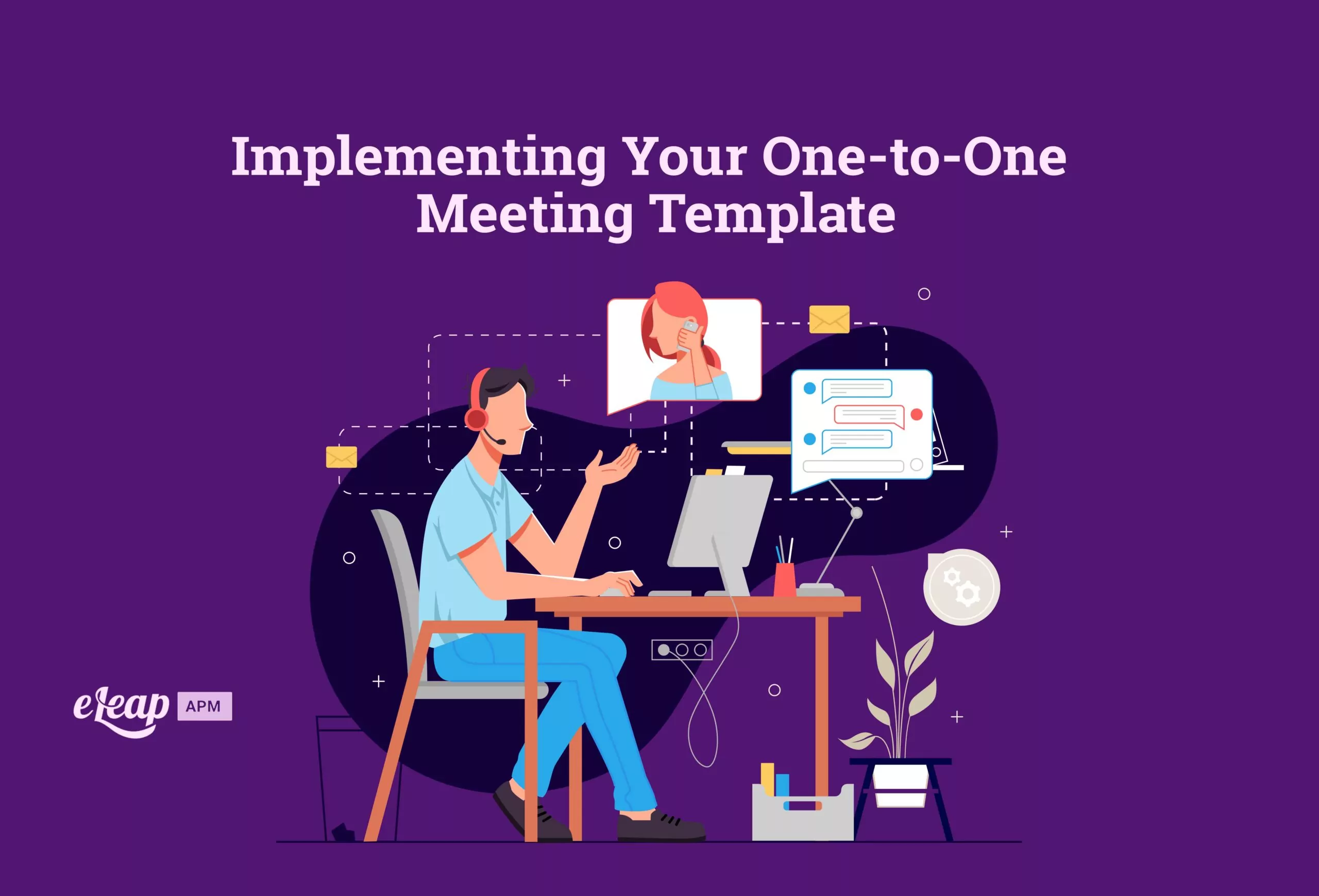 Now that you've introduced the concept of one-to-one meeting templates to your team and they've cascaded the information to their team members, it's time to put it into action. Understanding the need for one-on-meetings is just the tip of the iceberg. Knowing what to say and how to structure your meetings is just as important.
What is the Purpose of a One-to-One Meeting Template?
Managers and employees have the ability to interact outside of the actual production process during one-to-one sessions. During this time, team members may feel as though they are getting more time or attention, which may encourage them to bring up crucial issues that they might otherwise put on hold.
Additionally, it allows management the chance to truly connect with each worker on a personal basis. When done well, one-to-one conversations can be advantageous for everyone. However, ineffective one-to-one sessions could have the opposite impact. This is why it is essential to create and follow the one-to-one meeting template your team created.
Benefits of the One-to-One Meeting
Effective one-to-one meetings provide several advantages for staff members, managers, and the entire organization. Here are a few benefits that one-to-one meetings can provide:
Improved connections: Making time for coffee with a buddy every weekend strengthens your bond since you have set aside time to talk, exchange stories, and have a deeper understanding of one another. Your professional interactions may not be as intimate, but it still helps to meet routinely with staff members. These interactions give you the chance to know them better and set the tone for better communication and workplace culture.
Improved problem-solving abilities: Allowing personnel to voice their opinions and concerns sets the path for innovative problem solving that is supported by additional inputs and data. These one-to-one meetings can reveal problems that the leadership was unaware of or propose remedies that they had never considered.
Increase staff morale:  Morale and engagement are typically higher among employees when they feel that their thoughts are valued and heard. Morale can rise even further when leaders take action to solve problems identified in one-to-one meetings. By following the one-to-one meeting template, you can also track what strategies work best and strive for more activities in that category.
Supporting emerging talent: Regularly conversing with staff members enables leaders to identify individuals who are enthusiastic about the business, possess the requisite knowledge and expertise, or may one day show untapped potential for leadership or other positions.
Goal tracking: You can check in on goals, make plans with your team members to assure success with certain milestones, and support and coach individuals through those processes by holding regular meetings with them.
A chance to grow as a leader: One-to-one meetings also give leadership feedback so they may keep enhancing the way they lead their teams. These meetings allow everyone to be vulnerable and open to ideas and suggestions in a nurturing and positive environment.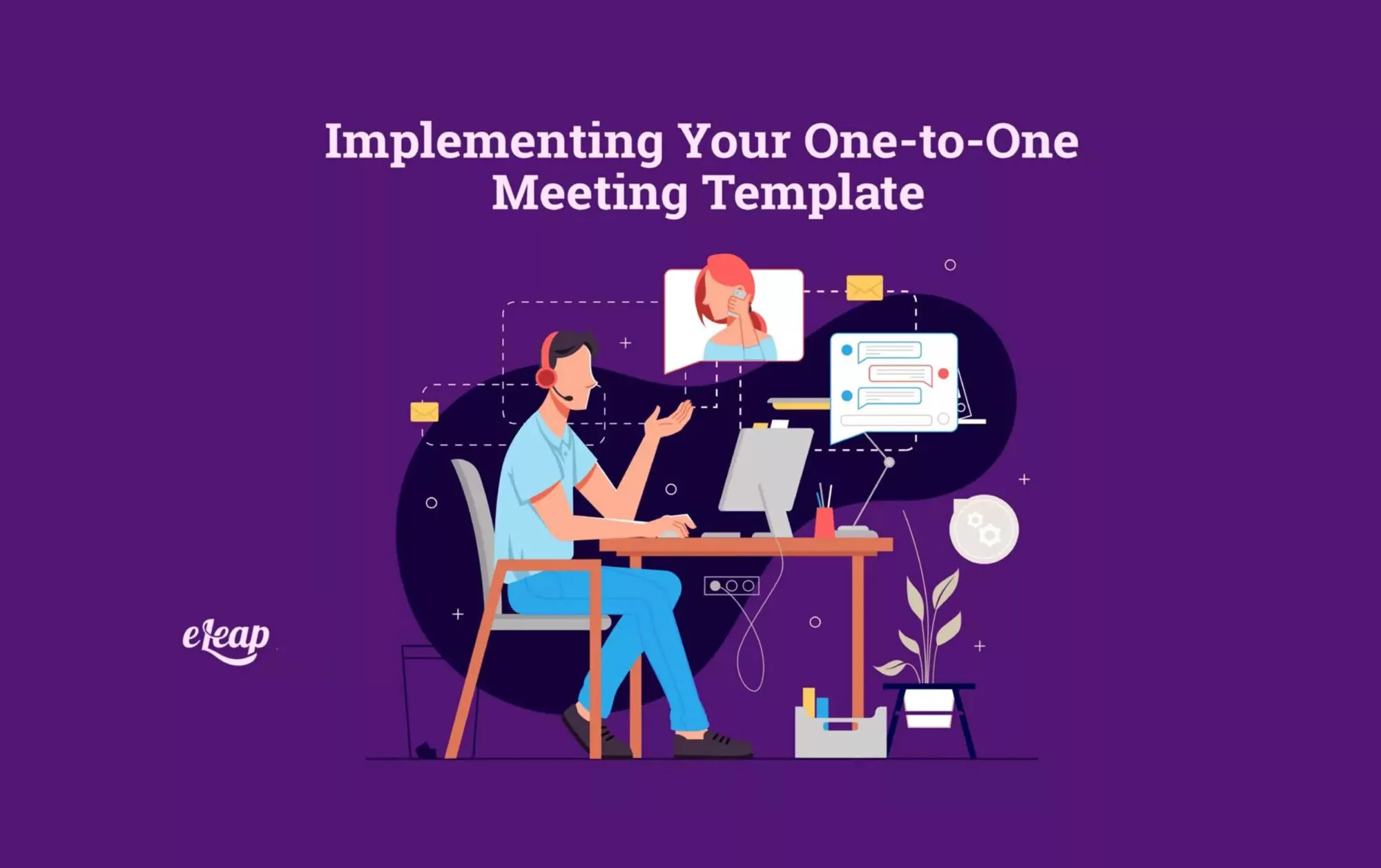 One-to-One Meeting Template Question
During a one-to-one meeting with an employee, the questions that you pose to the employee should typically be business-related. Avoid asking inquiries that are excessively personal, as many companies frown upon the practice of asking personal questions at all if the employee has not previously opened the door.
You shouldn't, for instance, inquire of a worker whether or not they are married, whether or not they have children, or whether or not they are managing a medical problem. You are allowed to inquire about the well-being of the employee's spouse and children only if they have previously shared information about them with you. This could have taken the form of telling you a personal tale here or there or showing you pictures.
Other personal questions should be approached with caution, but if an employee called in sick the previous week and told you they wouldn't be coming to work because they weren't feeling well, it's probably okay in most situations to ask them how they're feeling in general and inquire how they're recovering from their illness. The idea is to show an appropriate level of human care while at the same time neither prying nor giving the impression that you are prying.
This leads to a manager wondering what they can ask and how to best align your questions, so you get the most out of your one-to-one meeting.
Start With the Basics
Each one-to-one meeting should begin with a personal check-in. Understanding how your team is feeling will help you plan how to conduct the rest of the meeting. It's important to ask these questions each time you meet in order to learn more about how the team is handling their work-life balance, well-being, and personal life.
Asking the same basic questions gives you a guideline within your one-to-one meeting template to navigate the progress you've made. Give them time and space to talk about anything that has come up for them. Flexibility is essential in this situation because if you are too preoccupied with completing a rigorous schedule, you risk missing signals that your direct reports need assistance or direction. An example of some basic questions to ask can be:
How have things been since we last met?
How are things going today?
What positives have happened since the last time we met?
What negatives have happened since the last time we met?
We talked about X the last time we met; has anything changed with that?
What are your tasks, goals, or priorities for this week?
What's your biggest barrier right now?
Core Business Related Questions
These questions focus on one of the main functions of the one-to-one meeting template, where you touch base with your team about their feelings and opinions associated with the path the business is taking. Do they understand why certain policies are in place and do they feel supported under the umbrella of the business model?
Assessing understanding and buy-in of these values and goals is key to understanding if your team members are actively involved or if they've disengaged. You can ask questions about recent structural changes as well. Checking in to see if they feel supported by the changes or worry about the future of the company can say a lot about how those changes have impacted the people who are the backbone of your business. If they do not feel safe, productivity and morale will falter.
One-to-One Meeting Template – Progress Notes
How are your team members progressing toward their goals? What do they need to reach their full potential? Ask them what challenges them, as well as what holds them back. We all have our breaking point. Knowing where that line is for your team members. As well as what motivates them to do their best, will help you understand why they are or aren't making progress.
It's also important to assess if they're confident in the team reaching their goals as a unit or where they think barriers exist. You're not asking for your team to rat each other out. You do want them to feel comfortable talking about the things that they believe might be holding back progress. When addressing your one-to-one meeting template, this is a crucial part of getting the business to a place of efficiency and success.
Team-Based Questions
Speaking of the team, it's okay to ask those uncomfortable questions. The more you meet with your team one-to-one, the easier these conversations become. If you're concerned about how to ask these questions, consult with another supervisor or your supervisor. Asking the tough questions can be hard, but they are vital to the growth of the team. Ask your team members if they have any feedback for you or if they'd like to discuss any interaction they may have witnessed, or been a part of them, that brings them concern.
Much like progress questions, these should be asked in a non-confrontational, open manner that allows your team members to feel supported and heard.
Bucket-List Questions
You've asked them about their progress with particular tasks they're working on and the team's progress. Don't forget to ask them about their future goals and where they hope that progress leads them. Where do they see themselves in five, ten, or fifteen years? Would they like to be cross-trained? What other aspects of the job would they like to know more about?
You might find a member of your team has a passion for marketing. Set them up with the marketing team and let them get some one-to-one meeting time with that team. For the business to reach its highest potential. You need to have the right people on the bus and in the right seats.
One-to-One Meeting Template Summary
Following your template when implementing your one-to-one meetings is critical to successful meetings. Have a plan going in, but be flexible within that plan. Always allow your team the chance to discuss their thoughts and feelings in a supportive space.
And above all, watch out for moments where you can elevate their thoughts and feelings. Truly connecting with them at the core will only make your team stronger. Be consistent in your meeting structure, so you're able to probably assess where your team stands and where it is going.