People Success Platform
Looking to improve retention, engagement, and satisfaction, as well as overall organizational performance?
Change the Performance Management Paradigm
Developing every person within your organization requires more than conventional performance management metrics. eLeaP helps you go beyond to realize what's truly possible to build teams that power your organization's success. Use weekly status updates to chart a clear, consistent path forward. Set personalized goals for performance improvement. Easily conduct performance reviews, engage in check-ins and 1-on-1s, conduct surveys to glean critical insights, and more.
Granular employee performance updates with Weekly Status
Empower your employees while making it easier for management to track projects and initiatives with detailed weekly status updates and reports. Our flexible platform delivers the adaptability and cloud-based connectivity today's employees expect and deserve, as well as the stability and accessibility that organizations require. Tracking employee performance plans, accomplishments, challenges, OKRs, and other metrics has never been easier. Learn more about the Weekly Status Module.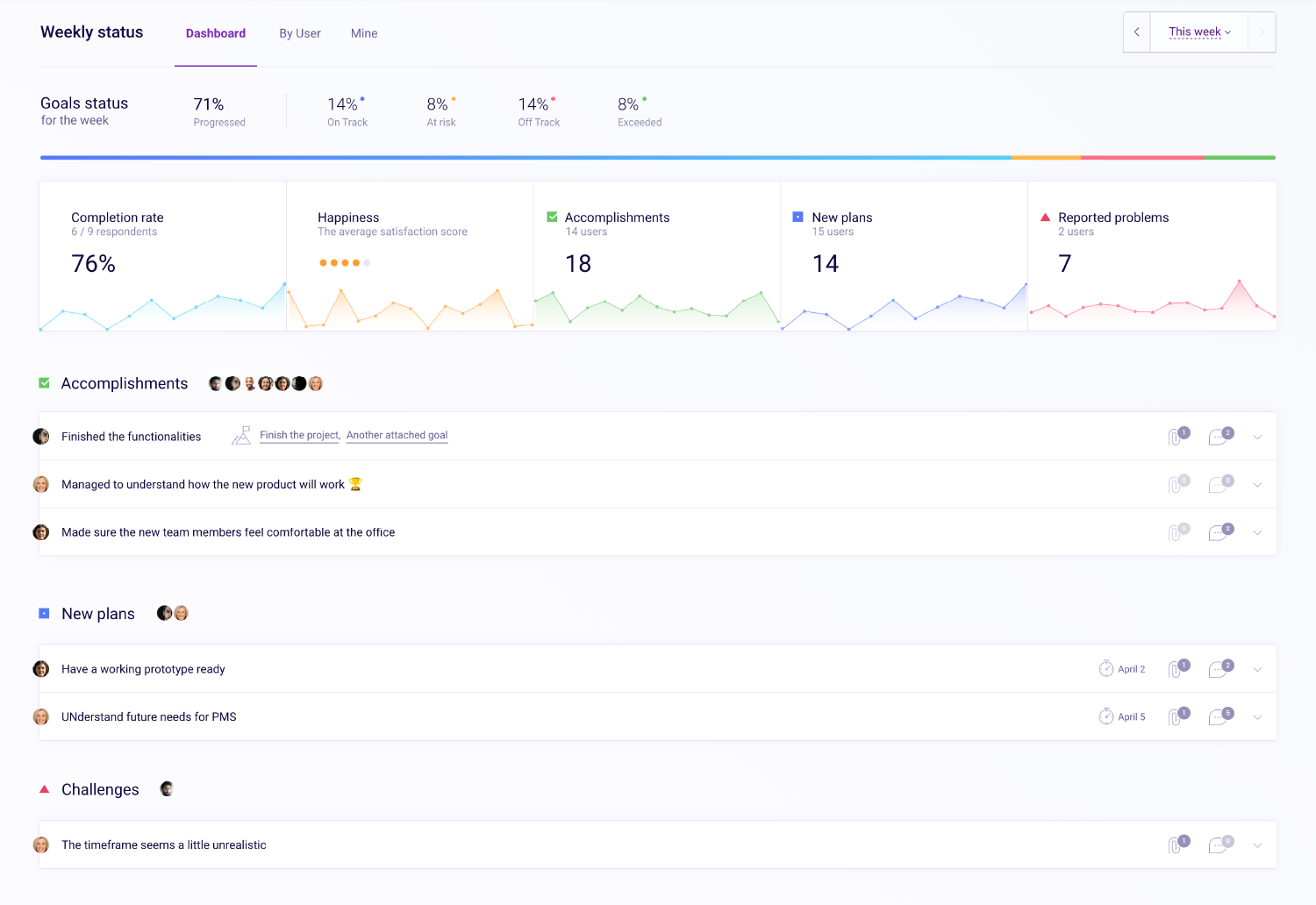 Set customized goals that increase employee engagement and performance
Make sure that your people are on the same page by setting clear and understandable goals. eLeaP's platform simplifies the goal-setting process, allowing you to update individuals, teams, and more. We also make it easy to track progress toward those goals and identify areas for improvement. Learn more about the Goals and OKRs Module.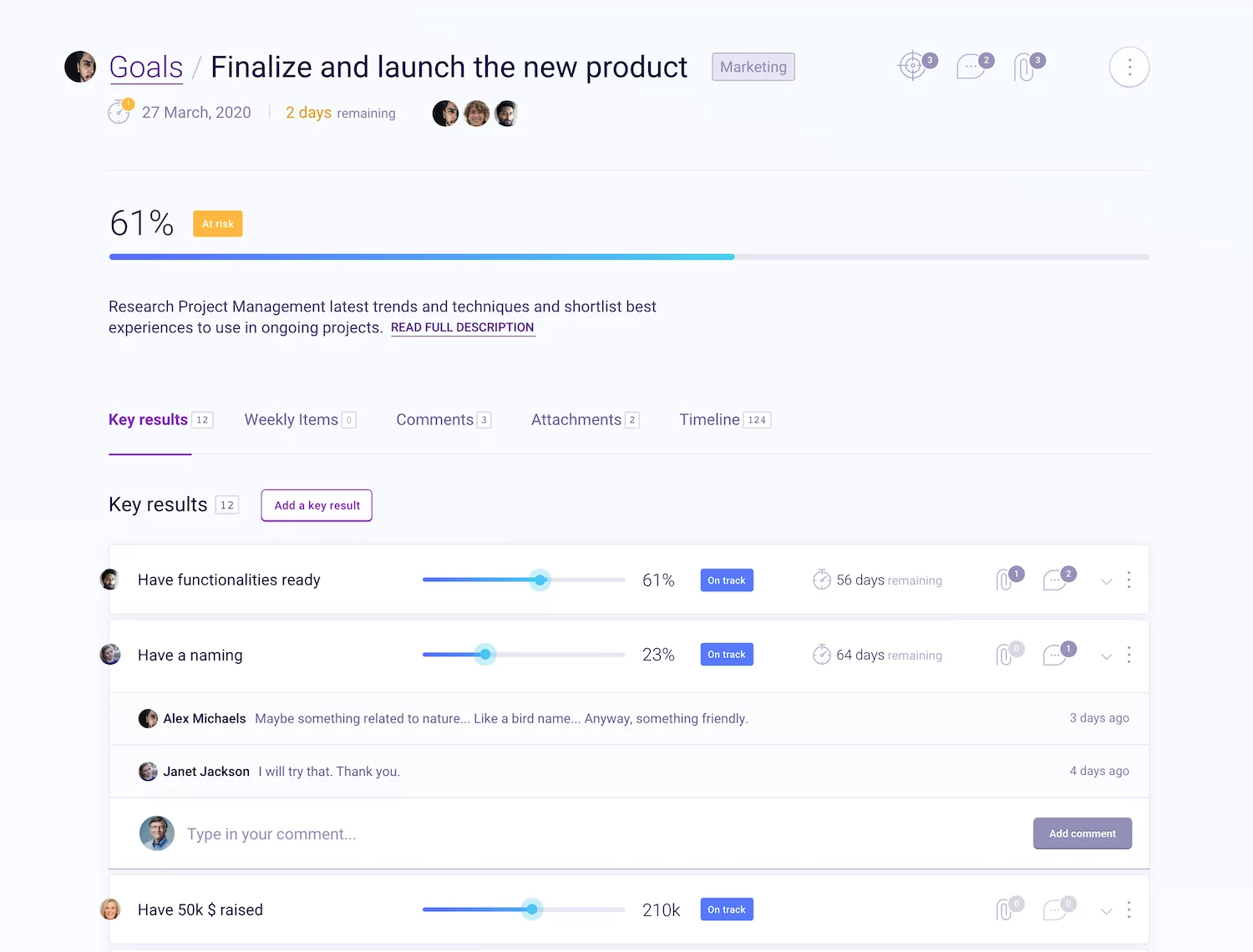 Customizable feedback cycles that work for your organization
Who says performance reviews must be time-consuming and dread-inducing? eLeaP makes things simple and painless. Create, conduct, and deliver any type of review, from project-based and one-off reviews to 360-degree reviews with just the click of a button. We also make it easy to pull together supporting details, like peer feedback and data from updates and pertinent goals so that reviews are as accurate as possible. Deliver reviews on any timeframe that works for your organization – annual, bi-annual, quarterly, or monthly. Learn more about the 360 Reviews Module.
Flexible 1-on-1s, check-ins to move performance forward
Deliver the most effective check-ins, meetings, and 1-on-1s to keep employees engaged and focused on improving their performance, and address underlying issues quickly and easily. Your managers and team members will thank you for a people success platform that supports collaboration, and allows them to create customized action plans and notes, integrate meaningful goals, and measure progress over time. Learn more about the Check-ins and 1-on-1s Module.
Surface critical insights to inform strategy
Create dynamic, compelling surveys calibrated to specific teams, job descriptions, or employee needs. eLeaP helps you surface important information like eNPS to integrate into performance strategies and more. We make it simpler to deliver continual performance management, scale performance-related efforts, and enhance one-on-ones, check-ins, and more to improve the employee experience while driving success for the organization. Learn more about the Surveys and Form Templates Module.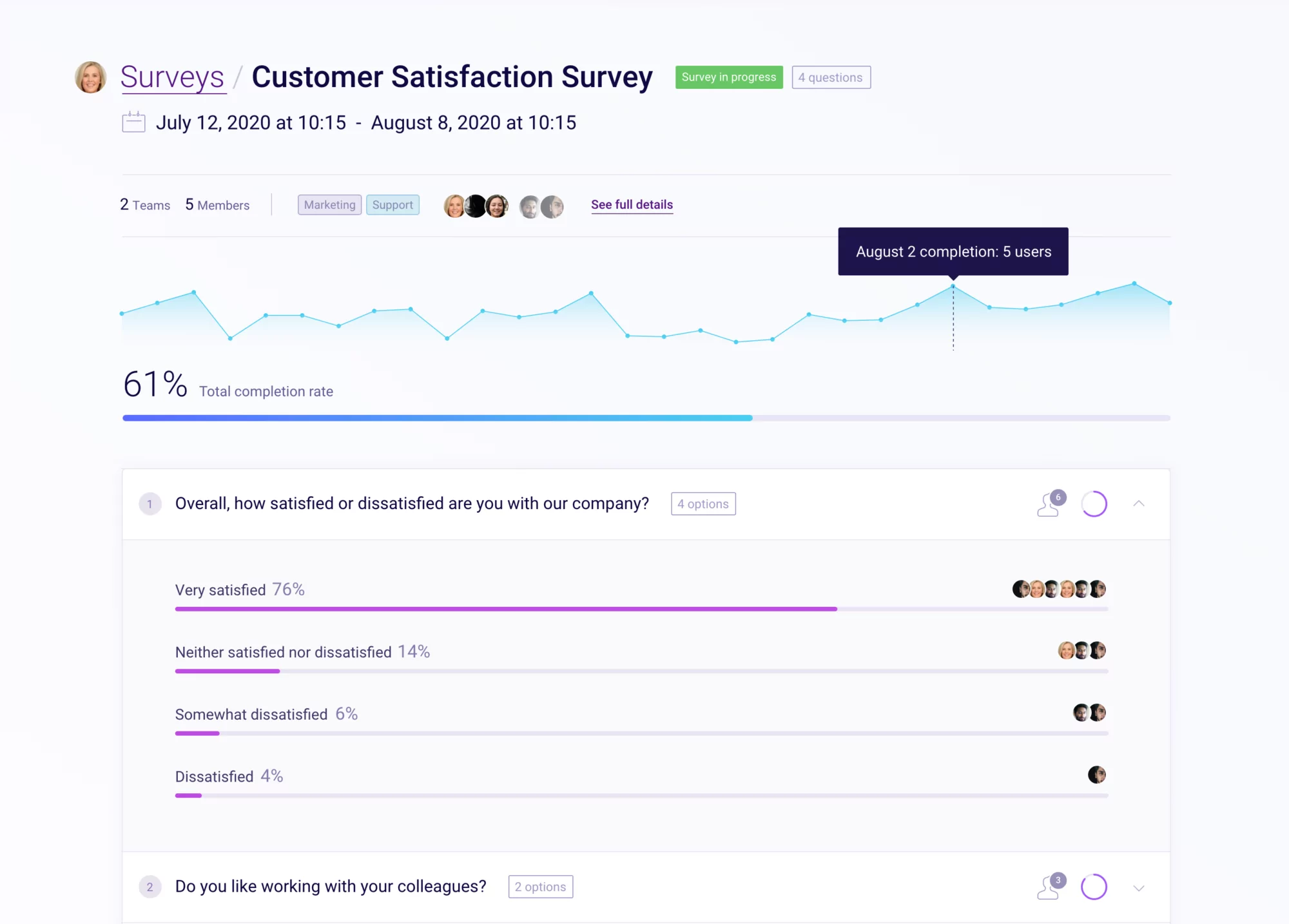 Empowering People, Supporting Teams
eLeaP believes in empowering your people and supporting organizations with various structures. Our flexible performance management platform is ideal for supporting teams and makes it simple to create a culture based on continual feedback and support, focused on growth and improvement for both employees and managers.
Creating a Culture of Collaboration
Performance management should be a two-way street. We make it easy for managers to provide feedback and guidance for employees, but we take it further. Our platform provides intuitive tools that empower employees to take ownership of their development while providing important feedback to managers to improve the organization.
Continual Feedback

Managers and employees can deliver continual feedback for ongoing improvement.

OKRs and Meaningful Metrics

Base performance management on meaningful, measurable metrics.

Alignment

Make sure everyone is on the same page at all times.

Here When You Need Us

Have questions? We're here 24/7.
Customizable, Flexible, Powerful
Customize eLeaP's unique performance management platform to your brand's needs and goals.
Simple Customization

Get started quickly. Assign permissions based on roles and requirements, create fleshed-out user profiles, and set everything up as needed based on your performance management strategy and goals.

Access Information Easily

Use our central dashboard to locate any information you need, from employee performance reviews to custom-set goals, and everything in between. Collaborate, communicate, and build a stronger team with ease!

Make Informed Decisions, Faster

With eLeaP, you can confidently make informed decisions regarding employee performance, compensation, promotions, and more, and you can make them faster. Empower your employees, managers, and leaders with our flexible platform.
Proactive personal checkup
With PulsePoint, users can easily access their daily checkups to rate their productivity and share their sentiments, all in a user-friendly environment. Engaging and fun, it's more than just a tool; it's a conversation starter. Learn more about the PulsePoint Module.
Collaborate and share feedback

eLeaP's PulsePoint makes it easy for users to collaborate and share feedback with managers and colleagues, fostering a culture of transparency and growth.

For proactive organizations

But that's not all. PulsePoint enables your organization to be proactive, pinpointing areas of concern as well as providing insightful opportunities for improvement. It's not just about tracking progress; it's about shaping the future.
Build a Culture of Learning
Empower your teams to take control of their own development and help them progress in their careers while fostering a culture of continuous improvement and collaboration by levering the power of the eLeaP Learning System.
Rich Video Courses

Team members, Managers or Admins can assign relevant content on a variety of topics just in time or scheduled for later delivery.

Personalized Learnings

Using Learning Paths, Smart Assigning, Self Enrollment training courses, specialized events, your teams get access to the right content.

On-the-Job Training

eLeaP provides advanced learning tools to support a multi-modal learning organization. Ask your solutions expert to customize.

Skills & Credential Management

Having the right skills opens doors and yields exceptional performance. The Learning system powers organizations to succeed.
Start Immediately

Setup takes just minutes!

Setup takes just minutes!

We're available 24/7!

Satisfaction Guaranteed

Backed by a 100% money-back guarantee!