How to Improve One-on-One Meetings For Ultimate Effectiveness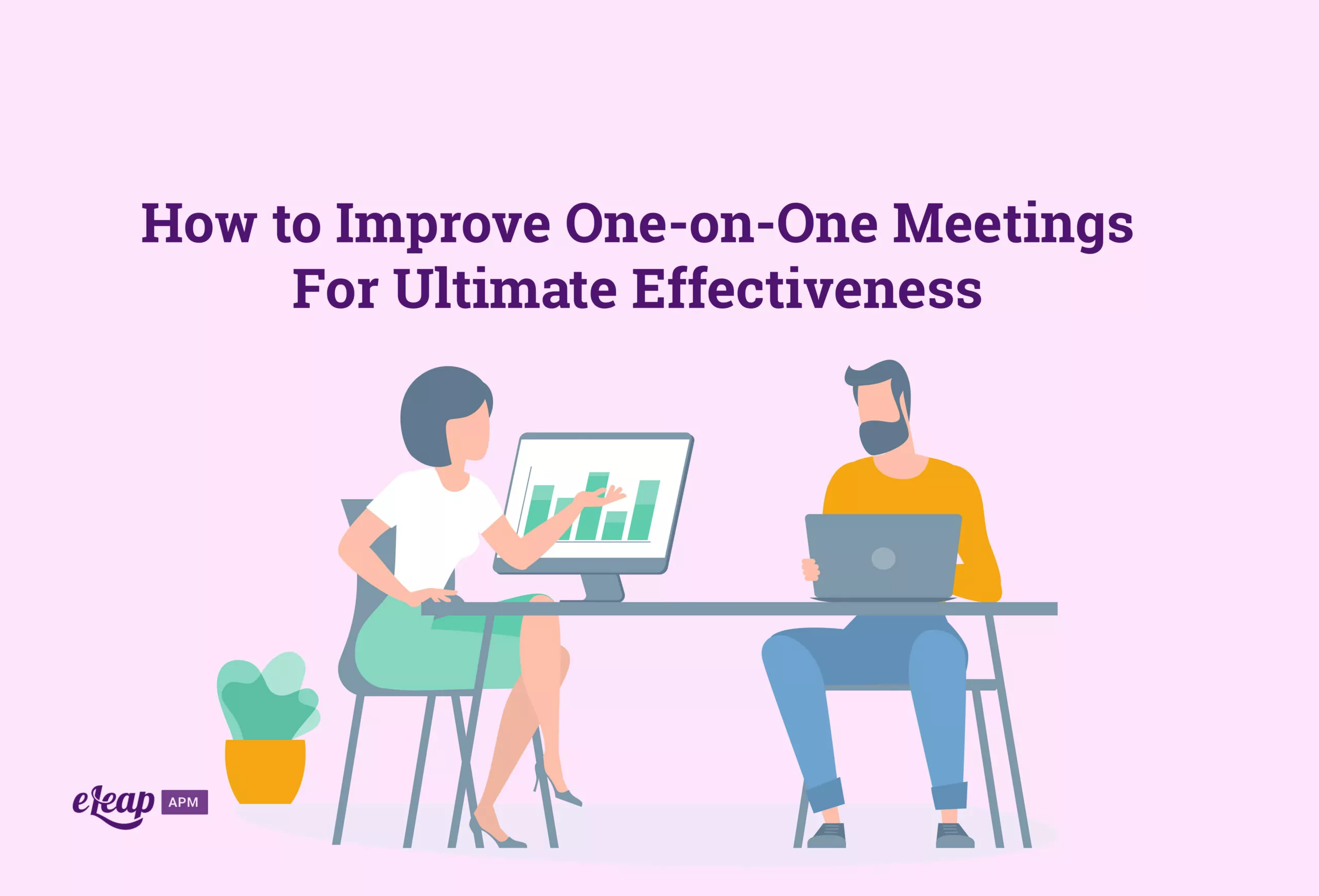 Good management means utilizing every opportunity you get to communicate and touch base with your employees. If you don't take the time to understand those who work for you, their struggles, challenges, and need for guidance, your management capabilities will be negatively impacted. But meetings in group settings, while sometimes helpful, aren't as effective as getting together with your employees in a one-on-one setting. One-on-one meetings are crucial to running a successful organization and workforce. In fact, when done right, they're one of the most important tools available to managers. Unfortunately, despite their potential effectiveness, many managers do not prioritize them. Get started with effective one-on-ones using the eLeaP People Sucess Platform. Try it for free for 30 days.
One-on-ones are an important part of improving performance and thus positively impact company culture, so canceling or neglecting them is a waste of time, your time, and, more importantly, your employees. What's more, leaders need to model those behaviors they want to become part of the company culture, and managers should be rewarded for mentoring employees to perform their best.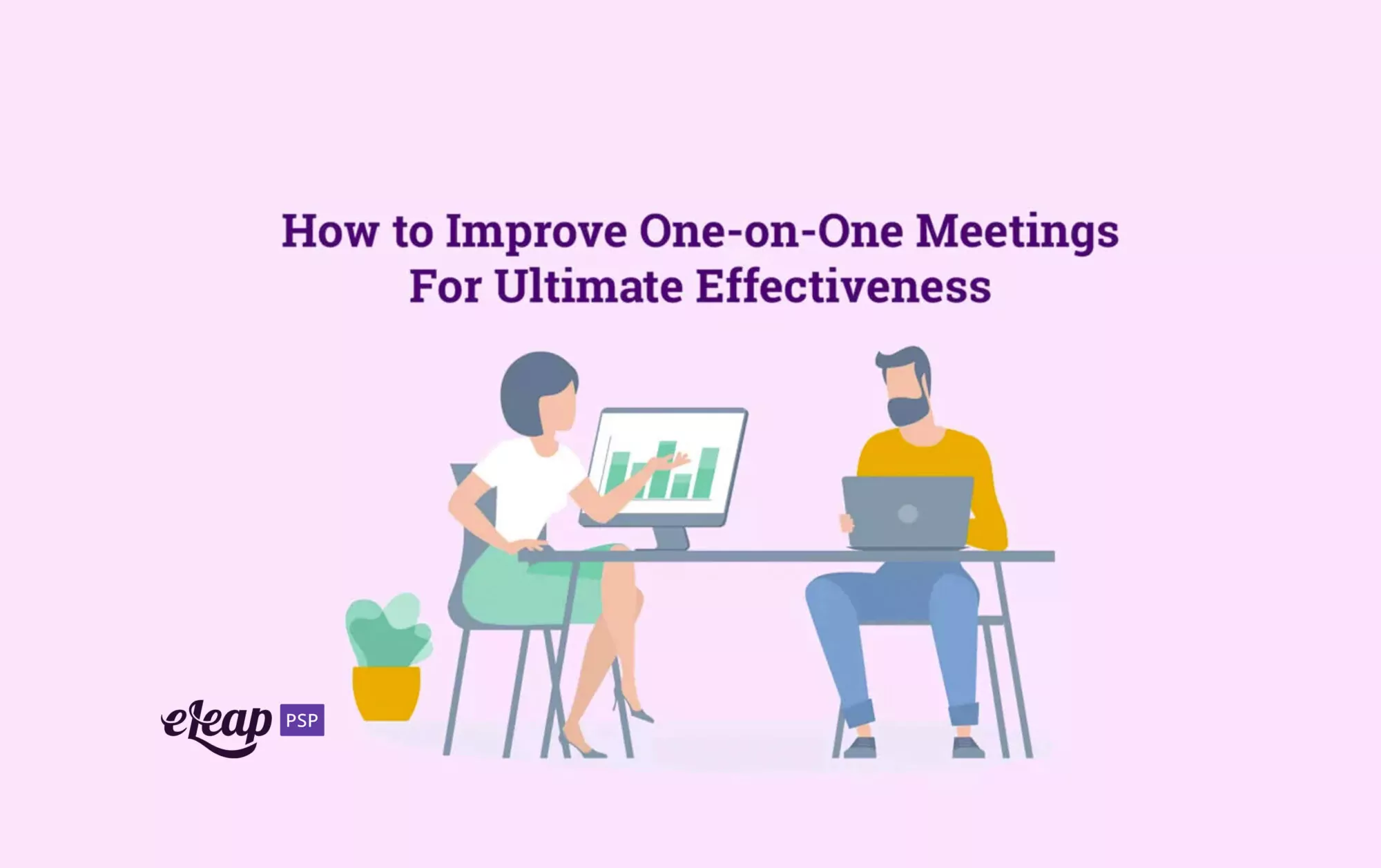 One-on-Ones Facilitate Better Employee Feedback
Leaders tend to believe incorrectly that one-on-ones aren't beneficial to employees. Many think that employees find such meetings intimidating or that they aren't receptive to feedback in a one-on-one environment. But this couldn't be further from the truth. Such beliefs stem from ineffective or ill-managed one-on-ones. By denying your employees this opportunity, managers put way too much emphasis on top-down, big-picture strategies such as company vision, goals, and KPIs. In terms of creating meaningful conversations with employees, these tools are important but insufficient. Employees want to engage in more personal conversations that involve talking about their growth and goals beyond just big-picture company strategies.
A one-on-one meeting is the best place to hold all types of conversations, whether surrounding more personal challenges and goals or about performance. Leaders should take the time to schedule regular one-on-one meetings with their team to go over things like results, growth, productivity, and, critically, feedback. Employees should also be encouraged to discuss how their work is relevant, where they want to go with their lives, and what they want to improve. Moreover, without one-on-ones, employees often lose touch with the vision and values of the company, which frustrates the leadership. Managers aren't taking advantage of this refocus opportunity because they aren't capitalizing on it.
Lack of One-on-Ones Can Lead to Management Combustion
Management combustion sounds like a strange term, but it's one that leaders should understand regarding the topic of one-on-ones. Why? Because management combustion can occur when managers do not engage their employees in weekly one-on-one meetings. Let's be honest, most leaders have experienced management combustion at one point or another. Instead of having conversations and addressing issues, you turn away and hope things will sort themselves out. Maybe you think you're too busy or are intimidated by conflict, but ignoring a problem only means things eventually come to a breaking point. Rather than having conversations, we often manage around or ignore people. Typically, this leads to managers lashing out at employees, screaming at them, or "combusting."  These types of incidents deteriorate employee morale and trust and have a detrimental impact on company culture. But management combustion can be entirely avoidable with more correctly implemented one-on-one.
How One-on-Ones Can Help
It might help leaders to think of a one-on-one conversation as an effective (and ethical) sales conversation. Try structuring your meetings with employees just as you would a meeting with a possible customer based on their pain points. Remember, care for your employee's experience comes from the ethical component of management. Focusing on a role or situation and not the individual makes the conversation impersonal and far less effective.
Start your one-on-one by giving the employee feedback about what excellence looks like in the role and where there are gaps. Feedback must be given in the context of the individual to be constructive, direct, and candid. In other words, make feedback and the entire conversation as personal to the employee as possible. You will end up backfiring if the person you're trying to help doesn't feel like you care about them or are personally invested in their success. Then, continue the use of the personalized structure to talk about how that individual can improve, become more productive, or overcome challenges they might face. And don't forget managers are mentors, and mentorship is a powerful way to help employees on the road to excellence. As a leader, ensure you offer your assistance in any way possible.
One more thing: When starting to implement one-on-ones within the workplace, it's critical that you follow through, whether things are going well or badly. Avoid canceling one-on-ones at all costs, and don't get fed up if you think things aren't going well, and stop the meeting early. This will only make employees feel like you don't truly care about the one-on-ones, and if you don't care as a leader, why should they be expected to care? You want your employees to value the one-on-one process and find it effective and helpful.
In performance management, leaders can only make a real difference if they connect with and talk to their employees often and in real time. If managers get the training needed to create and maintain performance, productivity, and accountability, they can successfully lead one-on-one sessions. Meeting individually with each of your employees is a crucial part of leadership. It enables leaders to build relationships, provide coaching, mentor their team, and align everyone with the organization's vision and goals. What's more, it allows you to invest time and effort in the growth of your employees, which will greatly bolster their overall job satisfaction. Don't rely on infrequent group meetings as a leader. Make sure you schedule the time and invest in all-important one-on-ones. To get started utilizing effective one-on-ones, try eLeaP free for 30 days.