Why One-on-One Meetings Are More Essential Than Ever
The world has been going through a lot of changes over the last few years. The COVID-19 pandemic left many workers in remote positions that they weren't trained for. As the months continued to pass, employees and businesses alike saw huge numbers in terms of unemployment as well as bankruptcies. With protests, political unrest, and other situations sparking up in the months that followed, it made it clear that the world is changing and nobody knows quite what to expect.
Each employee is doing the best they can, but multiple emotions may come up. Some are scared, others are in pain, and some are angry about the world they now live and work in. As part of a management or leadership team, it's important to be aware of the unprecedented time we live in and how it affects everyone's regular responsibilities. With so many things going on day after day, it's important to keep a connection with employees and offer regular interaction.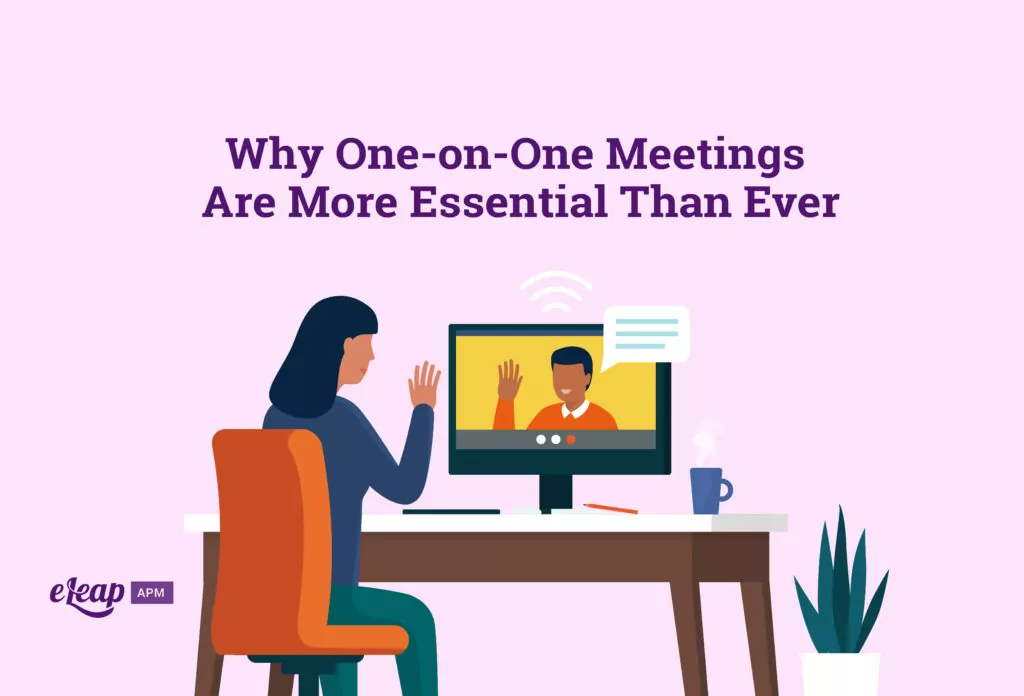 Remote Employee One-on-One Meetings
While some companies have moved back to the office, whether on a partial or full basis, that isn't true for everyone. Some organizations may be looking at longstanding changes that alter the face of the workforce forever. For instance, Twitter has noted that its employees can continue to work remotely from home as long as they want. Other companies that have embraced the remote workplace are choosing to do the same thing.
Some organizations have always had remote operations, which has made it a bit easier to move forward during the events that have happened over the last year. However, many companies have been doing their best in an entirely new situation. Some employees who work from home need more hands-on support than they ever did while in the office. Ignoring all of the stressors that employees feel isn't the right solution.
This is precisely why making time to connect with workers is essential for leaders in a company. It can help your employees build resilience and stay engaged with their work, even when unexpected situations occur outside of the workplace. Companies that are transitioning to long-term remote work should ensure the performance management essentials are in place, including one-on-ones with employees.
The purpose of these one-on-ones is to ensure that workers remain invested in their organization. It also gives you the opportunity to be a better advocate for those who depend on you. Research shows that the employees of leaders who have regular meetings are three times likelier to be engaged. Also, one-on-one meetings can reduce turnover and create higher levels of productivity.
Tips for Conducting Virtual One-on-One Meetings
There are several similarities between in-person meetings and remote meetings, but a remote conversation has less room for making mistakes. When these meetings occur in an office, it's easy to stop and talk to an employee once a day or even more frequently. When people are working in remote locations, this can be more difficult. Even teams using Slack or Microsoft Teams may find that one-on-one meetings are the one chance every week to connect between managers and employees. Try some of the tips below to ensure you make the most of every virtual meeting you conduct.
Turn on the Video Camera
It might take a moment to get yourself together and ready for a video call with employees, but it's not something you should skip. Being able to see the person you are speaking to is an excellent way to increase communication and connection between two people. Based on research by Forbes, more than 90% of executives build better trust when they are able to see their employees. On the other side of things, remote employees also see benefits. They often feel closer to others when connected through video rather than text communication options.
Build in Time for Creating Rapport
While you should have a plan for what the one-on-one meeting should consist of, part of that should include time for building rapport. Make sure that when you schedule these meetings you have time for these types of things built in. Think about it as if you were still in the office. Rather than immediately getting into the meat of a conversation, you'd likely first have a bit of small talk. This kind of conversation helps establish a connection, which has only become more important when employees are working in a remote location.
Stay Present and Focused
This is the case whether you are having an in-person or virtual one-on-one meeting, but it bears a reminder. If you are checking your email or texts during an email, it makes it seem as if you are disengaged from the conversations. Rather than letting your mind be split in different directions, make sure your focus is on the meeting and nothing else. When you're focused and present, employees will feel heard. If you aren't, that sends a powerful but negative message to your workers.
Be Ready on Time
Being prepared and ready for the one-on-one meeting is also of supreme importance. Having to step back to find a report that you want to talk about can be harmful to the meeting. The same applies if you need to roam around your home trying to find a quiet area without distraction. Make sure you are ready before you get started or it may seem as if you don't value the other party in the meeting.
Make Sure to Listen and Absorb During One-on-Ones
On top of all the other tips, you should always make sure you really listen to what employees are saying to you about how they are handling their work environment. Are they experiencing challenges with processes, teammates, or technology? Many employees are going through a lot and a bit of support and understanding can go a long way. Show empathy and work to create an environment where employees can come to you. This is an excellent way to ensure works can be their best selves, even in a challenging situation.