Culture in Business Examples that You Want to Follow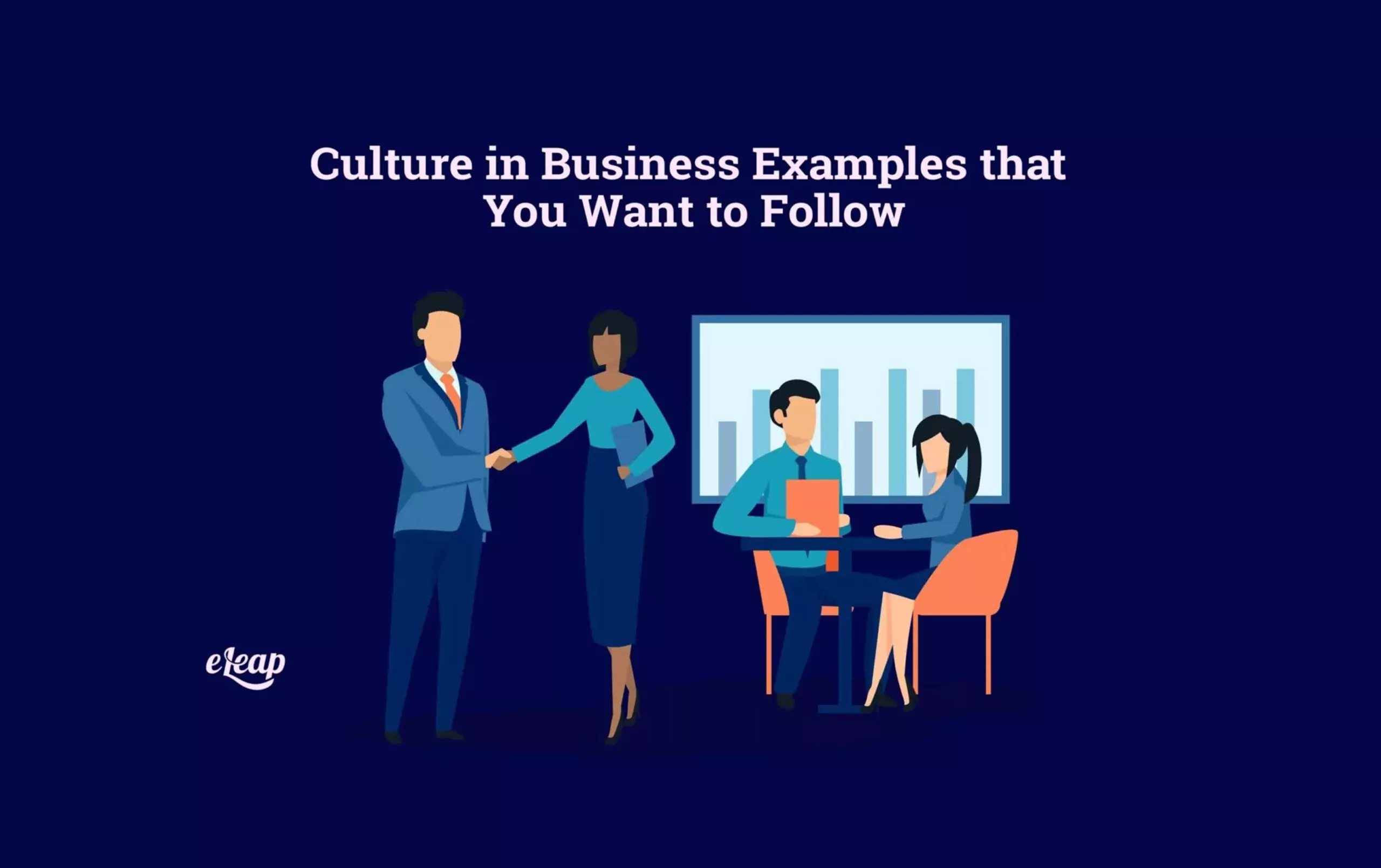 Culture in business examples are everywhere you look, in all industries. Company culture is created even without specific thought to the matter. However, when the company culture is managed and adjusted thoughtfully, it creates a more positive workplace. A positive work environment brings about high employee morale. The eLeaP continuous performance management system provides organizations with powerful options to attract and retain high caliber team members.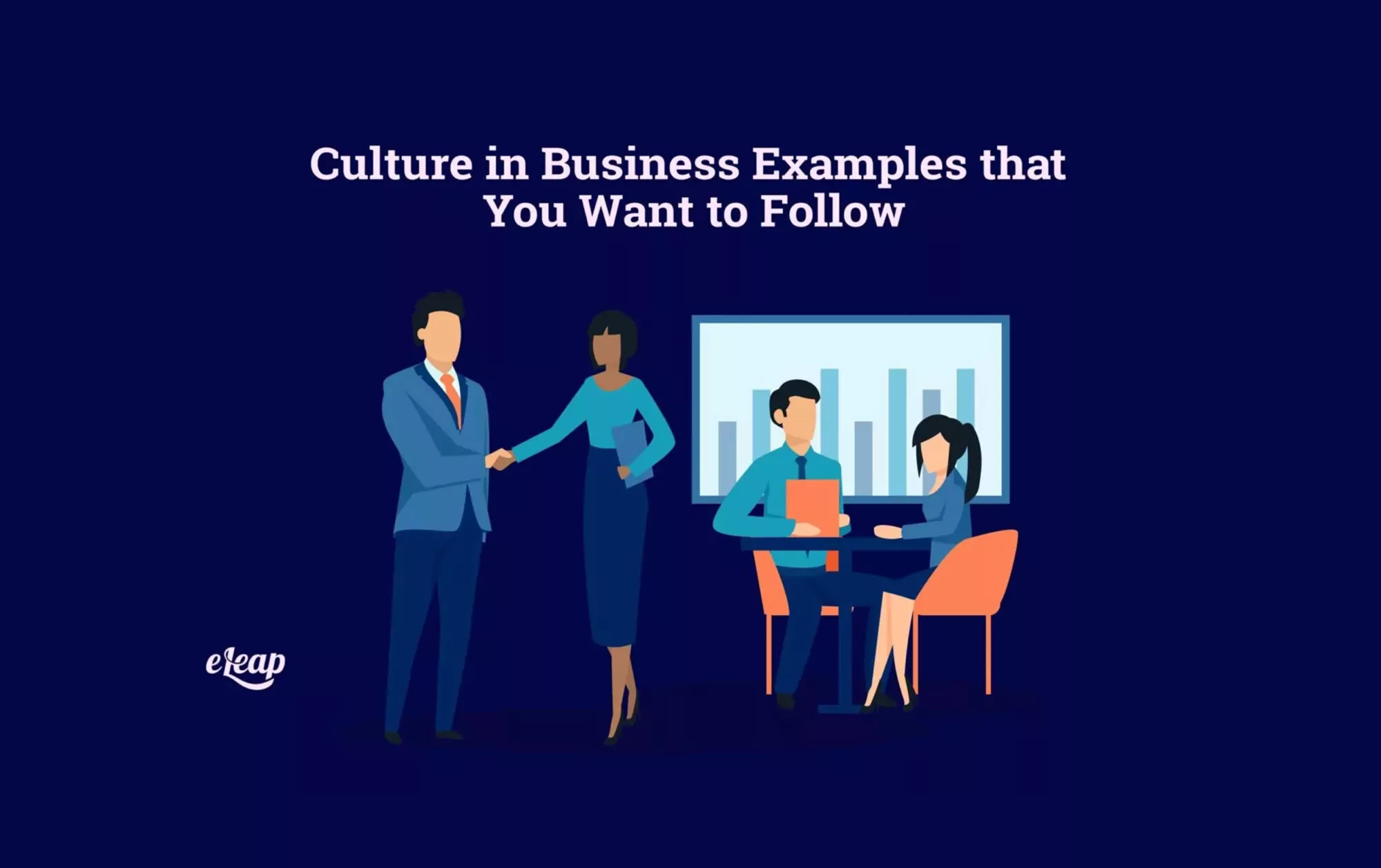 Offices that have an engaging, supportive culture have higher employee retention rates. Furthermore, these employees are more productive and efficient. If you want to stay competitive, creating a positive company culture is foundational.
Culture in business is intangible, though. For example, when someone is hired by your company, they get concrete information about:
Salary
Required hours
Benefits
Company perks
Uniforms or dress requirements
On the other hand, some aspects of company culture are not so concrete. These are felt, rather than directly written out.
The following companies exhibit different types of company culture. One company's model might not be the best choice for another environment. However, you will doubtless find plenty of nuggets here to help you get an idea of the type of culture you want to create in your workplace.
Culture in Business Examples
Each of these companies has not only a recognizable name. They also have a business that employees want to work for. Their company cultures create:
Desirable employment
Engaged teams
Motivated employees
A competitive edge
Profit margins that allow for growth
Valued, appreciated employees
Work at Zappos… If the Shoe Fits
People who love shoes and love shopping online know about Zappos.
Employees who aren't a good fit with the company culture at Zappos don't make it past the first interview. This interview is considered one that matches the company's cultural fit. That "fitness" makes up about half the decision on whether or not an employee is hired.
The company doesn't stop there, either. If someone is hired and they aren't blending in well after two weeks, they are offered $2,000 to take their leave. This company doesn't mess around with square pegs in round holes!
The cultural fitness test is based on an alliance with ten company core values. Those values are instilled in every aspect of Zappos policy. Furthermore, Zappos portions out a good chunk of its budget to team building and cultural promotion activities.
When employees pass skills tests, they are given raises and promotions. Moving up the ladder is never based on office politics.
This dedication to company culture creates excellent customer service as well as branding, without creating extra work. It happens in its own right with happy, well-treated employees.
Warby Parker Has the Vision
If Zappos is the first online stop for shoes, then Warby Parker is the go-to for glasses. Anyone who wears glasses knows that they can get incredibly expensive and that it's frustrating to spend hours trying on frames. Therefore, Warby Parker made it not only affordable to purchase new pairs but easy to try them on virtually.
Working at Warby Parker means participating in fun lunch breaks, exciting events, and development programs that people want to go to. When one event is over, the next one is on the calendar. Therefore, employees always have something to look forward to.
Company culture is heightened with an emphasis on team building. For example, the employee break room is cleaned by multiple employees at the same time. The management also sends employees out to lunch together who might not cross paths on a daily basis. This breeds relationship building and connection.
Warby Parker doesn't leave company culture to chance. It takes the reins and shows that creating deep, meaningful connections are valued and appreciated.
Southwest Airlines Elevates Cultural Values
Airline attendants are often generalized as grumpy, overworked, or snippy. Many airlines have very poor customer service reviews. Southwest, however, elevates its company culture attention, and this ripples out to the customers, too.
People who fly Southwest are quick to sign up for their customer loyalty programs. They enjoy flying with the company and accessing the perks of their frequent flyer cards. But employees experience plenty of benefits, too.
In the more than four decades that Southwest Airlines has been in the air, it's continued to communicate its mission and vision in a way that creates a united front. They also teach their employees to go above and beyond to make a customer happy. Even if this goes against the "rules," Southwest knows that breaking them is sometimes okay if it's a means to an end for meeting that vision.
Southwest's team works together to achieve a common goal and purpose. This creates a "why" that encourages and motivates employees to give their best.
Twitter—Tweeting Joyful Tunes
When you work at Twitter, you can't stop talking about how wonderful your job is. Why? Here are just a few of the reasons:
Meetings take place on decorated rooftops.
Co-workers communicate as friends as well as colleagues.
Free meals at headquarters are commonplace.
Unlimited vacation time is often approved.
Yoga classes are available on break, before, and after work.
Perks like these are common in up-and-coming businesses that cater to the newest generations of employees. However, Twitter doesn't stop there.
Employees rave about how invigorating it is to work with other educated people. They love that their company is changing the world. They work their hardest when they know that everyone around them is putting forth the same amount of effort.
Twitter values teamwork and inspires its employees with praise. They create a culture of intelligence, respect, and hard work. However, they mix it with fun activities, perks, and appreciation for their employees.
Chevron Gasses Up for Success
Oil and gas make the world go round, yet they often experience quite a bit of bad press. However, Chevron employees are fans of the company's premium culture.
Chevron values support, safety, and an environment in which people have one another's backs. This comes from the top down. The company provides its employees with:
Health and fitness memberships
On-site gyms and classes
Massages and personal trainers
Required regular breaks and vacations
Chevron knows that happy, well-respected, valued employees put forth efficient, productive, and profitable work.
This company has been around generations longer than some of the 21st-century newcomers that exude a "fun workplace." However, just because they don't try and cater to the new generations with foosball tables in the lounge and 21-and-over entertainment after work doesn't mean that they haven't created something special.
Squarespace – One-Dimensional Hierarchy
New Yorkers often seek out employment at Squarespace. People go after jobs at this startup because their flat-management culture encourages teamwork and success for everyone.
An organization that has flat management has few, if any, levels of hierarchy to separate the regular staff from the company executives. This happens often with new startups. However, it is often difficult to maintain as a company grows.
Squarespace has done it, though. Employees understand that more veteran employees still work just as hard as the entry-level workers—in a good way.
Working at Squarespace affords people:
Flexible vacation time
Fully covered health insurance premiums
Aesthetically pleasing office quarters
Catered meals
Fully stocked employee kitchens
Monthly celebrations for birthdays, goals, and holidays
Relaxation spaces
Exciting guest speakers for professional development
However, the company leaders understand that offering exciting perks doesn't a positive culture make. They keep a down-to-earth, work-hard attitude themselves and are always available for guidance and direction.
Employees at a flat management organization such as Squarespace don't feel pushed down by upper management. They come to work empowered and free to speak their minds. Therefore, they are confident and have high levels of morale.
Google – Googol Percent Satisfied 
A googol is a number with 100 zeros at the end… that's how highly most employees would rate their experience with Google. As Google dominates every area of business it touches, it's no surprise that they rank highly in company culture, as well.
Google has been the epitome of how to create a positive work environment for many years. They offer their team:
Open speaking engagements
Employee trips and parties
Financial bonuses
Free meals
On-site gyms and classes
Dog-friendly workspaces
Googlers, as they are known in the industry, are known and expected to be the cream of the crop. As we mentioned with Twitter, people who know that they are working with other competent, intelligent people are likely to bring their A-game, as well.
Google is by far the biggest of any of the companies on this list. It is sometimes difficult to maintain company culture standards across so many employees and offices. However, they take these growing pains in stride and acknowledge the stressors that come along with working for such a high-level company.
Prioritizing Company Culture
Creating a company with a positive, encouraging culture is not an option. Employees in today's generations feel that they have the right to a workplace brimming with good energy. Many people, upon realizing they are a part of a toxic or hostile workplace, leave for something better.
Take it upon yourself to create an energetic, upbeat atmosphere. Then, people not only want to come to work but they spread the word that working for your company is one of the best parts of their lives.