A Guide to Self-Appraisal Comments (With Self-Appraisal Comments by Employee Examples)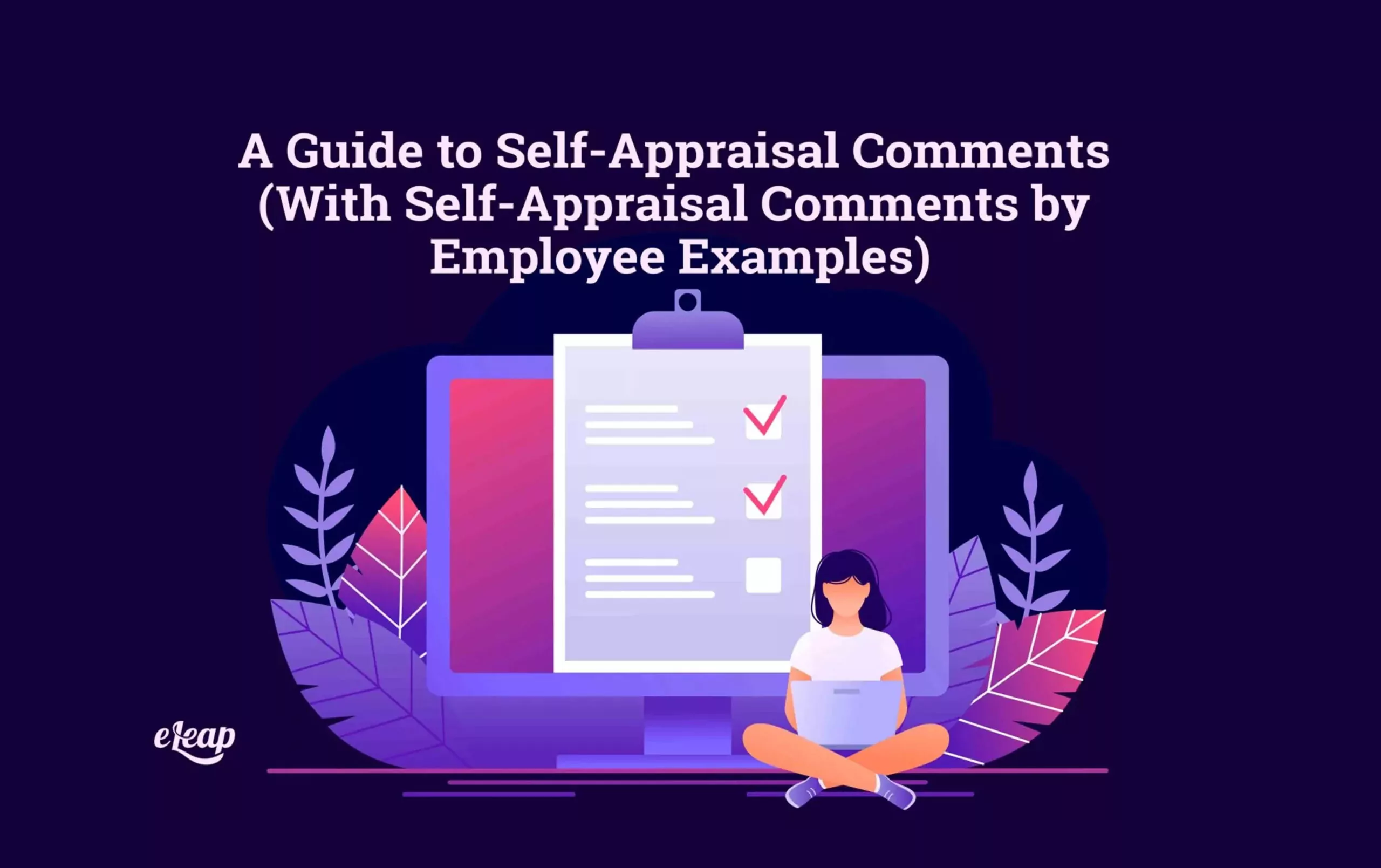 If you are planning for your performance review, you'll want to read our self-appraisal comments by employee examples beforehand.
Often, the self-appraisal process, otherwise known as a self-review or self-assessment, is a big part of any given company's performance review process. The self-appraisal allows employees a chance to highlight their strengths and accomplishments, as well as take ownership of weaknesses and work with their managers to improve in those areas.
Even seasoned employees with lots of accomplishments to note may struggle with how to phrase their self-appraisal, or what they should highlight on a self-appraisal review. The purpose of the self-appraisal review is to ensure the employee and employer are on the same page regarding the employee's performance. It's not a place where an employee should go overboard on "humble bragging" about themselves or bring up issues with colleagues.
The self-appraisal should be a balanced mix of the employees highlighting their most notable accomplishments and strengths in their role, and noting their weaknesses, mistakes, and goals for improvement. As an employee, you want your self-appraisal to be written in a way that honestly represents who you are and what you bring to the company.
Self-appraisal review forms usually prompt employees to reflect on certain skills, projects, etc. that they have worked on throughout the year. Many self-appraisal review forms have open comment boxes where employers will ask employees to explain their assessment of themselves in certain areas.
These freeform comment boxes can intimidate even seasoned employees. However, when used correctly, the opportunity to speak freely about your recent successes, areas for improvement, and specialized skill areas is an advantage. Employees can benefit greatly from learning how to write a good self-appraisal. A well-written self-appraisal will give your manager more insight into what you have done over the past year and remind them of the special skills and talents you bring to the team every day.
We know that self-appraisals can be intimidating or hard to get started on. That's why we have compiled self-appraisal comments by employee examples you can use as a template to answer some common review categories and questions. Keep reading to see our best examples for answering an array of self-appraisal comments.
Self-Appraisal Comments by Employee Examples and Tips
Depending on what role you hold, your self-appraisal categories may differ. For example, those who don't work in customer-facing roles will likely not have self-appraisal questions about customer experience or client relations.
Below, we've compiled some common categories across several job functions for you to check out. Read the ones that will be relevant to your role (or even better, pull up your company's self-review form and see which categories you are being asked to answer to) and use these self-appraisal comments by employee examples to guide your self-assessment answers.
Self-Appraisal Comments by Employee Example: Communication
Communication is a popular metric for companies to examine in most job roles. Whether you're expected to communicate with outside clients and customers, or with your colleagues, almost every title requires sufficient communication skills.
Answering review questions based on your communication skills should always focus on how you have shown you have superb communication skills. It's not enough to say "I am a great communicator with members of my team" if you don't have any examples of how you've shown this.
If you know you're a good communicator, but just don't know how to phrase it – don't worry! Check out these examples below:
I frequently share updates and information I learn in meetings and beyond with my colleagues so everyone can be on the same page.
When it comes to expectations and goals, I communicate my expectations clearly with my team members to avoid misunderstandings.
I can tactfully engage in difficult conversations and approach sensitive situations with conscious skill and precision.
I communicate with clients/customers in a timely and professional manner, always responding to emails and phone calls in a swift and appropriate timeframe.
My colleagues have told me they appreciate me sharing new information and always being available for follow-up questions.
Self-Appraisal Comments by Employee Example: Customer Experience
If you work in a customer or client-facing role, you'll likely be asked to speak to your strengths with customer experience. Customer experience hinges on the employee being responsive and skilled enough to provide a consistently high-value experience for the customer.
Here are some examples you can use as a guide to talking about your strengths in customer experience:
I use active listening in my conversations with every customer and take their feedback (as needed) to my higher-ups.
I go above and beyond to educate the customer on our product, often setting multiple meetings until all their questions are answered and sending them informative collateral about our product after conversations.
I can effectively handle difficult or combative customers by using de-escalation techniques and being respectful of their emotions.
I received an X % on my customer satisfaction surveys overall this year, which is higher than X % of the company average.
Self-Appraisal Comments by Employee Example: Innovation and Creativity
In many company cultures, innovation is huge. Especially in a start-up or tech company, these employers often seek out individuals who have a history of "going against the grain" and easily come up with creative, low-cost solutions to big problems. If innovation and creativity are important in your role, or just to your company culture overall, you can expect to see a question such as this.
This metric can be hard to assess because it's a little ambiguous, but also because you may not remember at a moment's notice the creative solutions you have utilized throughout the year.
Some examples of good answers to questions about innovation and creativity are:
I frequently seek out opportunities to network with others in the field to learn new and exciting trends in our field.
I am always looking for new avenues to streamline our processes and improve our products.
I can quickly and creatively adapt to new situations or challenges.
I am always open to experimenting with new ideas my colleagues may present.
Self-Appraisal Comments by Employee Example: Job Performance
Your overall job performance will be a central focal point of any self-review. Job performance is broad and can touch an array of actions and achievements you may have made. Some great examples to speak to your job performance on a self-appraisal are:
I take pride in my work and always seek to provide the best results possible.
I have exceeded my goals/quota by X% this year.
I frequently volunteer for projects and tasks that are outside of my job description.
I am always challenging myself to perform better.
I make myself available for colleagues to answer their questions or talk through certain concepts that I am knowledgeable about.
I seek out help from my peers on complex problems and aim to create an environment of teamwork and inclusivity when coming to a solution.
Self-Appraisal Comments by Employee Example: Areas of Improvement
Talking about the aspects of your skills that need fine-tuning or more development is not fun for most employees. However, this question is sure to come up in a self-review. Showing you can pinpoint your areas for opportunity, and set goals to improve. Tells your employer you are willing to do the work that needs to be done.
To guide yourself in answering questions about your areas for improvement, check out the following examples:
I am aware that my style of communication may not be received well by some of my peers. I realized that, because I am so focused on the tasks at hand, I can sometimes be perceived as short or blunt with my peers. I have made a focused effort to change my communication style and give more thought to how I speak with my peers.
I am aware that time management is not one of my strengths, so I am taking active steps to improve my processes for managing my time.
I recognize that my style of working is not the norm for our company. I have still been able to complete all my tasks despite this.
While I believe my written communication style is proficient, I know my verbal communication/presentation skills need improvement and I am actively seeking out resources to help me improve.
I realized that I am not always actively listening to customer/client needs because I am preoccupied with other tasks and projects. I have made changes to improve my listening skills so I can provide a better customer experience.
I recognize that although I can fulfill all facets of my current job role, that will not be enough to advance my career. To improve, I will be actively looking to get involved with extra projects or training to further my career development.
As a quick aside – you should be ready to also speak about how you have made changes or sought resources to help with the challenges you faced. A few months before the review, you should be thinking about areas for improvement and what steps you can take, ahead of your review, to begin enhancing them. This will show your employer that you are putting 'your money where your mouth is.
Bottom Line
Self-appraisal reviews do not have to be scary or intimidating. They are robust tools employees can leverage in their performance review conversations. Managers appreciate employees who take the time to write an honest review of their performance. And employees will appreciate having the chance to highlight their achievements and guide their career development. Hopefully, our self-appraisal comment examples helped inspire you to write an efficient self-appraisal this year!