Strong Examples of Company Culture Statements that Work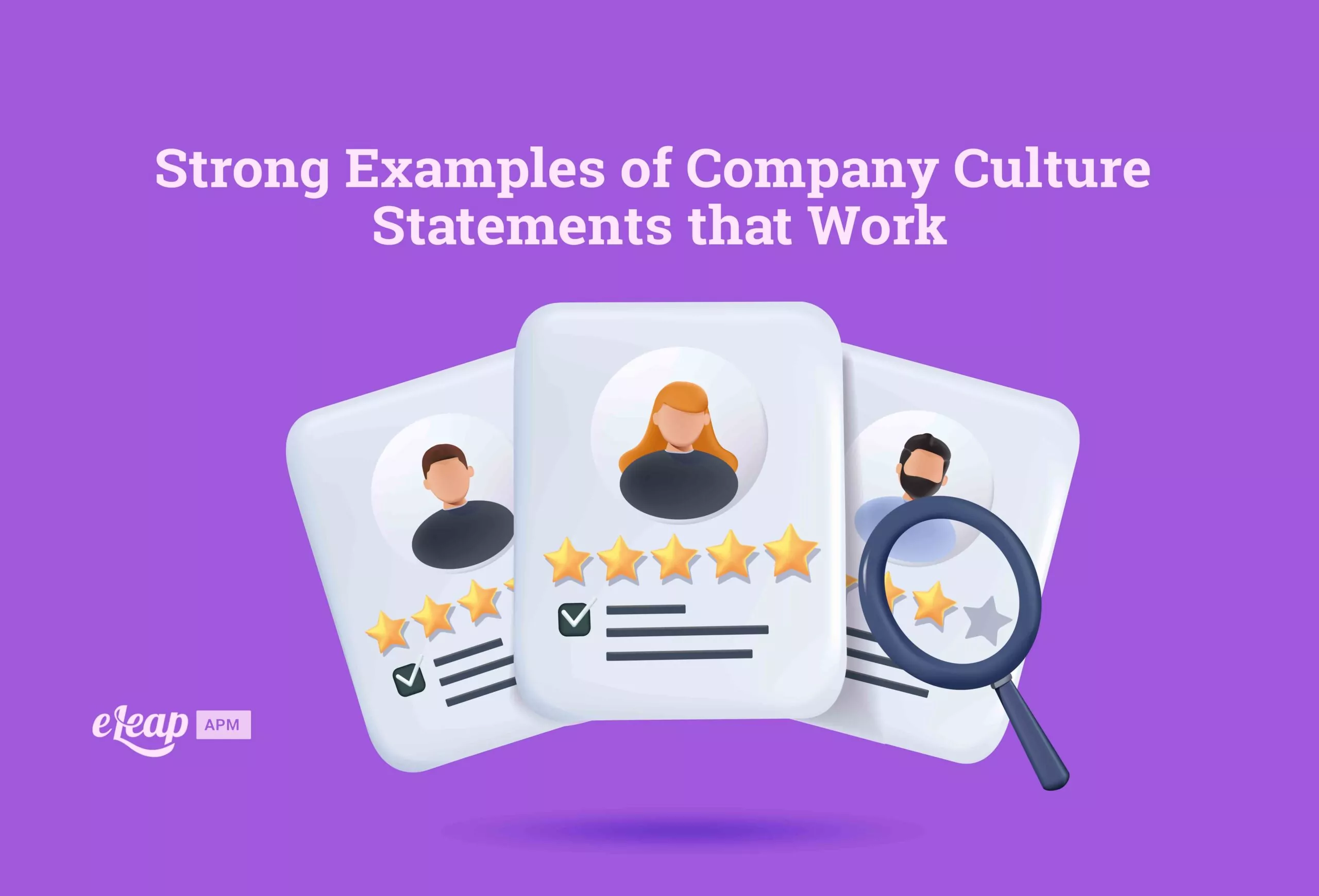 Exploring examples of company culture statements is beneficial for every manager. It helps you understand the ways that high-ranking, successful companies breed positivity and high morale in their employees.
Company culture is the foundational reason why people stay in a position or seek employment elsewhere. They want to feel respected and valued and know that they are part of a cohesive team.
It's impossible to re-create a particular company's culture or simply adopt a statement and expect everything else to flow freely from there. However, it's good practice to study other companies' culture statements and pick elements to form your own.
Zappos – Ten Core Values
Zappos begins its hiring process with a cultural fit interview, in which the HR team determines whether a person aligns with the ten core values of the organization. This interview is about half of the weight of whether or not a person is brought on. Furthermore, if after training or the first week on the job the new employee is not a good fit, they're offered a hefty sum to quit.
These core values make up the mainstay of Zappos' company culture statement. Here, we add our take on why each of these is beneficial to creating a positive company atmosphere.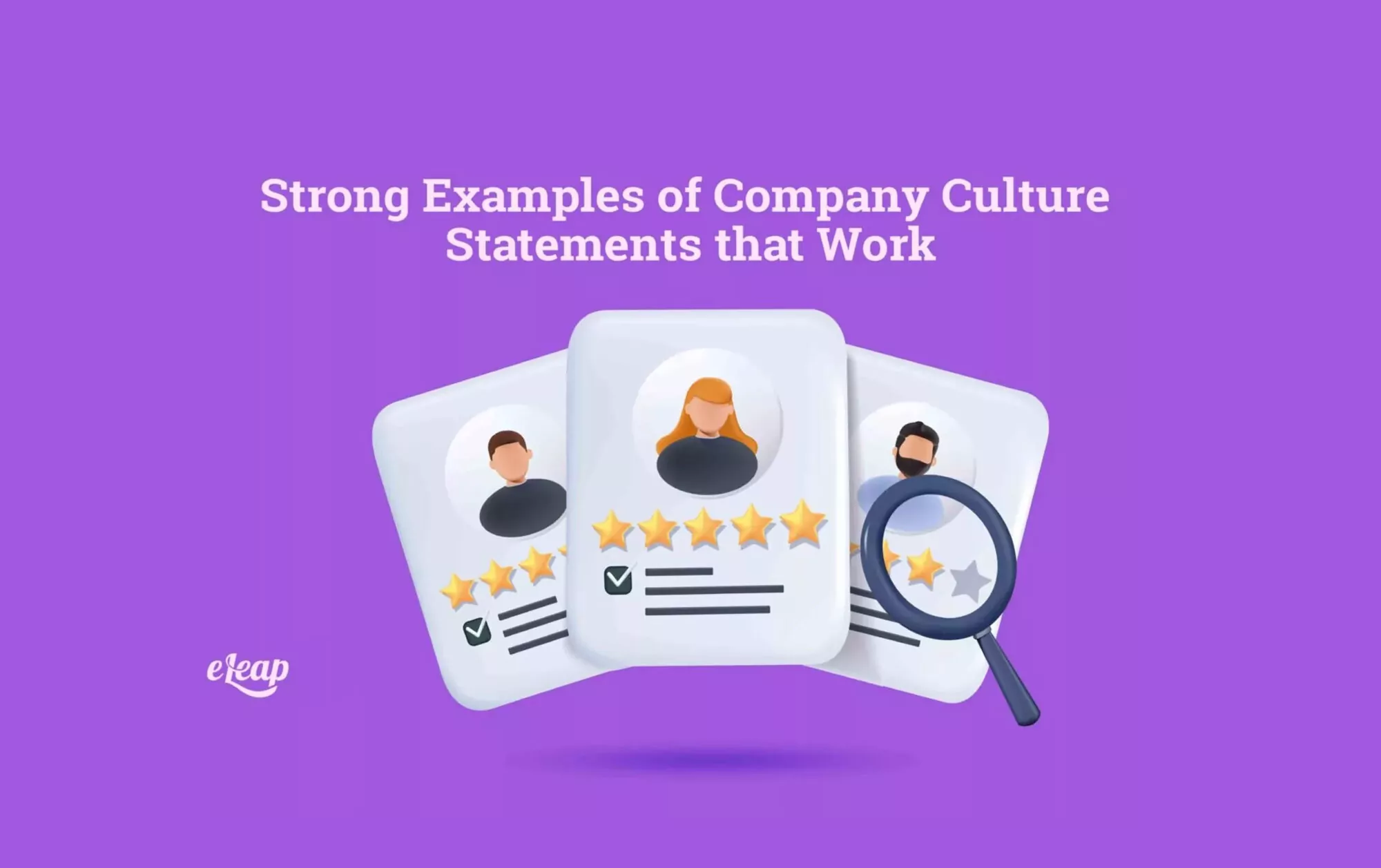 Deliver WOW Through Service – Successful businesses please their customers. Customers expect good service; however, they are used to receiving "less than" from businesses at every turn. When professionals go above and beyond to show customers that they are valued, it creates loyalty.
Embrace and Drive Change – Successful businesses also know the dangers of staying stagnant. Change is inevitable, so when a company embraces that knowledge and uses it to its advantage, they stay competitive.
Create Fun and a Little Weirdness – Who doesn't like to have fun? Work is a reality, but that doesn't mean it has to be drudgery. Fun makes work enjoyable; just the right amount of weirdness gives people a connection and the feeling of connection to a special team.
Be Adventurous, Creative, and Open-Minded – Not all risks are bad. Risks are part of what drives change. You don't make progress without creativity, innovation, and taking chances.
Pursue Growth and Learning – The phrase "you learn something new every day" should be held high in every business. The more you learn, the better you'll be at whatever you do. There is always something out there that you didn't know you didn't know, too—and you never know how that information serves to help you in the future.
Build Open and Honest Relationships with Communication – Communication is essential to every job. Even if you engage in most of your communication over technology and writing, openness and honesty build trust, empathy, and a sense of shared collaboration.
Build a Positive Team and Family Spirit – People who have connections at work (i.e., friends) enjoy coming to work much more than people who isolate themselves, clock in and out, and ignore everything around them. Team spirit creates a sense of connection and makes people motivated to get through obstacles with positivity.
Do More with Less – More isn't always better. Resources used wisely enable profits and productivity. Encouragement to use what's at your disposal with respect and appreciation eliminates waste and makes people appreciate what they have.
Be Passionate and Determined – We all have passions and a purpose for our lives. Identifying these is the first step. Then, use your passions to drive your desire for success. Businesses have purposes, too, so when individual and company 'whys' combine, that's where the magic happens.
Be Humble – Sure, we all like to think we're the best of the best. However, we all have areas in which we need to grow and lessons to learn from others. Humility shows that we are human, that we understand our and others' propensity toward mistakes, and that we can be real with each other.
REI – The Co-Op that Truly Shows Cooperation
Outdoor lovers love REI. Not only does this company produce high-quality equipment for every nature-based adventure, but customers and employees all benefit from the business model.
REI customers have the choice to become member-owners. The purchase profits go right back to benefit these loyal patrons. These profits are shared among several areas, including:
Employee profit sharing
Retirement accounts
Performance incentives
Nonprofit investments and donations
Member rewards
REI's mission is to equip both customers and employees to have fun and promote environmental stewardship in the outdoors. Specifically, how do the employees fit into this equation? The company states that its employees give life to their purpose, saying that the business's success is directly related to the morale of its workers.
Someone who loves spending their free time in the outdoors is happier working in an environment in which they are immersed in that culture. Therefore, REI offers challenge grants for employees to submit ideas for adventures that the team members take part in together.
REI also values employees' opinions as they are the ones who work in the real world each day. They schedule regular meetings in a townhall style so management can hear team members' opinions and discuss as a large group. Employees also have the opportunity to submit discussion questions anonymously; those are given equal weight.
REI's company culture statement shows that they value employees' passions. When people work in an environment where they apply knowledge, experience, and excitement, a positive culture is created without much effort.
Facebook and Square Space – Flat Organization Instead of Hierarchical Management
Most businesses run off a hierarchical system in which:
There are a few top managers at the highest levels.
Many mid-level managers report to the top-ranking professionals.
High numbers of low-level or entry-level employees do the work that others don't want to do while they wait to climb the ranks.
However, there is hardly—if ever—room for everyone at the top. A few successful businesses threw out this model and opted for something more innovative.
Although this model runs into snags as a business grows, it still works. The foundational company culture statement of all employees sharing the load raises morale and helps everyone to appreciate all forms of effort.
Facebook and SquareSpace run their companies as flat organizations. The Examples of company culture statements subscribe to the idea that there aren't levels of management and division between executive employees and more general staff.
In a flat organization, employees feel that it's easy to make their voices heard. They don't have to communicate with specific people in a particular way. People also see company executives working right alongside them, which motivates team members. People are confident and have high morale when they are truly a part of an equal team.
Facebook and Square Space don't stop there, of course. They offer a range of perks and benefits which give people even more reason to love their jobs, such as:
Fully covered health insurance premiums
Flexible vacation days and time off
Eye-catching office space
Catered meals and comped lunches/dinners
Regular celebrations for birthdays, holidays, and professional accomplishments
Private relaxation spaces
On-site laundry and exercise rooms
Industry-leading guest speakers
Stock options and generous bonuses
Friendly competition that fosters growth for all
Company perks like these don't mean that a positive company culture automatically comes along, though. They must coincide with good leadership and down-to-earth managers who see that everyone is essential. Facebook and Square Space had to work out some kinks with their flat management styles as they grew, but their good leadership carried them through.
Adobe – Trusting People to Set their Boundaries
Adobe is known for challenging its employees yet giving them appropriate scaffolds for success. They know the value in exciting work and the good feelings that come with successfully tackling challenges.
Adobe prides itself on letting go of micromanaging, instead trusting that employees who are respected always do their best. This company produces graphic design products for creativity, and they hold the same value of allowing creativity for their team members.
Managers for Adobe don't rate employees or insert themselves into people's individual projects. What do managers do, then, if they don't micromanage? They coach and guide, helping employees work toward their own goals and assessments.
Adobe wants their team members to hold company success as a priority, though. They give all employees generous stock options, encouraging productivity and innovation to raise the worth of Adobe.
This company invests in its employees with continuous training and the ability to take risks in an environment that allows mistakes. Offering trust breeds independence and accountability, which promotes high morale.
Invest Time in Exploring Examples of Company Culture Statements
Exploring examples of company culture statements gives you a broad idea of how many successful businesses structure themselves. Remember that you don't have to do something exactly as another business does—in fact, you shouldn't.
Your business is unique. Focus on what you do that sets you apart and build on that. Pull a few ideas that spark excitement or joy for you, or that you know align with your company's purpose. Then, let your individual examples of company culture statement flow organically.