How To Write a Strong Self-Performance Review (With Self-Performance Review Examples)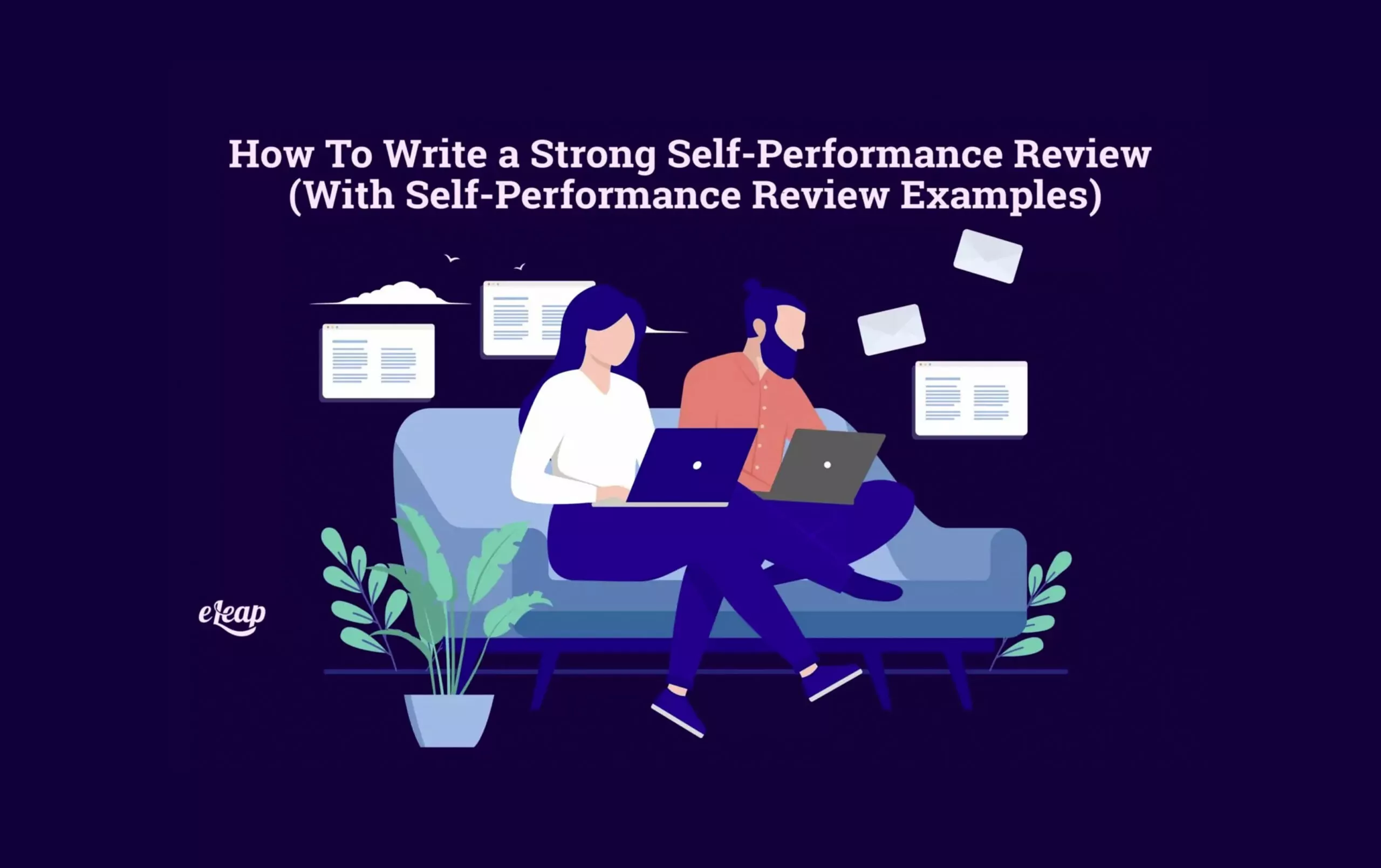 Self-assessments are key to a productive annual review, but they may be hard to write for some employees, which is why we will dive into some great self-performance review examples below.
Each year, managers must look at an employee's output, contributions, successes, and areas for opportunity to compile a comprehensive review of the employee's performance over time.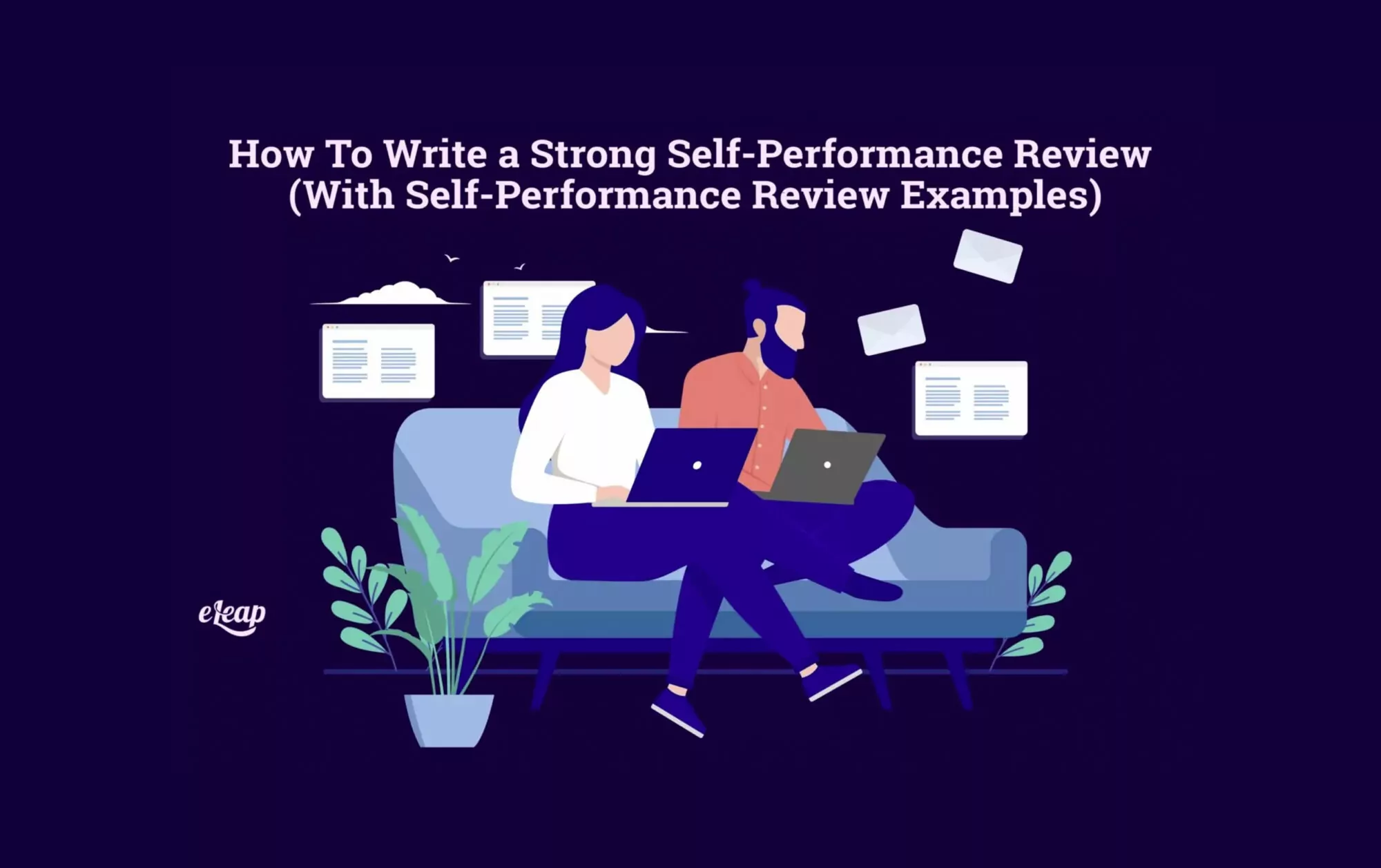 Performance Reviews Provide Insights
There are many ways managers or employers may compile the information needed for a performance review; they can look at key metrics, goals met or not met, colleagues' assessments of the employee being reviewed, and more. However, even managers can only see so much. They may not know the details of the specific contributions or struggles that a particular employee has faced.
This is why many companies now include an employee self-performance review as part of their review process. Self-assessment allows employees a designated time and space to reflect on their successes, and missed opportunities, over a period.
Analyze Management with Self-Performance Reviews
Self-performance reviews also offer the employee an opportunity to provide their manager insights that they may not have taken into consideration. For example, in a sales organization, a territory shift might have been the best decision for the company overall. The employee(s) impacted by these shifts may want a space to give feedback on how that process affected their typical output. That's just one example – there are tons of scenarios where managers may need to see things from their employee's point of view to better understand their performance.
What the self-performance review will look like varies from company to company. Some companies have rigid templates where employees score themselves on a basic number scale while others may have a freeform "fill in the blank" style. Regardless of the form, it's important to use your self-performance review to your advantage.
Why Are Self-Performance Reviews Beneficial to Employees?
Self-assessment puts some power back into the employee's hands when it comes to their career paths. Just a few benefits of a self-assessment system include:
Self-performance reviews allow a place for employees to reflect and set goals. Employees are often so busy that they forget to take stock of everything they have accomplished. Allowing an employee to reflect on their work in a structured way, allow an employee to consider their strengths and weaknesses It also helps them map out a plan for the future.
Self-performance reviews put agency back in the employee's hands. It can feel discouraging for an employee to have a subpar, one-sided review from their manager if they just aren't seeing issues from their point of view. Self-assessment allows employees to have a stake in the conversation and reveal any blind spots management may have.
Self-assessment helps employees prepare for a structured and productive performance review. In performance reviews, it is common for managers to ask employees questions regarding their areas of improvement, goals, and more. By completing a review beforehand, employees can begin to identify these aspects and prepare talking points.
Self-performance reviews allow employees a chance to remind their manager what they bring to the table. Managers are busy and usually in charge of monitoring several people and their daily tasks. A performance review is a perfect time for an employee to circle back to some accomplishments or projects they worked on for the company over the past year.
A Catalyst for Conversation
Most importantly, performance reviews are frequently used to determine the employee's future at the company and can be catalysts for conversations about promotions or raises. As an employee, it's important to take advantage of these opportunities. A self-performance review helps employees truly prepare to speak about what makes them an asset to the organization.
Even at companies that don't offer or require self-assessment in the review process, it's still beneficial for these employees to write a short document on what they have accomplished, improvements they can make, and any other information they would like to note. Employees can do this and use it as a guide in the performance review conversation, even if the company does not support self-assessment.
Effective Self-Performance Review Examples
Now that you have a better understanding of how self-assessment benefits you as an employee, it's time to consider how to best utilize this opportunity. A self-assessment is a great tool, but just as with any other tool, it only works if it's used correctly!
There are ways to make your self-performance review better and more informational, resulting in a better review. Below, we'll highlight some self-assessment examples and tips to build the strongest case for yourself.
Avoid Vagueness 
One big mistake an employee can make on a self-assessment is assuming their manager knows their accomplishments. As an example, a marketing professional may not write the exact number of clicks they drove to the company website or how many inbound leads were created because of their efforts. They may assume that the company tracks this, and therefore, it's spoken for.
However, this simply isn't true. Although it's right to assume higher-ups track the company's performance, they usually do so at a macro level. They may be happy to see rising sales or better advertising, but they don't often pinpoint the key employees who made it happen and what steps they took to get there. As such, a self-performance assessment is a great time to circle back on specific, quantifiable results an employee has accomplished.
Self-Performance Review Example for Highlighting Achievements in a Detailed Manner
A self-assessment question might be, "What have you accomplished this year that you are proud of?"
A response to this question that is too vague could be something like, "I drove lots of new business into the pipeline while still nurturing current accounts".
It sounds good – but what is quantifiable here? What does this prove about the employee's performance? It's too vague to be successful.
To rework this into an effective self-assessment example, add key metrics and data. You could instead say, "I drove thirty-thousand dollars in new revenue, while still nurturing current accounts. Those accounts continue to make ten thousand dollars per month in recurring revenue."
Now that you have data, numbers, and actual statistics on your side – it is much easier for managers to immediately see what an asset you are.
Being as specific as possible means looking at historical data, revisiting old projects, and more. However, it is worth it to compile this data so you can use it to your advantage on the self-assessment.
Working with Weaknesses
Performance reviews are a great time to highlight wins and successes throughout the year, but they are also a time to revisit struggles and pinpoint current approaches that aren't working. Every performance review will come with an aspect of asking the employee about their weaknesses or struggles.
Lots of people struggle with speaking to their weaknesses. Generally, most people want to shove theirs under the rug. However, talking about weaknesses can be used to an employee's advantage, when done correctly.
Self-Performance Review Example for Speaking to Weaknesses
For example, a self-assessment question may be, "Where are your opportunities for growth?"
An ineffective response to this question would be, "My biggest weakness is my organizational skills. I struggle to keep things in order, which affects my productivity."
An effective way to answer this question on a self-performance review would be, "I have an opportunity for growth with my organizational skills.
I recognized this was a weakness of mine, so I have implemented automated calendar reminders and obtained coaching on organizational efficiency. This has helped me work toward improving my skills."
Any time it is possible (and it almost always is) you should be framing your weakness as areas for opportunity and showing what steps you have taken to overcome them, which shows tenacity and initiative.
Provide Examples
When asked more broad questions on your self-performance assessment, such as ones pertaining to how you work with others on the team, you'll want to provide specific examples.
It's great to claim you work well with everyone– but it doesn't provide much context into how you've been able to do so.
Especially if you are someone who frequently works cross-departmentally, such as a salesperson who may frequently collaborate on projects with marketing or product design, it's important to provide specific examples of the extra effort you took to collaborate.
Self-Performance Review Example for Providing Tangible Examples
An example of a question you may come across is, "How well do you work with others within the organization?"
An ineffective response to this would be, "I work well with others. I am a people person, so I get along with everyone!" It's a nice statement that may be true, but this response has zero context or tangible examples to show how you are able to work well with others.
A more effective answer to this type of question could be, "I work well with others. On my team, I frequently offer to help new team members and utilize messaging apps to keep in communication with my colleagues, and I always volunteer to help with ongoing projects, such as [X] project I helped [Name of colleague] bring to completion earlier this year."
Bottom Line
Though many employees find writing their self-performance review daunting or intimidating, it shouldn't be. Your self-performance review is your chance, as an employee, to walk your manager through your accomplishments. It also gives you a space to own up to weaknesses and share your plans to improve upon them.
A carefully thought out self-assessment can help you make sense of your professional life so far. And create a vision of where you'd like it to go.
It also helps guide the performance review conversation and makes it far more productive. So, don't shy away from giving it your all on this year's self-performance review.  You deserve a chance to reflect and celebrate your wins!