Coaching for Agile Performance Management
In the era of smartphone technology, whatever you need help with, "There's an app for that." The same can be said of coaching. When it comes to nearly any aspect of work or life, "There's a coach for that." Life coach, executive coach, career coach, accountability coach, conflict coach, nutrition coach, fitness coach, relationship coach, wellness coach, leadership coach, health coach, and so on. This article explores where all this coaching came from and why coaching is important to agile performance management (APM).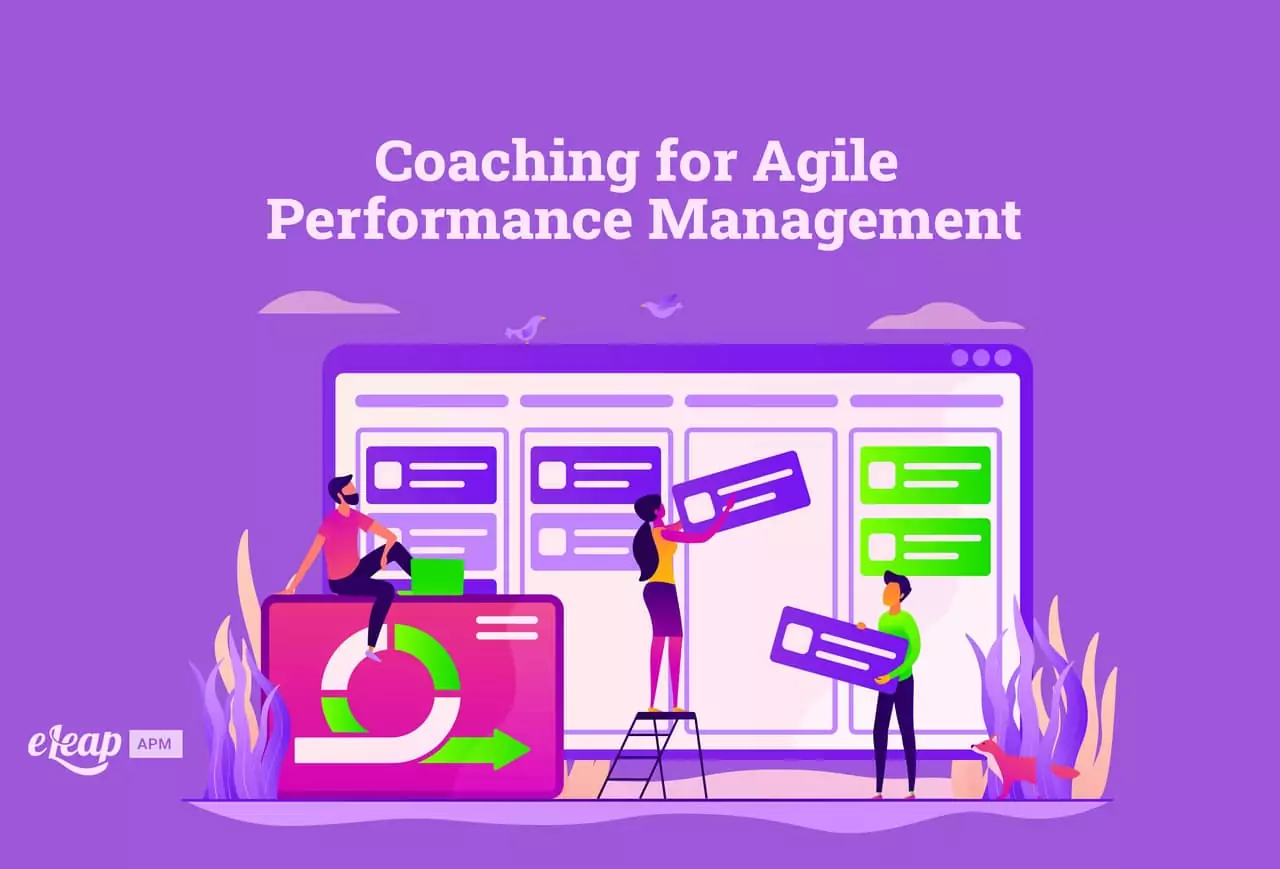 The Origins of Coaching
Think of coaching as a specialized form of teaching where the instruction is focused on achieving specific outcomes through training and guidance. In fact, the first use of the word "coach" as we might recognize it today was around 1830 at Oxford University when it was slang for describing a tutor helping students get through exams. Before that, a "coach" referred to a four-wheeled covered carriage, and there is a thread connecting the idea of transporting a people from where they are now to where they want to be. It wasn't until around 1861 that the term "coach" was specifically applied to a person who trains athletes, even though that had been going on for far back into history. Despite the rise of life coaching and all its variations and subtypes, athletic trainer/instructor most people think of when they hear the word coach.
It wasn't until the 1980s when coaching started to be applied to more areas of life and work thanks to the efforts of financial planner Thomas Leonard. He noticed his clients needed more than just financial counseling. What they really wanted was help figuring out how to live life more fully. He began thinking of how to work in a more holistic way with his clients to achieve better and more fulfilling outcomes in a variety of aspects of life. While coaching and mentoring would seem to overlap, they differ in that coaching tends to focus on specific objectives and outcomes whereas mentoring is broader in its goals and overall development.
Excellence in Coaching: The Athletic Foundations of Coaching
Athletic coaching is a natural fit for the kind of coaching needed in businesses and organizations. After all, and athletic coach trains, instructs, and guides athletes to peak athletic performance. In the workplace, what every manager wants from employees is peak performance, so it makes sense to look at what an athletic coach does for clues on managing performance.
While there are many high-level athletic competitions where athletes can show themselves at peak performance, none have captured the imagination as much as the Olympics, and the International Olympic Committee (IOC) has described the Qualities of a Great Sports Coach: "A good coach is positive, enthusiastic, supportive, trusting, focused, goal-oriented, knowledgeable, observant, respectful, patient and a clear communicator."
10 Key Qualities of Coaches: Translating Athletic Coaching to APM
The document goes on to describe 10 key qualities of an excellent coach, which are worth studying to see how they can translate into performance management in the workplace. Below you'll find each key quality of a coach as found in the IOC document adapted and rewritten to fit APM in the workplace, where an excellent manager/coach…
Understands the Work and Leads by Example: To be able to teach effectively, the manager/coach must have in-depth understanding of the work from the fundamental skills to advanced tactics and strategy. Coaches must provide a simple, structured environment for employees to succeed. The essence of good coaching includes the following steps: Plan, Prepare, Rehearse, Perform, and Reflect, a cycle that should continue through an employee's tenure. A good coach should have a recognized qualification of their ability to manage/coach. Not every great coach will have a top-level qualification, but every coach should have some qualification and training.
Is Continually Developing, Growing, and Improving: While an excellent manager/coach knows a great deal about performance management, they must continue to learn and develop new techniques. Staying up-to-date and informed of new research and developments in methods should be a central aim of professional development of the manager/coach, who should be continually growing and improving their APM skills and capabilities.
Shares Their Knowledge and Educates Others: While obtaining knowledge is important, having the confidence to share and seek others' views, especially those outside your immediate domain, is a key quality. It's about being happy to try new things and different ideas in the quest to improve performance. The best managers/coaches clearly understand they are there to educate employees. The more employees really understand what they are doing and why they are doing it, the better they will learn, grow, and perform.
Is a Highly Energized Motivator: The successful manager/coach is a motivator with a positive attitude and enthusiasm for the work and the employees doing it. The ability to motivate and inspire is part of the formula for success. Getting employees to believe in themselves and achieve comes far easier from some coaches than others. The coach who can motivate is able to generate the desire to excel in their employees. Motivation may mean keeping the workplace fun, fresh, and challenging. When motivating an employee, a good manager/coach stresses striving to reach performance goals. A manager/coach should make sure athletes understand you can completely control your own effort and training, but can't control every aspect of what goes on around them or in the broader market in which a company or organization exists. Fun and enjoyment are critical to successful coaching.
Knows the Employee and Values and Respects that Relationship: Being aware of individual differences in employees is an important ingredient in coaching excellence. Strong emotional displays may work for some but could have a devastating effect on others. Individualizing communication and motivation to specific employees is vital to successful managing/coaching. Paying attention to an employee's emotions, strengths, and weaknesses are the responsibility of a good coach. Understanding how every employee is different and has different ways of receiving feedback is key to good managing/coaching, especially in a team environment.
Is an Effective Communicator and Teacher: The effective manager/coach is one who communicates well and exudes credibility, competence, respect, and authority. A manager/coach should be able to explain ideas clearly. Clear communication means setting defined goals, giving direct feedback, and reinforcing the key messages. Acknowledging success is also essential for good communication. Language is a key part of coaching. Keeping everything simple and easily understood is a sign of a successful coach.
Is a Good Listener: Effective listening is a big part of effective communication. A manager/coach should be a compassionate ear and should welcome employee comments, questions, and input. The effective manager/coach will actively seek out information from employees, making the workplace an environment where employees are encouraged to present ideas and thoughts to the manager/coach. Finally, the good coach will be flexible and use employee feedback to modify the performance management plan as needed.
Is Disciplined and Strong in Character and Integrity: Employees need to adhere to a reasonable set of rules in the workplace, and managers/coaches must provide discipline when needed. Trust between employee and manager/coach is of paramount importance and is a two-way street between both parties. Managerial discipline of employees when needed should be mild, prompt, and consistent.
Leads by Example with Strong Work Ethic: The effective manager/coach leads by example. A good coach adheres to the same rules expected of employees. A manager/coach who wants respect should also show respect. A manager/coach who expects employees to remain positive needs to display a positive attitude. A manager/coach who wants employees to listen should also listen to employees.
Displays Commitment and Passion for the Company and the Work: Besides being strongly committed to the company and its success, excellent managers/coaches display a clear commitment to looking out for the best interests of the individual employees they manage even while striving to get their team and themselves to perform at their best when pressure is at its greatest.
Committing to training your managers to be Olympic-style coaches who display the above 10 key qualities is one of the most impactful transformations you can undertake in shifting to agile performance management.
Is Your Company Ready for Agile Performance Management?
Businesses and organizations that desire to achieve and sustain success in challenging and ever-changing environments need to prioritize adopting agile performance management practices such as coaching by placing it near the top of their "to-do" lists. As you shift from traditional performance management to APM, you'll want the support of the right technology and software that fits the agile approach to training, learning, and performance management. The eLeaP LMS (learning management system) and forthcoming Agile Performance Management app make for the kind of integrated cloud-based software offerings you can rely on as you shift to APM.