Five Big Warnings as Organizations Take Performance Management to the Digital Space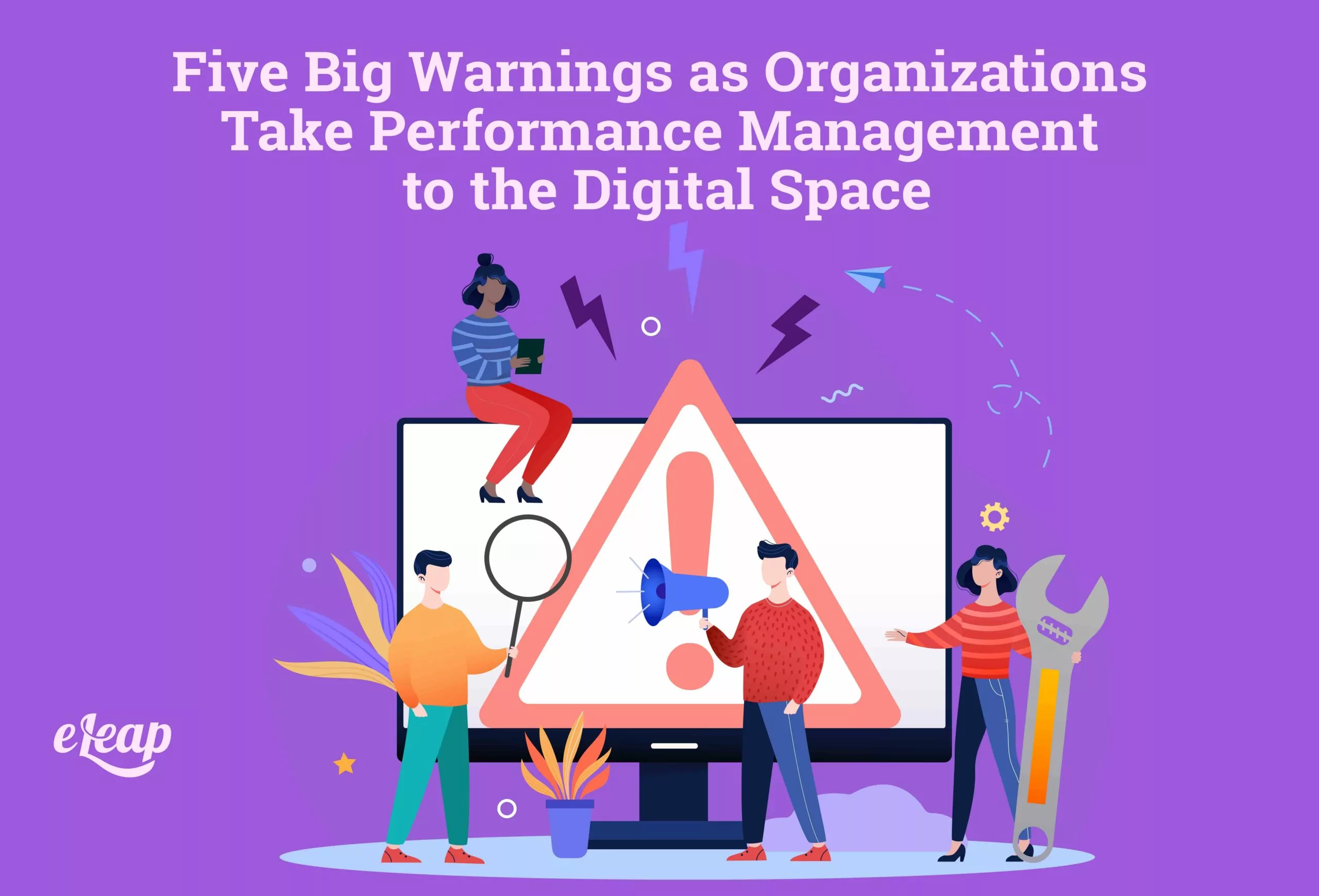 As the future of performance management looks to more flexibility, more focus on development, and more continuity, it's also going to be more data-driven and yet somehow, less data-focused. While that might sound like a catch-22, it's actually a simple transition that's taking place—while data-driven performance management initiatives are pushed, organizations will start to focus more on employee performance as a whole, integrating a performance culture rather than just measuring "goals" annually.
To get started on the right foot (or get things back on track, for those who've already gone astray), here are five warnings about what to do and what not to do when it comes to digital performance management.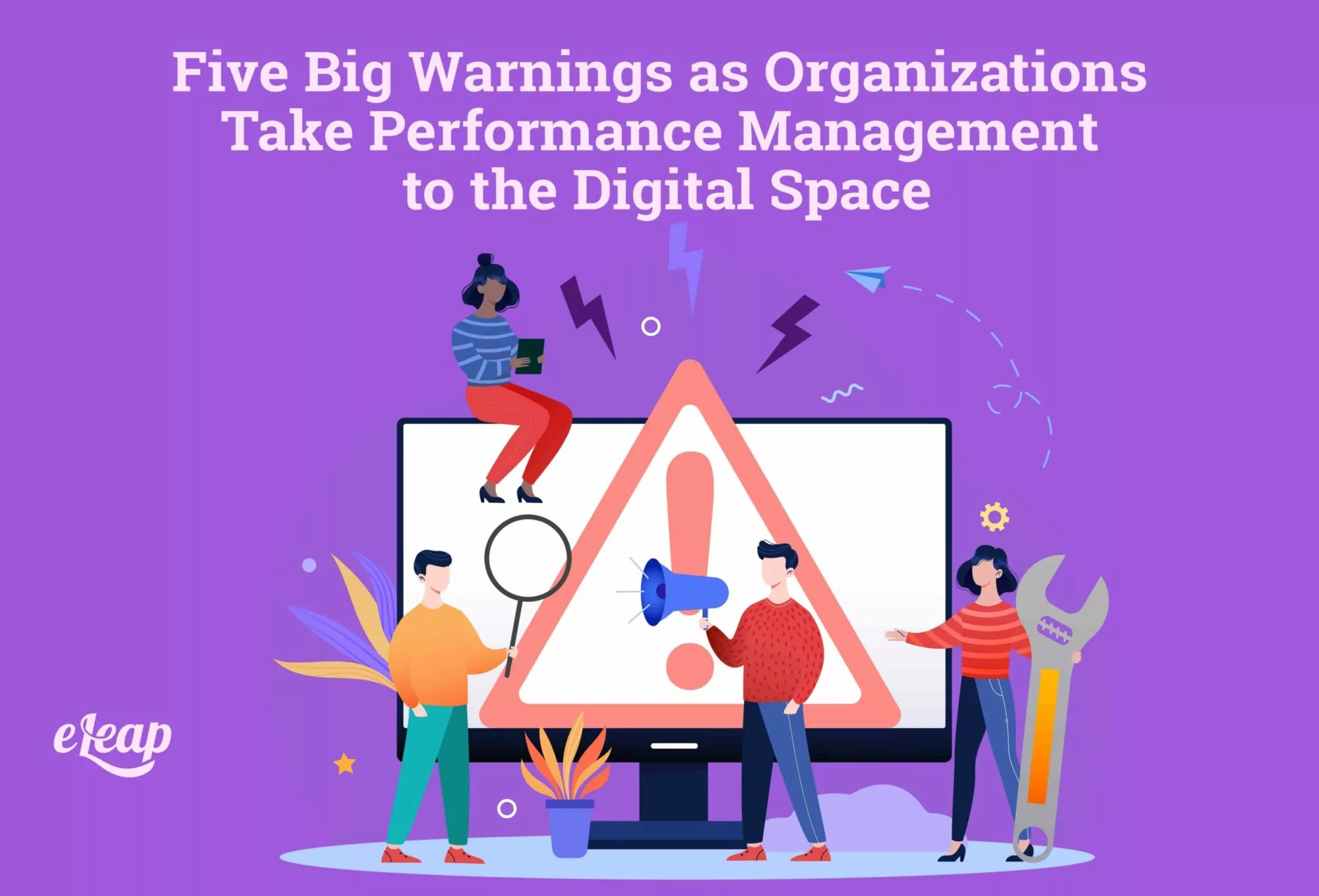 Don't Get Caught Up in the Same Metrics
In some instances, companies see digital transformation as an embrace of digital analytics and valuable data that can only be generated by modern AI and technology. While this is an asset of the upgrade, it's not the reason for doing it. It can be easy to attempt to shift performance management initiatives and strategies and only wind up back where you started, but in a different medium.
Organizations need to focus on how they can use digital transformation to take an overall look at performance management. They need to step back and be able to determine how they can utilize these metrics along with other insights to glean a more comprehensive assessment of employee performance. Yes, the metrics are important, but they aren't the only part of the equation. Employees are people and should be assessed thusly.
Real-Time Doesn't Mean
All the Time
Another common misstep is that managers and company leaders see access to real-time information and data as a way to monitor things 24/7/365—and while you should invest in analytics tools that do that, your managers shouldn't be stalking the metrics. They should be paying attention to performance and utilizing the metrics to back up what they observe.
There's such a thing as too much monitoring—a lot refer to it as micromanaging. Just because organizations have access to real-time reporting and metrics doesn't mean they should sit on them all the time. This is all the more reason to implement a solid performance management strategy and rely on an occasional look at the metrics to help employees have a more comprehensive look at their own performance and development.
Technology can help keep teams aligned, but that transparency is something that should be utilized to see that watching the numbers can happen less now that there are digital tools in place. After all, with the right digital transformation, the system will practically run itself. Organizations that have switched to digital performance management see less micromanagement in all areas and thereby have more reliable, capable employees that want to take ownership of their roles.
Do
Pay Attention to Engagement
Perhaps one of the best parts of digital performance management is that organizations can now monitor things like employee engagement—at least in the realm of their engagement with digital tools and collaborations, etc. It's important to ensure that employees are embracing this engagement and taking advantage of the digital resources to take ownership of their own development and performance improvements.
Companies that pay more attention to engagement than metrics will quickly start to notice that employees also focus more on their engagement and how that impacts their overall performance. There's a lot to the process and those who embrace it will have much better odds of success.
Performance management tech allows human resources leaders and other organizational leaders to get a glimpse of overall usage, also allowing them to determine what needs to be tweaked, when changes need to be made, and when performance needs to be addressed, whether for good or bad reasons.
Don't Overlook the Value of Digital Records
One of the biggest selling points of digital performance management tools is the ability to create digital records of all kinds of metrics, engagements, collaborations, and so forth. Essentially, this technology sets you up with access to an audit trail, which will come in handy in the future in the event that legal action is taken against the organization or there's another cause for an audit.
Some companies don't invest a lot of time in the setup and maintenance of these digital records. They leave the "standard" settings and go on about their business. Unfortunately, that's not going to do much in helping improve performance management. It's important to customize recordkeeping and explore all the digital recordkeeping options so that the organization is primed to have all the right information on hand at the right time.
Embrace Personalized Training and Development
Some companies get on board with digital performance management tools only to use them to create the same generic metrics and universal performance management processes that they've been using for decades. This is not only ineffective, but it's a poor use of digital tools and all the features that they have to offer. One of the best things about digitalization is that you can now create personalized development and performance plans and journeys for each employee.
This makes it easier for organizations to train people effectively and help them develop in their role, as much for their own benefit as for the benefit of the organization. Digital tools make it easy to zero in on where people are missing the mark so that changes can be made.
The Benefits Are There When You Do It Right
Organizations that succeed with the digital transition in performance management are those who heed the warnings here and take the time to learn the best practices of performance management tools. As companies begin to understand the need for a more focused, personalized learning and development journey for each of their candidates, they are capable of developing and integrating systems that help make that a reality so that they, too, can move into the future of performance management and embrace the many benefits of digital transformation. The eLeaP continuous performance management system provides organizations with powerful options to attract and retain high caliber team members.