Filling Employment and Skills Gaps: Knowing When to Hire and When to Promote from Within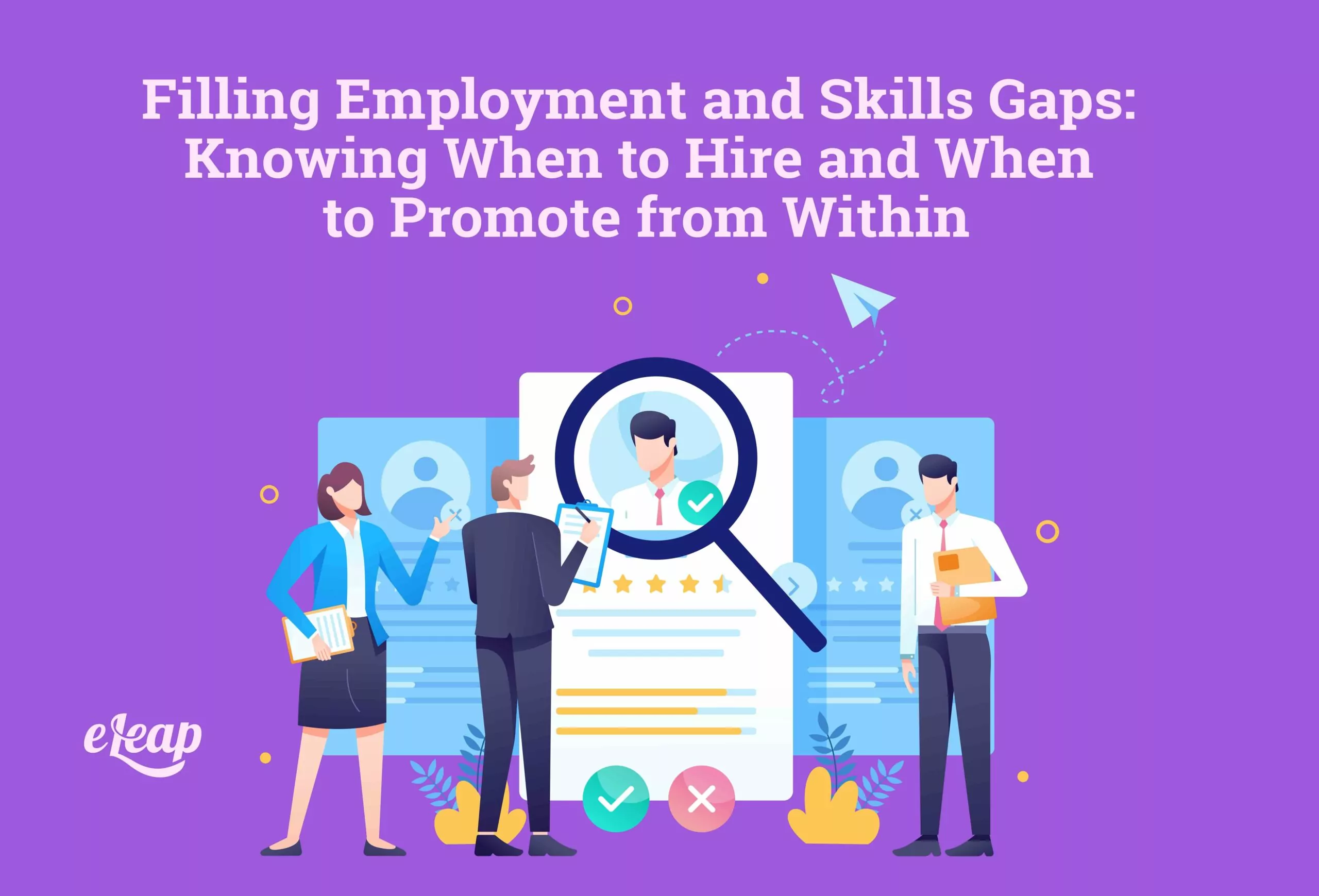 Companies today are finding themselves short-handed in all kinds of ways. Some organizations are going weeks, and even months, without managers, supervisors, or other important roles filled properly, causing others to pick up the slack. If an organization has done that, well, it will become clear that instead of looking for a new person to fill the role, perhaps you should consider promoting the team from within.
After all, whether it's in their expertise or list of job duties, some employees will eagerly take the helm and start picking up the slack when other roles are missing from the organization. Those are the employees that you want in the ranks of your company—they'll be there through it all and they'll always be looking for ways to go above and beyond to show off their value to the organization.
But how are hiring managers and key decision-makers supposed to know when to hire externally versus when to promote or hire internally?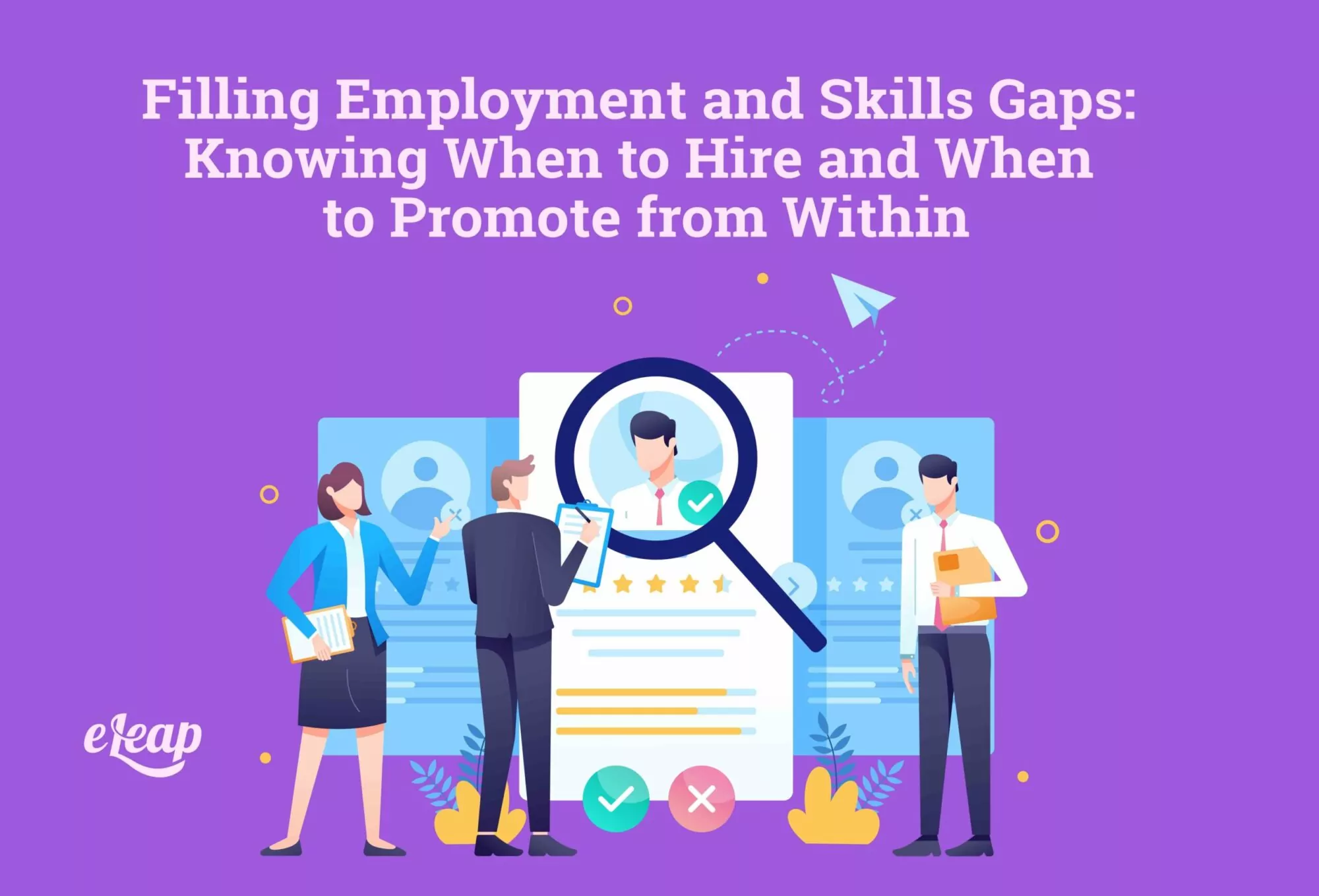 What Roles are Being Filled?
There is always the consideration of what role is being filled. If there's a leadership role open in the marketing department, for example, companies might try to find a current team member to step up and then just replace them at a lower cost. After all, it's much easier and more affordable to onboard entry-level employees if you have to hire at all.
Take a step back and look at the roles that the organization is hiring for and how they fit into the greater overall operation of the company. If you're only hyper-focused on the position at hand, you're not going to be able to see the bigger picture and put the right person in the role. Usually, organizations that struggle with retention find that they're too focused on the finer details and not looking at how the role fits into the organization, causing a lapse of judgment or a decision to hire that might be just a little off base.
How Does the Budget Look?
Promoting from within is usually a lot more affordable than hiring out. For starters, organizations aren't investing thousands of dollars into training and onboarding someone from outside of the organization. Not only that, but you won't have to spend money on posting the job on various job boards, as well as the other steps in the hiring process. On the flip side, of course, some companies may choose to hire externally because their internal candidates would require too much money in terms of salary—it's all about creating a balance based on what the company needs.
Consider the hiring costs involved in both options compared to what you need or anticipate getting from the role. Whether you've got a larger budget or you're trying to fill a role without emptying the business payroll account, you have to do what makes the most financial sense.
The Knowledge Factor
Internal hires or promotions already know the business. They know the culture, they know their role, and they probably even have some working knowledge of the role that you're trying to fill. Therefore, they will require a lot less training and hands-on learning than someone coming in fresh off the streets. This can save resources and time, but it can also help you develop a better-educated team that understands not just the role, but how it fits into the organization to create a cohesive working environment for everyone.
Certain positions and roles will require external or specialty hires. For example, even if a customer service supervisor is excelling in their role, they wouldn't typically be transferred into something like a UX design role or a web development position. If an organization is hiring for a specialty or niche role, it might be better to hire from outside so that you can get the absolute best person for the role.
Current Employees are Already a Culture Fit
One of the most difficult parts of finding people to fill vacancies is determining whether they fit within the organizational culture. Promoting from within allows companies to avoid hiring someone who ends up not blending in with the existing culture. If they're already employed, that means they're already involved in the culture and you won't have to worry as much about whether they can keep up in their new role.
Then again, for those companies that may be looking for a culture shift, it could be helpful to hire externally and find the individual with the right type of culture and mindset to start that shift. There is no "perfect employee" but if you take the time to look at your needs, you will quickly start to come up with a picture of what would fit the organization, including in terms of culture.
Hiring a new employee is always a craps shoot—sometimes it goes swimmingly. Other times, even when it seems like the perfect match, the person could completely clash with the organizational culture and that will impact their productivity, longevity, and the success of your organization as a whole.
The Bottom Line
Ultimately, it will be up to the hiring manager and other decision-makers as to how to proceed with open positions. Companies must proceed with caution, though. As stated, some top performers will always be vying to move up and around within the company, so it should definitely be on the organization's radar to promote from within or allow current employees to interview or apply for open roles.
Companies already have the cultural fit and they know the employee understands how things work. It's also significantly cheaper to promote from within, even though the person "hired" for the role will usually earn more than someone hired from outside. The final consideration is that no two organizations have the same needs. Therefore, you'll have to use these tips to determine the best course of action for filling gaps in your organization. Contact us today for a free consultation.  The eLeaP continuous performance management system provides organizations with powerful options to attract and retain high caliber team members.