Creating the Best Employee Engagement Surveys: Part 2
In our last article, we touched on the best questions to ask on employee engagement surveys. If you're not aware of what these surveys consist of, we'll give you a quick refresher.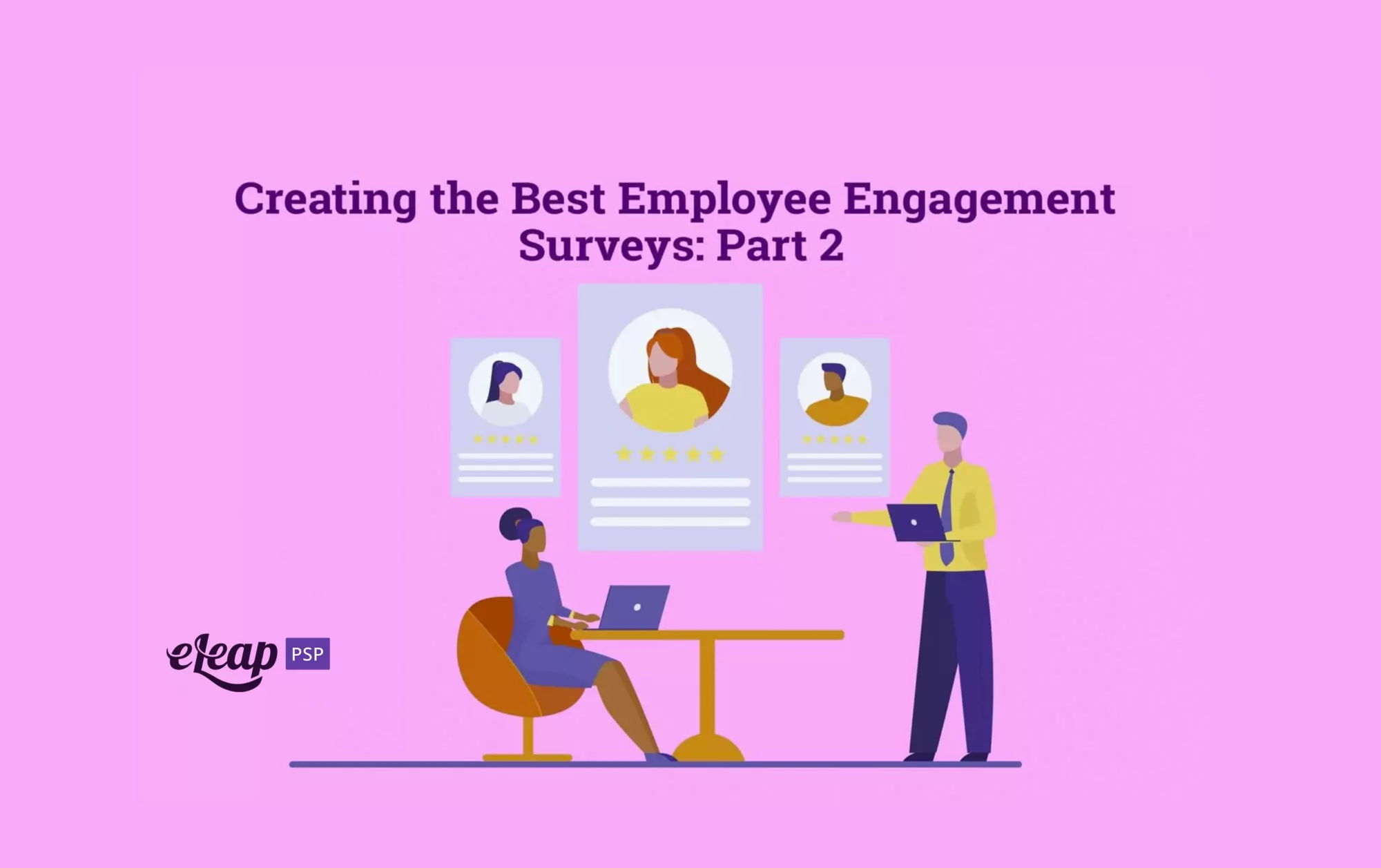 What Are Employee Engagement Surveys?
Employee engagement surveys are typically a part of most performance management systems and a vital part of the performance review process overall. These surveys can be very telling in important areas regarding your company's performance.
However, you have to know how to ask the right questions. It's not enough to just ask the right questions, either. The questions you ask around them are important as well. You have to know how to ask them, when to ask them, and what part of the surveys to include them in.
They must be included in the right setting, grouped with questions to garner the most thoughtful, engaging response possible from your employees.
This is the second part of our two-part article regarding employee engagement survey questions. In the next section, we'll show you the rest of the top questions we have and include some final tips in the end.
Work Environment and Employee Wellbeing
We left off with two questions in the last article, and we have two more for this section, and they're very important!
Do you feel mutual respect in the workplace? Among peers? Among management?
It's important to include both parts in this question. Mutual respect is a huge part of any organization, especially when working in a collaborative environment. In surveys, mutual respect in the workplace was one of the most important metrics when it comes to employee satisfaction and turnover rates. If employees don't feel mutual respect in the workplace, it's likely to lead to mental decline. This is one of the most critical areas of concern. Additionally, your engagement and productivity rates are likely to drop. You'll also find it tougher to recruit top-level talent and retain new employees.
Do you feel that you have the resources you need to remain comfortable at work? (this means materials, supplies, human resources, lunch facilities, etc.)
This encompasses all areas of your organization. It's important that your employees feel as comfortable as possible while they're at work. This includes the supplies they need, mental health guidance and resources, software, tools, and even places to eat. Huge companies like Google have unlimited resources for their employees in just about every area imaginable. We're talking about multiple types of cuisine, mind stimulation areas, gaming areas, and anything to keep employees mentally stimulated, creative, and engaged. The whole idea is to allow employees to be the best version of themselves and provide them with everything they need to be creative and efficient.
Do you feel motivated in your work environment?
This is a basic question, but it's a very important question to ask. If your team members don't feel motivated in their work environment, they're highly unlikely to remain focused, stay engaged, and perform at the best level possible. Feeling motivated at work means a lot of things – are they encouraged to voice their opinions? Do you have group meetings that encourage thinking and brainstorming? Motivation is one of the most critical areas in your organization and can often mean the difference between quality performance and subpar performance.
Do you feel that our organization achieves diversity and inclusivity?
Currently, this is one of the hottest topics in performance management. Millennials and new members of the current workforce are highly concerned about diversity and inclusivity in the workplace. It's important to go out of the way to include everyone in your organization, regardless of sexual orientation, religion, race, and many other areas.
Feedback and Team Environment
Feedback and the team environment are especially important areas. Many companies are shifting to project-based environments, and having an atmosphere conducive to teamwork and constant feedback can play a huge role in your success.
Are you comfortable asking for things you need when they're not available?
Making employees feel like they can ask for the things they need is critical for making important changes within your organization. Not even the biggest, most successful companies have all of the elements they need for success. This is especially true of larger organizations. You can't expect to ALWAYS have everything needed in every department. This may include supplies, resources, tools, software, equipment, and everything in between. However, employees should feel comfortable coming to management and letting them know when they need something. After all, it is the job of a manager to give employees everything they need to be successful, right?
When you're facing a challenge or problem, do you trust your manager to listen and solve it?
The answer to this question speaks volumes about the level of trust employees have for their managers. It also translates into the level of trust they have for the entire organization. Many times, the manager is the face of the organization and the go-between when it comes to employees and the top-level brass. Employees should always feel that managers listen to them and seek the best avenues to help solve their problems. They should also trust the manager's ability to help solve the problem or find the best solution possible by working together with one another.
How would you describe your relationship with your peers at work?
This open-ended write-in question is critical for gaining insight into how your employees feel about their interactions with everyone within their department. Receiving positive feedback for this question is crucial for manifesting a positive work environment. If they feel like they have a rocky relationship with their peers, production levels will be down, and retention levels are likely to decline as well. Relationships should be described as positive, thought-provoking, and communicative.
Here is a list of some final tips you can use to craft the best questions:
Use the surveys as a tool for learning about the top leadership at your company. You should always take the results seriously and leverage them to accomplish as much as possible.
Feedback should be treated with discretion. Everyone's identity should be kept private so it doesn't cause any negative attitudes or environments at work.
Treating your employee engagement surveys seriously is important for your company. After all, they're not included as part of performance management for no reason! Leverage them in every way you can, and monitor the difference they make within your company! The eLeaP continuous performance management system provides organizations with powerful options to attract and retain high caliber team members.