Writing a Performance Review for Yourself Examples and Tips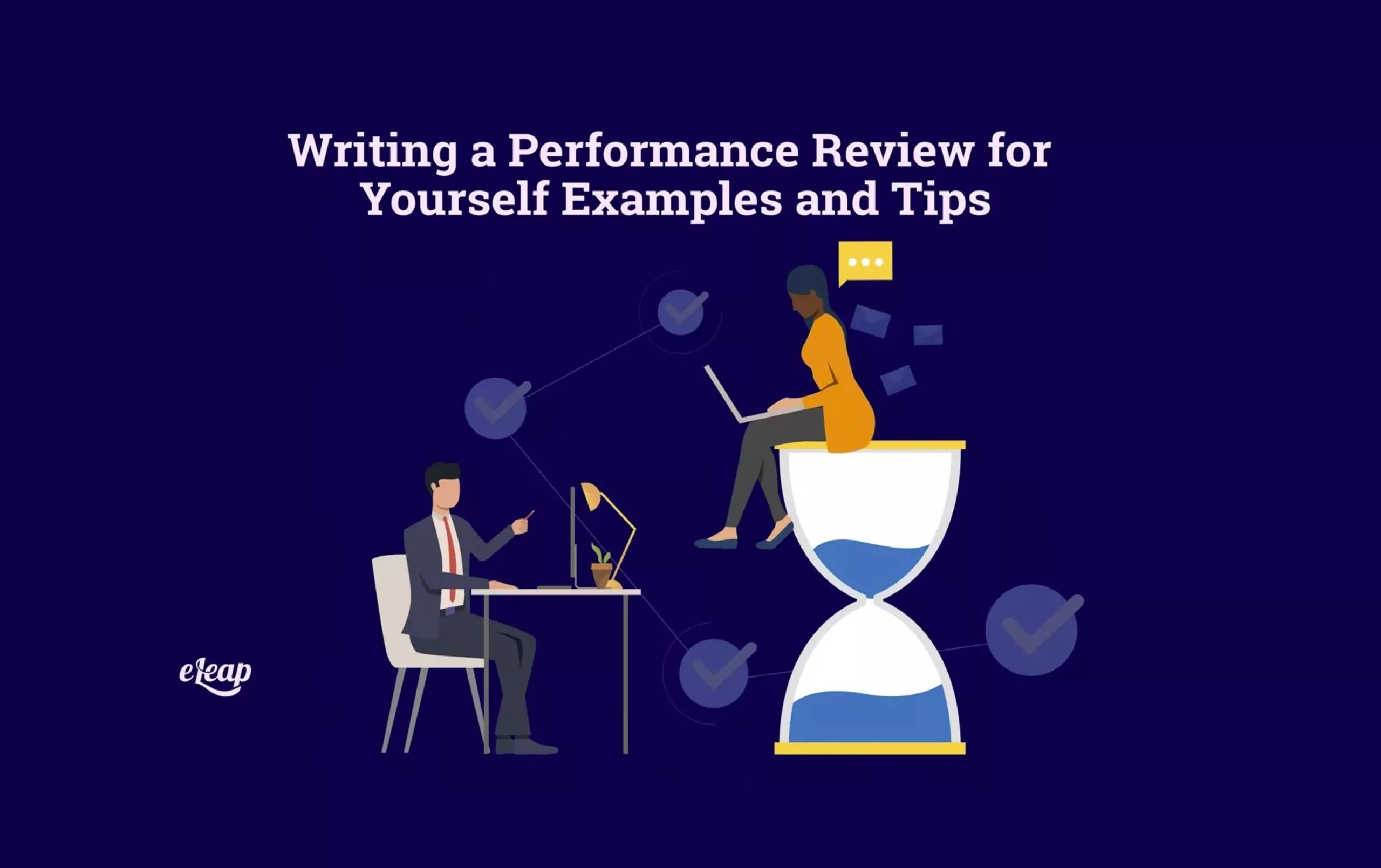 If you are writing a performance review for yourself, these examples will help you understand what it should include. Your performance review is a great way to understand how you're doing in your job and what areas you should focus on during the coming period. The eLeaP People Success Platform has a powerful, agile performance management system to help team members write their best performance reviews.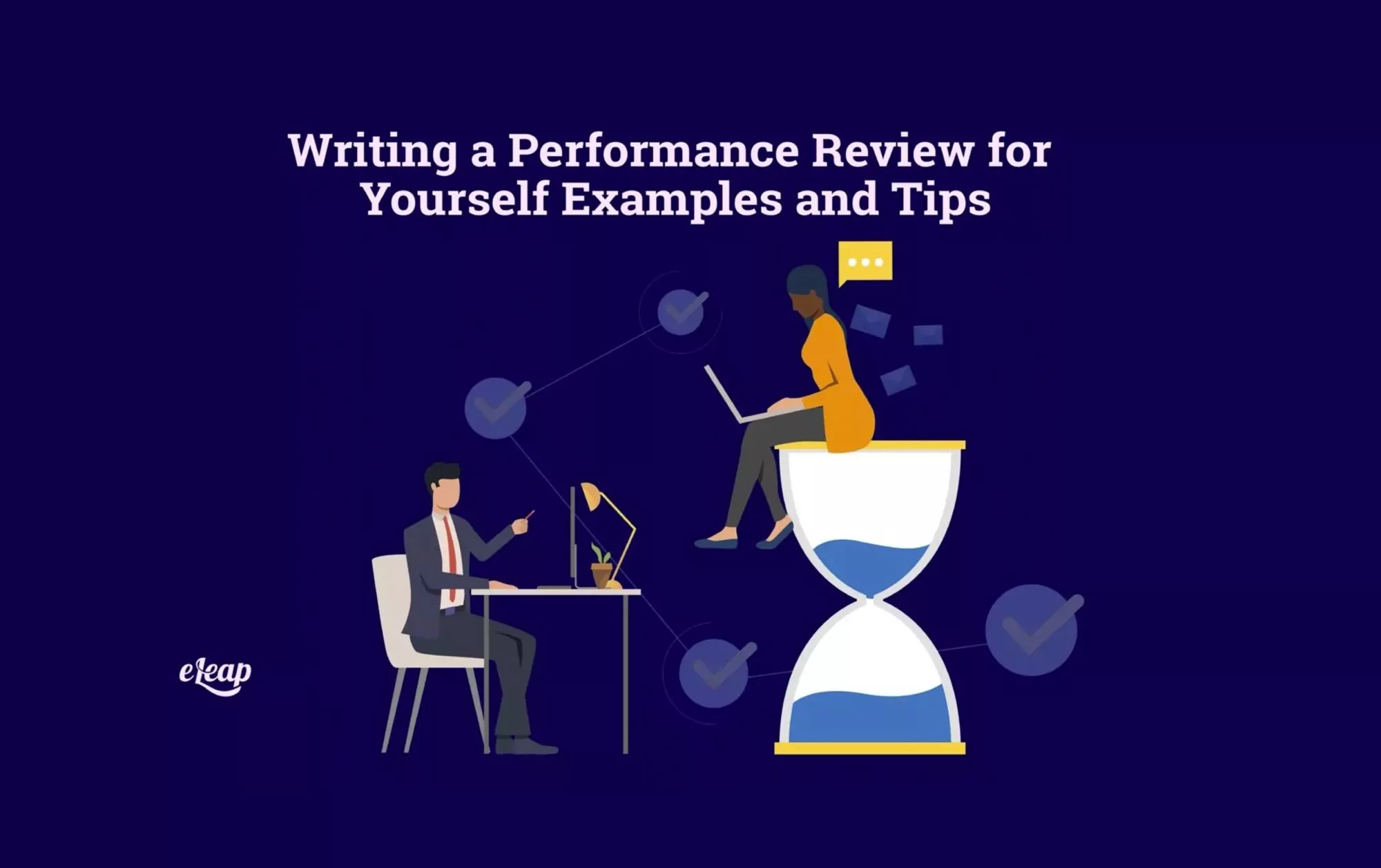 In order to know how to write a thorough performance review for yourself, you should first look at examples of previous reviews and learn the elements that made them successful. Fortunately, we've pulled together tips for writing a performance review for yourself and examples of what to include!
Writing a Performance Review for Yourself Examples
When writing your own performance review, you should include strengths and weaknesses that you have shown during the review period. The key here is to make sure you word them professionally and in a way that shows eagerness to grow and succeed.
Let's look at some examples of how you can do this!
Strengths
When you're focusing on your strengths, you want to make sure you are coming across as confident but not boastful. Ensure you highlight how your strengths are helping the company as a whole. Here are some examples of how to do that:
I'm dedicated to my role and duties here in the company and to the business as a whole. I put every ounce of effort into ensuring the company succeeds.
I communicate well with my team and pull in help when I need it by expressing clearly what assistance I'm looking for. I put in every effort to be on time or even early with every deadline.
I like to think outside the box and develop new, more efficient ways to do everyday tasks so our methods keep up with the business trends.
Weaknesses
Of course, no one is a perfect employee, even if they want to be. It's important to spin your areas for improvement in a positive light when writing a performance review for yourself. Examples of how to do this include:
I sometimes struggle to keep organized in my station, and that hurts my productivity. However, I've been studying ways to organize in a way that works for me, and I'm making an intentional effort to put organization as a top priority. I still have a way to go, but I already see increased productivity in my daily work.
I don't always ask for help when I need it because I tend to feel as if I should be able to do things alone. However, I'm always quick to help my teammates, and my teammates are quick to help one another, so I know they would help me. I'm working on asking for help when I need it instead of suffering in silence.
Goals
After you've touched on where you are doing well and where you're working on improving, you must also consider your goals when writing a performance review. Examples may vary based on your line of work, but remember that your performance review is a great time to express any changes or ideas you have in mind for the coming period.
Make sure your goals are based on the needs of both you and the company, and pull in metrics or examples wherever you can. Being able to make a case for your goal with real data will allow you to make a much more convincing presentation for why you should focus on that area.
Areas to Talk About in Your Performance Review
While every company has its own expectations for performance reviews, there are some key elements that supervisors tend to look for in their employees, regardless of the field. Try to touch on as many of the following topics as when you're writing a performance review for yourself. Examples are also included here so you can get an idea of how to phrase your feedback on each trait.
Communication
Communication is vital to any employee's success, so it's a great idea to touch on your strengths in this area through your self-evaluation. Consider these communication examples:
I am able to communicate clearly with people in all positions, from business partners to my fellow teammates.
I'm able to discuss difficult topics with my coworkers respectfully and efficiently.
I pride myself on only offering constructive feedback when I see an area that could be improved on.
Performance
One of the most important parts of your self-assessment is your performance specifically. This can be a more general area of your review, but here are some examples of topics you can touch on:
I take the initiative on every project I'm given, and I make sure I understand every element of it before I begin.
I am always looking for ways to improve my work in every area.
I consistently meet my timelines for the projects I'm assigned.
Leadership
When writing a performance review for yourself, examples you run across may include talking about your potential leadership capability. This is a great time to show off when you take initiative, especially if you have goals of being promoted! Here are some ideas of traits to mention:
I am always helping my coworkers in any way I can.
I like to make sure everyone feels like they're part of the team when we're brainstorming on our projects.
I help ensure my team always meets our milestones and timelines, putting in extra work when needed.
I love to praise my teammates when I see them doing a good job!
Teamwork
Another crucial part of your success as an employee is working well with the other members of your team, so you will want to highlight your ability to do that. Consider these examples:
I always keep a positive attitude while at work to help motivate my teammates.
I'm known to be the most encouraging member of my team, going out of my way to keep people feeling like they're doing a good job.
I consider views that are different from my own when making decisions on our projects to ensure that we come to a resolution that benefits everyone.
Other Tips on Writing Your Own Performance Review
When looking at tips on writing a performance review for yourself, examples will often have organized thoughts and flow patterns. Regardless of your specific type of evaluation, there are some key tips on putting together a great one!
Be Specific
When you're writing a performance review for yourself, examples like the ones above only go so far. It's up to you to bring in personal moments and victories supporting your points in your evaluation. If you're talking about how you're a good teammate, give a specific and relevant event that proves it!
Use Metrics
You can say you're a hard worker all day long, but using data and metrics to prove it will help convince your management. When you have data that shows you meeting or exceeding goals and targets, you have proof that your manager can't deny.
Metrics are also a great tool for when you set your goals in your performance review. When you're picking your goals to focus on, be specific so that you can measure whether you met your goal. Don't just say, "My goal is to have more sales this quarter." Instead, say something specific: "I plan to increase my sales by 10% over the next quarter." Then, you can look back and see if you truly met your goal!
Keep an Achievement Journal
It can be hard to remember all of the successes you had at work over the last six months or years, and this can leave you forgetting to mention ones that happened shortly after your last performance review. To keep this from happening, keep a running document of your successes, improvements, and any new skills when they happen. This can be a physical notebook, a Word document, or just a note on your phone. Then, when it's time to put your review together, you have a year's worth of successes in one place, letting you pick the best ones!
Be Professional
Of course, the most important thing to remember is to be professional throughout your review. You want to reflect on how much of an asset you are to your team and the company as a whole, and your professionalism will back that up. Don't rush your evaluation; put it together before your performance review. This can give off the impression that you don't take your job seriously. Instead, take time to put together a well-polished review that highlights how you've helped the company!
You also want to ensure that any feedback you give is based on the company, not specific people. Don't bad-mouth your coworkers when you're giving ideas on how to better the work environment. Wording everything you say professionally can help you keep your manager's respect throughout the review.
Takeaway
Performance reviews can be intimidating when you first start them. However, it can be easier when you have examples and tips to go off of! Remember that your self-evaluation is a perfect time to show your manager how essential you are to the team and let them know your short- and long-term goals for your position! With a well-polished evaluation, you're sure to have a great performance review! If you're an HR manager looking for an effective way to manage performance reviews, take the 30-day free trial of eLeaP and find out how easy and comprehensive the process can be.