How To Write a Successful Self-Evaluation (With Self-Evaluation for Performance Review Examples)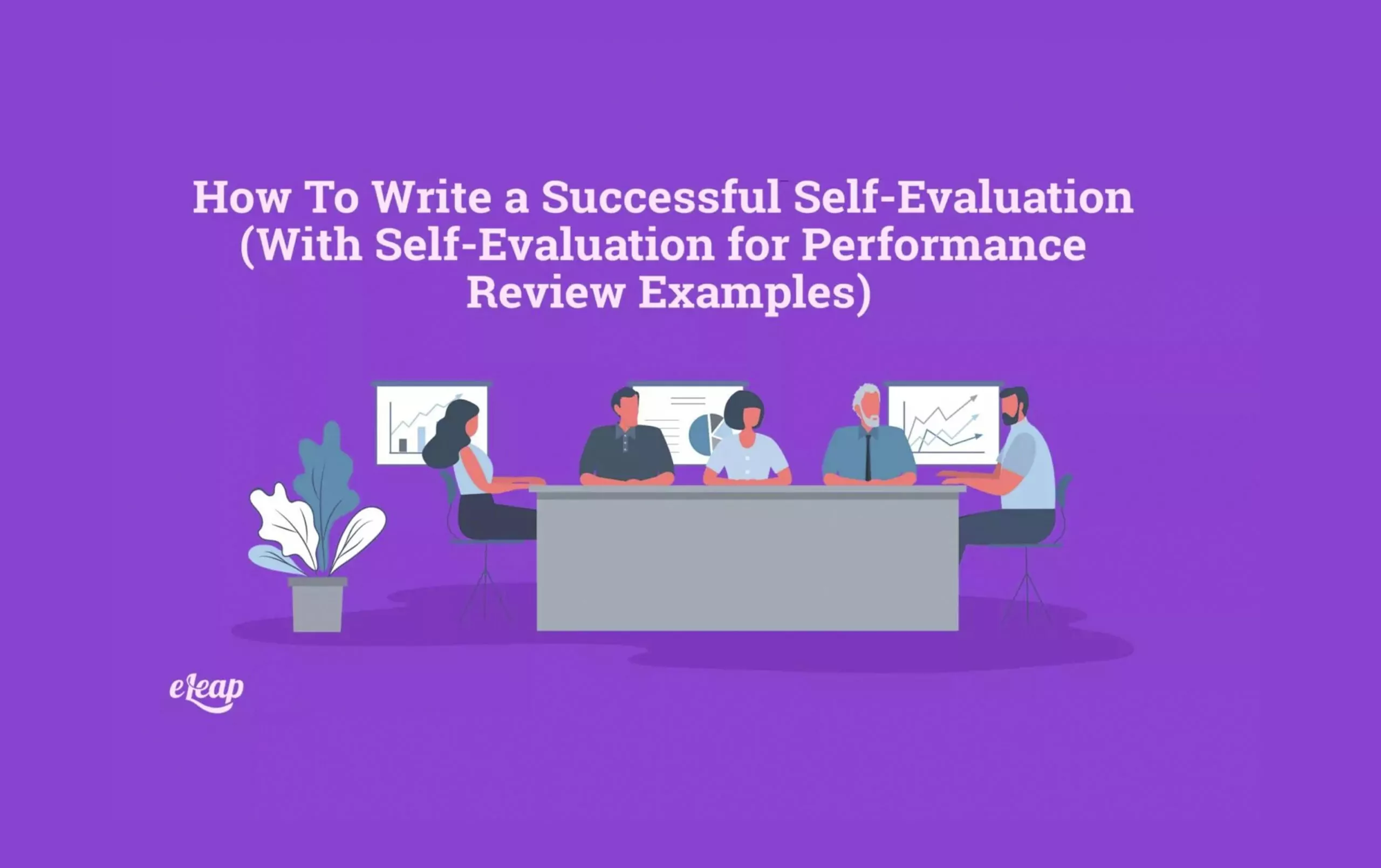 If you're looking for inspiration to get started on your self-evaluation this year, you'll want to keep reading to see our self-evaluation for performance review examples. Writing a self-evaluation can be challenging. It's often hard to be honest with yourself and your work. Many employees fear highlighting the wrong things or writing a self-review that doesn't represent what they bring to the table.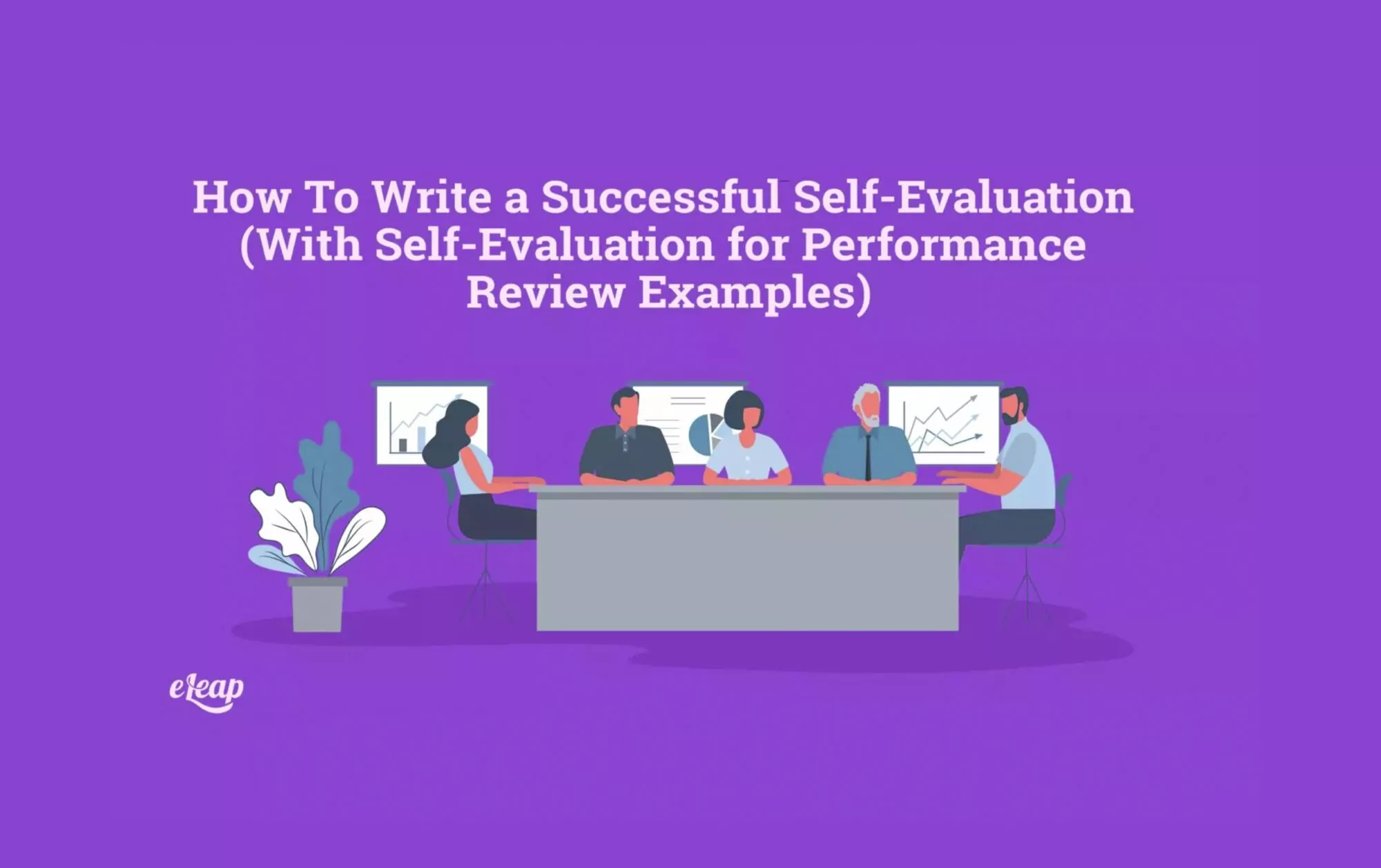 Once you master the phrasing of self-evaluation, you will find it's an incredible tool. Self-evaluations allow employees more agency in their career development and allow a space for employees to remind their boss what an asset they are, as well as areas they have been improving in. Writing your self-evaluation is nothing to be nervous about.
If you need some tips to get started on your self-evaluation, you're in the right place. Below, we'll highlight some helpful tips for getting started on your self-evaluation, as well as self-evaluation for performance review examples, that you can use as a template.
Tips Before Writing Your Self-Evaluation with Self-Evaluation for Performance Review Examples
Before you dig into writing your self-evaluation, we have some tips for you to consider. Writing your evaluation should not be a rush job, so set aside an hour or two, and do some of the below pre-work to ensure you write the most comprehensive self-evaluation possible.
Be Detailed
Talking about how you are an effective communicator, or great at time management only goes so far. You need examples, scenarios, and specific projects you can bring into the fold when answering these questions.
For this reason, you might consider starting a "brag book". A brag book is like a professional diary, visible to only you, where you jot down certain successes, projects, achievements, events, etc. you have worked on throughout the year. Having these jotted down somewhere can help you recall these times from your memory when you need them, such as when writing a self-evaluation or updating your resume.
Pull Up Your Job Description
Was the last time you read your job description when you accepted the position? If so, it's time to revisit. It can be easy to forget all the tasks and projects you have taken on outside of your job role if you don't remind yourself of the key aspects of your role every so often.
Also, reading your job role helps you align the competencies and achievements you will talk about. As an example, if part of your job role is, "will successfully plan, prepare and orchestrate successful events", you can mention your success with event planning over the past year.
Try the STAR Method
The STAR method is frequently used by interviewers, but employees can use it to their advantage when writing a self-evaluation, too. The STAR method is especially helpful when you are trying to provide examples of your strengths with tangible scenarios which happened over the year.
The STAR acronym stands for:
S – Situation. Here, you should provide the context of the situation you were facing, how it came about, and the other team members involved.
T – Task. Here, describe your responsibility within the situation; any items you had been tasked with, deadlines and time restrictions, and the goals you had set for resolving the situation altogether.
A – Action. Here, you should highlight what steps you took to complete your tasks on time and collaborate with others to do the same.
R – Result. Finally, explain the result of the scenario and any successes or lessons learned.
Self-Evaluation for Performance Review Examples by Employee
Each job title will want to highlight different items on a self-evaluation. Some jobs have fewer tangible tasks than others. For example, it's easy to see the hard work an engineer has put in when they can bring a tangible piece of technology to the table and show how they built it.
Some roles, like marketing or HR, have intangible results. People may not be able to see them, but they are working wonders behind the scenes to keep the company progressing. For roles with less tangible results to show, it's even more important to write a comprehensive self-evaluation.
Regardless of your job role, you can use the following self-evaluation for performance review examples to enhance your self-review and provide the most comprehensive self-evaluation possible.
Highlighting Your Achievements 
When highlighting your achievements, you walk a fine line between coming off as braggy or arrogant and undervaluing yourself by not pointing to all the great things you've accomplished.
Drawing attention to the most notable achievements you had during the year reminds your employer of your value and gives you a way to speak to your strengths. You can talk about your successes, while still recognizing areas that could have gone better, to keep your response grounded and humble.
Example for highlighting achievements in a measured way:
"As part of the work I was tasked with to improve upon customer retention rates, I piloted new programs to keep customers incentivized to continue their business with us. This includes launching the customer loyalty program, which I was able to implement with success with the help of my colleagues. After launching the customer loyalty rewards program, the data shows that our customer retention is up X % from last year. This is good for our business and our customers.
Though I am proud of this achievement, I also learned many lessons in the process. There were unexpected hitches that I was able to address quickly, but in the future, I will have a much better grasp on how to successfully implement a project of this size with fewer problems."
Highlighting Teamwork
Making sure employees are acting as true team players and not individual agents is crucial to many organizations. Companies do not want employees who forge ahead without consulting the right team members or asking for feedback, as this can lead to miscommunications and wasted time.
If you can show an ability to successfully collaborate with your colleagues, it will show your employee that you are committed to doing the right research and including the right people to get results that benefit the company to the highest possible degree.
Example for highlighting successful teamwork:
"I thoroughly enjoy working with my peers, especially on X project and X project that I completed with their help this year. I find the insights of my peers to be invaluable, and when we work together, the quality of work is always better than if it was done alone. I enjoy the challenge of ensuring all tasks are delegated to the correct people and aiding in identifying the proper steps to bring projects to completion. I will always welcome team projects and hope to be a part of many more collaborative efforts."
Highlighting Your Work Ethic 
Work ethic is one of the unsung heroes of employee development. Managers might not always consider a person's work ethic when there are so many other metrics to manage them by. However, a strong work ethic shows tenacity and stability, two important facets to showing you are an asset to the company.
Example for highlighting a strong work ethic:
"In my role, I've demonstrated a strong work ethic. I often take on extra tasks and extra hours for the greater good of my team. I've worked on challenging projects that had many moving parts, but I did not give up or pass my tasks off to others. Instead, I contacted the right people in the company who could explain the parts that confused me and worked at it until it was completed. My work ethic makes me a dependable member of our team."
Highlighting Your Willingness to Learn
Most companies deeply appreciate it when employees are willing to learn new skill sets to benefit the company at large. Showing your willingness to learn new things can position you nicely for potential promotional opportunities, too. Even better is if you are learning new skills, which help with your job, in your free time. It shows the initiative to improve without relying on the company to provide the resources for you.
Example for highlighting a willingness to learn:
"I enjoy learning new things about this industry and my job. I think I can always improve upon my skills and fine-tune them. That's why I signed up for a night-time course on financial management, which will help me perform better in my job role."
Bottom Line 
Your self-evaluation review can be critical to your success. Typically, many employees don't get regular opportunities to reflect on their work and talk over any successes or challenges they may have faced. That's why taking time and putting effort into your self-evaluation review is extremely important.
Although writing about your performance can feel challenging, or even intimidating, it doesn't have to be. When you take the time to write a well-thought-out review of yourself, you advocate for yourself and your development. Performance reviews shouldn't be one-sided, and the self-evaluation process allows your opinion and experience to be considered.
By using our self-evaluation for performance review examples, you can guide your self-evaluation in a positive and constructive direction this performance review season.
The eLeaP continuous performance management system provides organizations with powerful options to attract and retain high caliber team members.