How Performance Management Will Change
The days of checking boxes once per year on performance reports are over. It's time to start measuring performance based on productivity outputs. The eLeaP continuous performance management system provides organizations with powerful options to attract and retain high caliber team members.
For a significant length of time, companies have been discussing different ways to move forward with performance management. Different ways of working since the pandemic began present the perfect opportunity to rethink the entire performance management process.
Industry experts have predicted that over the next five years, organizations will switch to an approach that breaks down performance management in six different ways.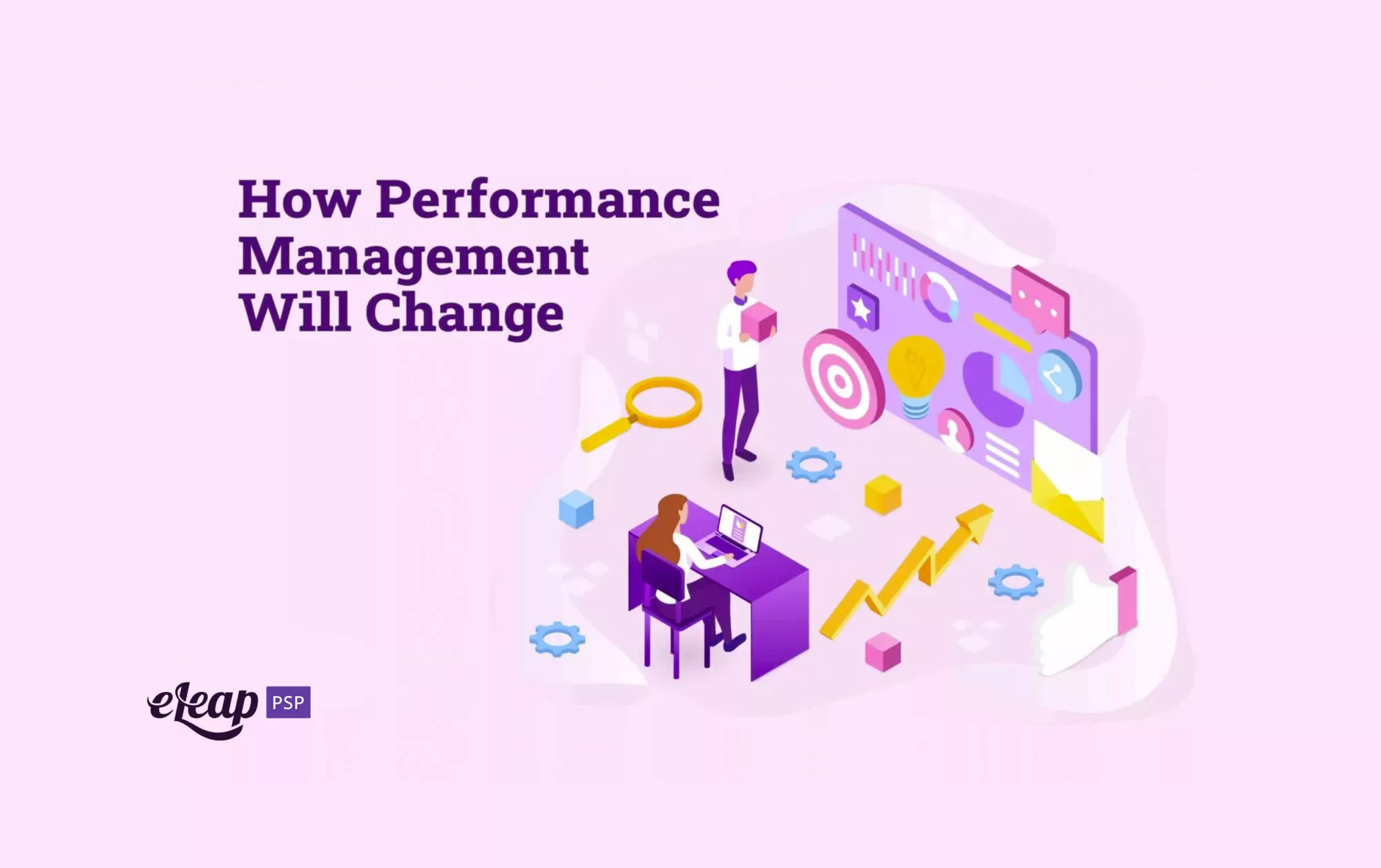 Six New Ways of Measurement
The following six areas are predicted to be the most relevant metrics in performance management within the next five years:
    1. Personal and Professional Goals
Goal-setting and feedback are currently considered useful because they help employees determine how well their goals align with those of corporate. However, personal goals will become more important moving forward. Most employees would rather their employers see them as people and not just workers.
The next wave of performance management changes will include the integration of personal goals. This includes mental and physical wellbeing and skills not directly related to work.
Promoting an atmosphere in which employees can be honest about personal goals is important. Employees will be equipped with self-assessment tools to help them track personal and professional goals.
    2. Reviews and Raises Will Be Project-Based
Most companies and team members have moved toward more of a project-based workload. Because of the increase in contingent workers, these models are now influencing long-term planning.
Employees need leadership to evaluate their performance after each project – and they want this to create a clear link between evaluation and raises. When performance is assessed regularly, staffing and resourcing decisions can be made as projects wrap up.
This change will lead to the following:
Give employees feedback and rewards based on project-specific performance.
Grade employees based on project outcomes, as well as peer and client feedback.
Define and demonstrate how employee performance on every project influences their pay.
    3. Performance Ratings Reflect More Context and Empathy
Context affects finished products, and reviews will begin to show this more efficiently. Did a standout employee step into a new role to learn new skills? Was it more difficult for a team member to focus on projects because of a death in the family? Are teams struggling to hit goals because of challenges in collaborative technology?
Designing more compassionate performance ratings like "learning new skills" or "focusing outside of work" is critical for retaining high performers who want to play a major role at a specific company.
Not only does this help with retention, but also recruiting. When outsiders find out your organization is more empathetic towards personal dynamics, chances are high they'll want to become part of this atmosphere.
Overall, this increases the productivity and loyalty of your entire team. There are few things that promote loyalty as much as attention to employee wellbeing.
    4. Feedback Will Be More Automated
Employees understand the type of feedback and learning support they require to improve their performance. However, they lack the ability to participate proactively in the process.
Plenty of companies have ramped up their investments in their abilities to monitor employee productivity and measure employee success. When data collection and analytics are automated, this can be very powerful for helping employees understand how they're performing, and what areas have room for improvement.
This is critical when it comes to project coordination and putting teams together. When employees and management collectively have an understanding of these performance metrics, both parties will be more comfortable with collaborative placement.
In the future, feedback processes will become more automated and provide time-efficient, data-centered feedback to team members.
    5. Managers Won't Manage Performance
As technology continues to expand, and team members become more proactive when it comes to the feedback process, managers will no longer have to manage performance. Instead, their main focus will be on building direct relationships with team members and ensuring personal and professional goals are being met.
You might be asking who will manage performance? Well, for starters, the entire idea of project management will have a different look altogether.
Since everything will be done on a project-to-project basis, daily performance will be approached and handled in a much different way. Since ratings will exist on a per-project basis, management will be more contingent on feedback from peers as projects are approaching completion.
Instead of being micromanaged, employees will have the opportunity to be flexible as projects unfold, which completely redefines the management role. Management will use project ratings and peer feedback to approach the next project with employees.
This includes increases in pay and the way teams are crafted for subsequent projects. Managers will be considered motivators and mentors instead of actual managers.
    6. Flexibility Will Be Key
Overall, flexibility will play a huge role in shaping performance management and performance management systems. All of the elements mentioned above promote flexibility, which leads to more productive teams and higher engagement.
The project-based system will lead to the elimination of pre-defined roles in the corporate setting. This opens up opportunities for employees to move around between departments, which can help to eliminate communication gaps.
Additionally, when management takes a step back and you eliminate micromanaging, this eliminates a great deal of stress between managers and employees. This allows both positions to focus more on being creative and leveling up skills that help them progress personally and professionally. The feedback from team leaders and peers operating from a corporate-driven position ensures all goals are aligned in the end.
In the end, the overall shift is moving from the corporation to the employee. Organizations have been forced to not only acknowledge how important the wellbeing of employees can be – but actually acting on it. This means making moves to help contribute toward and monitor this wellbeing.
Eventually, performance management may not be the most appropriate term anymore. Performance planning or performance progression could end up being much more suitable, especially considering all of these breakthrough changes.