Creating a Positive Virtual Office Environment
With 2020 finally in the rearview mirror, we can all take a moment to breathe a sigh of relief. However, despite one of the most tumultuous years in recent memory finally being behind us, it does not mean that we're going to get back to "normal" at any point soon. For most businesses and other organizations, the first few months (at least) of 2021 will be marked by more of the same.
That means more remote work, and perhaps increasing challenges with maintaining an environment conducive to teamwork and collaboration. The good news is that achieving a positive virtual office environment is not an insurmountable hurdle. You simply need a few pointers.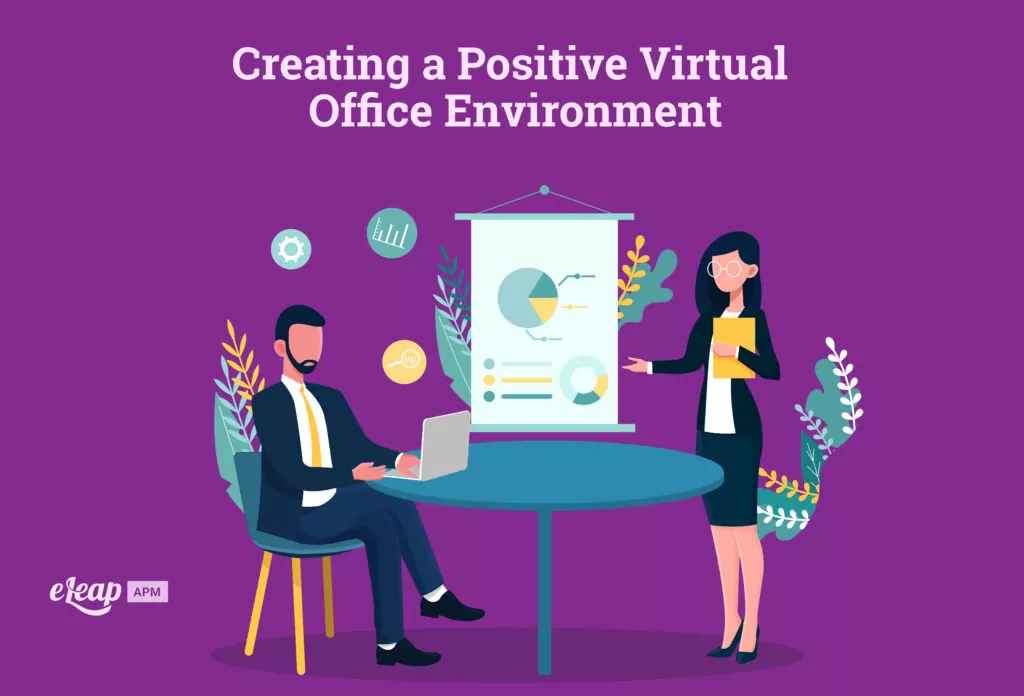 Encourage Small Talk
Within an in-office environment, chit-chat is sometimes discouraged in the name of productivity and performance. While we might engage in a little so-called watercooler talk, small talk is relegated to the breakroom, lunches, etc. However, it's important to understand that employee engagement hinges on their ability to interact with coworkers and peers.
In a virtual environment, that's largely removed. There are no group lunches, no quick breaks with the coworker from down the hall. The impact of this change alone can be significant and creates a sense of isolation.
That in turn drives disengagement and reduced productivity. The answer? Let them chat. Encourage it and engage in it yourself, in fact. Ask about people's pets, children, hobbies, and time off. Let people discuss the new diet they're trying or their workout woes. It builds a sense of camaraderie and teamwork, while simultaneously improving engagement.
Celebrate Birthdays
Remote work can be a great thing. It's freeing for many employees and offers flexibility that cannot be found within the in-office environment. However, it can also become very impersonal. Quick emails, virtual meetings, and digital one-on-ones do not lend themselves well to a personal connection.
To change that, simple steps can be most effective. One of those is to celebrate team member birthdays. It's a small thing, but it can have a big impact on engagement and the feel of the overall environment. You do not have to do anything major – no need to have a cake delivered to their home, for instance. However, simply acknowledging their birthday and having the entire team wish them a happy birthday could go a long way toward changing the environment for the better and simply showing employees that they're valued.
Avoid Too Much Formality
Interoffice relationships can be challenging to navigate, particularly in-office. Formality is often a key part of the employee/manager relationship. However, in a virtual office environment, too much formality can become challenging, stifling, and frustrating.
The solution to this is to allow some informal language when appropriate. There may still be times when formality is necessary – during full business meetings, addresses from the CEO or other C-suite execs, and the like. However, during less formal settings, communication rules can (and should) be more relaxed.
Why does it matter? Less formal language puts people more at ease. It helps them let their guard down a little and feel less stressed. And if there's one thing that everyone could use right now, it's less stress in their lives.
Build a Community, Not a Team
This tip might seem to be at odds with conventional management thinking, but there is solid evidence supporting the idea. Instead of a team, create a community. Why? Teams are hierarchical in structure – there's a leader, more valuable people, less valuable people, and support personnel. In a community, things are a bit more level.
However, it's about more than leveling the field. It's about the relationships that people form with one another. In a community, your people are far more likely to root for one another and to support one another in their efforts. They see each other as mostly equal parts of a whole. On a team of acquaintances, that's not so much the case.
How do you create a community, particularly when everyone is working from home? You'll find several options, but some of the best suggestions include:
Allow older/more established employees to be part of the onboarding process
Create mentorships
Emphasize collaboration and provide employees with the tools to do so
Find ways to help employees connect organically with one another
Focus on Learning and Development
Too often, performance management focuses on real-time coaching. The problem with this singular focus is that it is one-sided. For employees to be engaged, productive, and supported within a positive environment, you must look at the situation as a whole. Learning and development are crucial considerations when it comes to:
Succession planning
Closing skill gaps
Providing employees with a defined career path
Showing employees the business values and is committed to them
Of course, this focus can be challenging in a remote work situation. The right learning management system (LMS) is key here. However, you may also need to consider flexible scheduling to ensure that employees have the time to focus on professional development.
Make Meetings All-Inclusive
Regular, all-inclusive meetings enhance a feeling of connection and build positivity. Regularly hosting all-inclusive meetings also allows everyone to engage in discourse that matters to the team, but also with each other. It's also about reaffirming personal connections – sometimes simply seeing coworkers in the Zoom or Teams screen is enough to help employees reconnect and reengage, and those are essential to a positive virtual office environment.
Put the Pieces Together
As you can see from the discussion above, creating a positive virtual office environment does not have to be a huge hurdle. However, it will require intentional acts and strategic decisions, supported by a vision of what you want to achieve. It also requires that you have the right technology in place, from video conferencing solutions like MS Teams or Zoom to your learning management system.
Have you tried to create a positive environment? What have your largest successes been? What were your most significant challenges? Share your experiences in the comments below.