Common Problems in Performance Management and How to Fix Them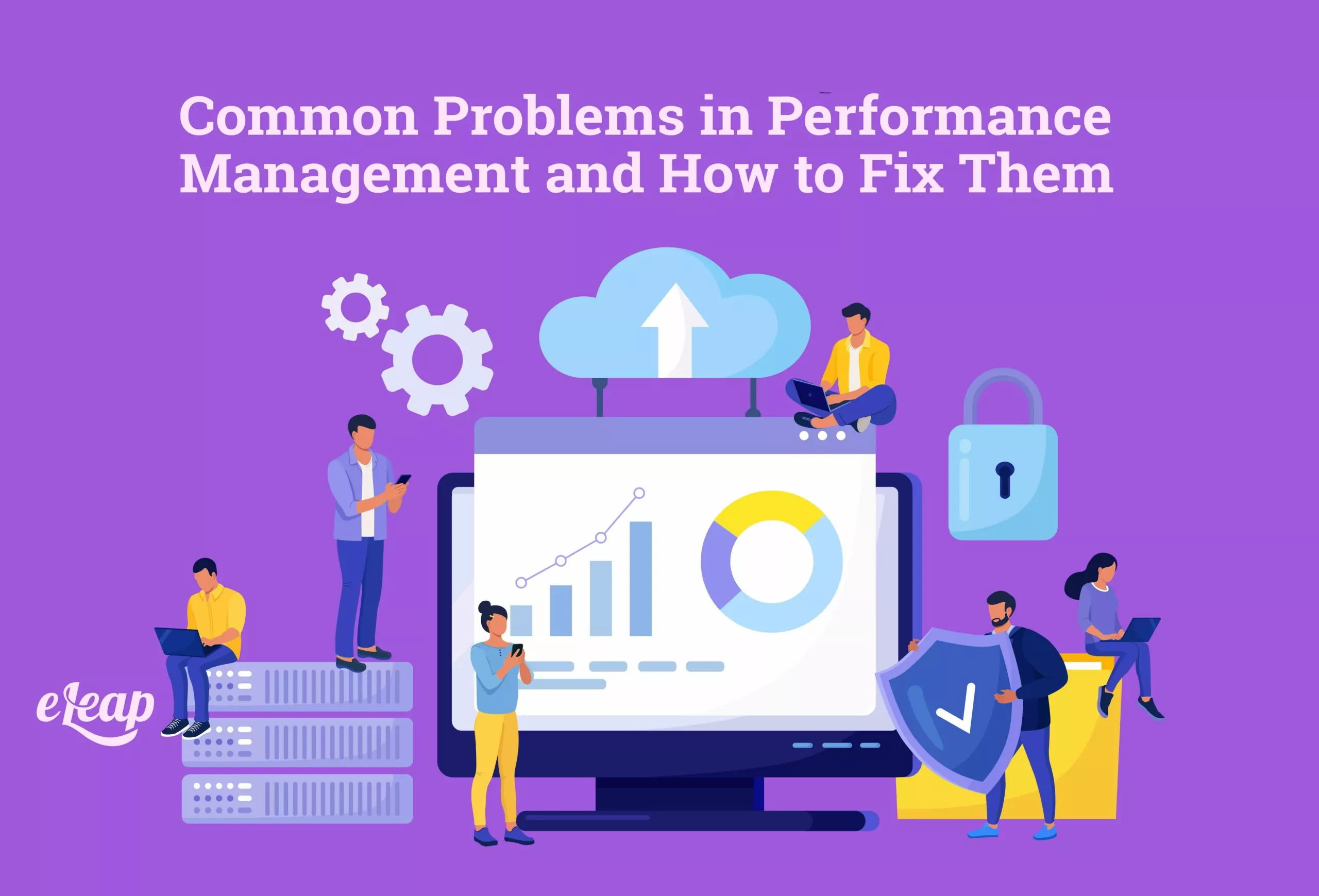 Performance management is a hot topic right now. It's also an area where several businesses could use a little help. In today's working world, organizations and employees alike are struggling to manage performance or figure out how to do so effectively, with the changing nature of business operations. The worst is when employers feel like they're in a "sink or swim" situation, transferring that feeling onto employees by putting too much pressure on people when they haven't been properly trained.
Performance management is great when it's done well. However, when there are issues, they can create big problems if they're not addressed promptly and properly. Like anything, some issues are more common than others in PM. The best thing that organizations and leaders can do is to educate themselves on the goals of this process and how it affects their operations. The eLeaP continuous performance management system provides organizations with powerful options to attract and retain high caliber team members.
Performance Management Goals
On a very basic level, performance management is just what it sounds like: it's the management and assessment of employee performance, skills, processes, approaches, and techniques, as well as other elements of their duties. It's about monitoring, assessing, and improving performance for all employees across the company, and it includes six primary goals:
Increase efficiency
Improve organizational productivity
Improve profitability
Discourage turnover and encourage retention
Maintain the competitive spirit
Cut input costs and time
Being able to achieve these goals relies on understanding the motivation of employees while also supporting their development and decisions. When an organization has problems with performance management, it can affect several things, namely performance among the most obvious of them.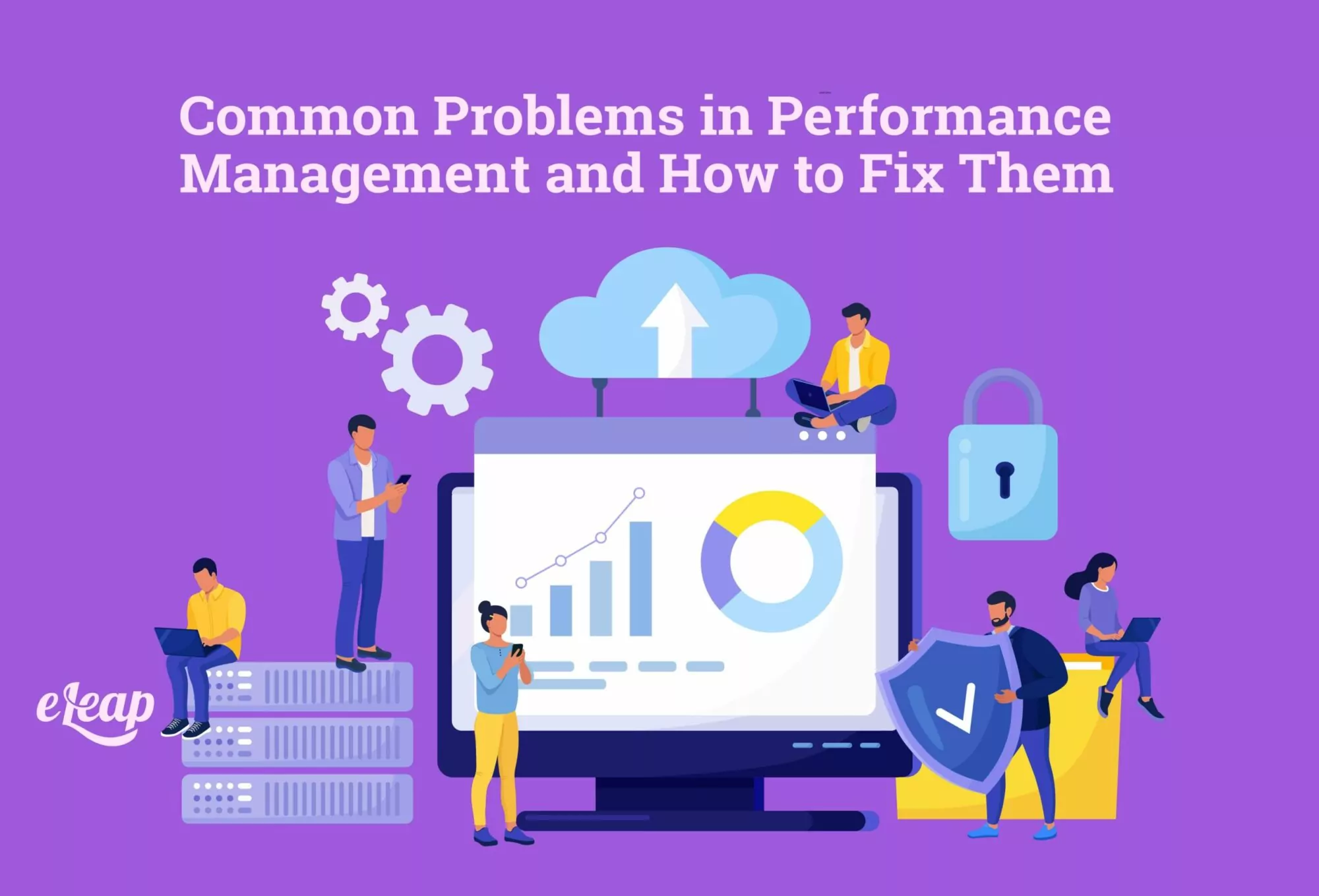 Issue #1: Irregular Performance Reviews/Monitoring
Annual performance reviews are out. Of course, that doesn't mean that there's a new model that will work for everyone. The biggest problem with performance management today is that there are no standards or set processes in place for managing and monitoring performance. It can't be done based on arbitrary guidelines or simply because "it's been a while since we've touched base" if you really want to get people engaged.
It has to be on a regular basis, and it has to help them reach their goals and continue to grow and develop. Business is busy, but that doesn't mean managers can skip reviews—today, these performance reviews are more valuable than ever. Create a standard, consistent system and follow it so that there's no irregularity to be found anywhere.
Issue #2: Skills Gaps or Missing Competencies
The hiring frenzy amid the Great Resignation has caused many employers to go to great lengths to find the help that they need. Unfortunately, that results in many people hiring "warm bodies" and that will lead to missing skills or a lack of proper training in some areas. That doesn't just affect the person and their work, however. It affects the entire organization. That's why companies need to make sure that when they're hiring people for a role, they have (or can quickly learn) the necessary skills and competencies required for the job.
When you have better job listings and clear expectations set forth from day one for new hires, you will see fewer issues like this. However, you have to get in the mindset of hiring the right people for the job and not just the first people to apply.
Issue #3: Irrelevant or Misleading Job Descriptions
People rely on a job description to provide them with reasonable expectations of what they will do in a particular role. If the job description is irrelevant or vague, there are not going to be any expectations for the employees to live up to—they will be left guessing and managers will struggle to stay on top of these vague expectations and ensure that people are performing.
Every organization needs to rethink and rewrite its job descriptions to include all relevant information, deliver insights and expectations for the role, and other important details. If employees feel like you're withholding valuable information, they're not likely to apply in the first place, which means you'll struggle to find and retain talent.
Issue #4: Lack of Feedback and Formal PM Systems
A lot of organizations still want to use the annual performance review model that follows vague, predetermined "goals" or expectations of employees based on metrics and not actual employee ability. You can't just tell employees they're "doing well" or that they "need to step up the pace." They need more formal guidance and insight than that and they expect a formal appraisal that's honest, upfront, and helps them improve their skills.
Without feedback and a formal system for performance management, people aren't going to feel like they're supported in their career growth and development. That will lead to continued problems with performance and people who feel like they're not getting the training or advice that they anticipated when they were first hired.
Standardize regular reviews, conversations, and ongoing feedback. Encourage the development of a feedback culture. This will ensure that your organization doesn't struggle in these areas as much as others.
Organizational Performance Depends on People Management
It's not just enough for a company to have a good product or service, a strong value proposition, and a solid reputation in the business world. Today, companies also need to have the highest-performing employees that are capable of delivering the best performance day in and day out. organizations cannot be successful if the people are not successful and it's up to management to get employees to perform at better levels by understanding how performance management plays into employees, teams, and creating a successful organization.
If leaders and managers don't address the common issues of performance management, they are not going to have the tools to adequately assess their own staff and ensure that everyone is hitting the mark. Whether you're already struggling with inherent performance management issues, or you are trying to stave them off, your organization needs to start by managing and supporting people first. Then, the performance management process will fall into place. Contact the experts at eLeaP today for a free consultation.