5 Ways Companies are Using Their PMS to Attract and Retain Top Talent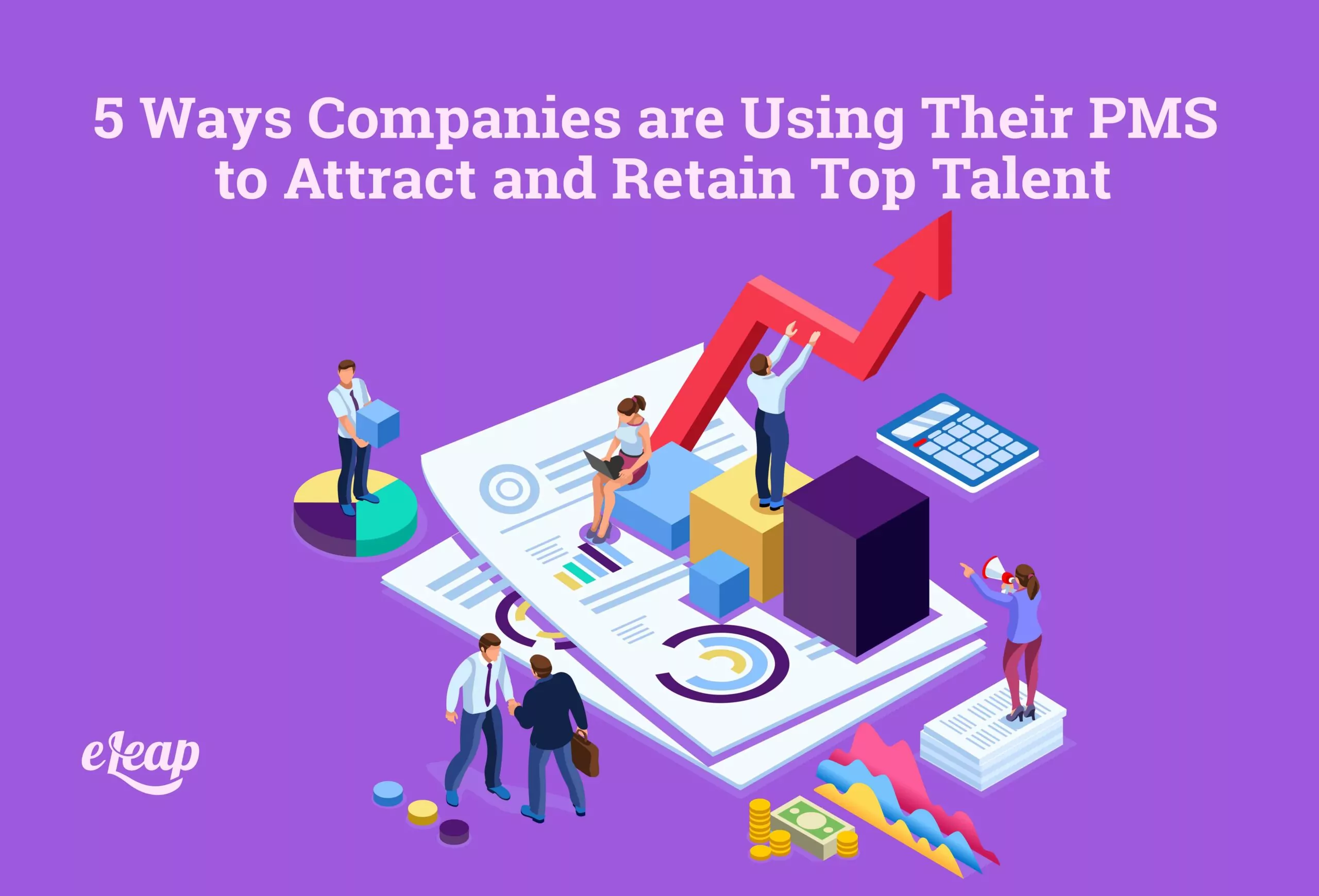 In light of The Great Resignation, many companies are attempting to switch gears and find a better way to attract the talent that they need. The working world is no longer in the hands of the employer—today's employees are demanding better opportunities, better culture, and so much more. Performance and learning management opportunities are high on the list of most employees today and that's where companies need to embrace the tools that they have to get people's attention. The eLeaP continuous performance management system provides organizations with powerful options to attract and retain high caliber team members.
Utilizing your performance management software as a recruiting and marketing tool is not unheard of—in fact, today it's a lot more common than you might think. Organizations are posting job listings with a variety of employee perks, culture benefits, and more. They're attempting to attract the best talent, and in order to do that, they know that they have to embrace all of their resources.
The PMS can help with attracting the right people in several ways. Here are five ways organizations are utilizing this feature to find new talent and get the perfect fit.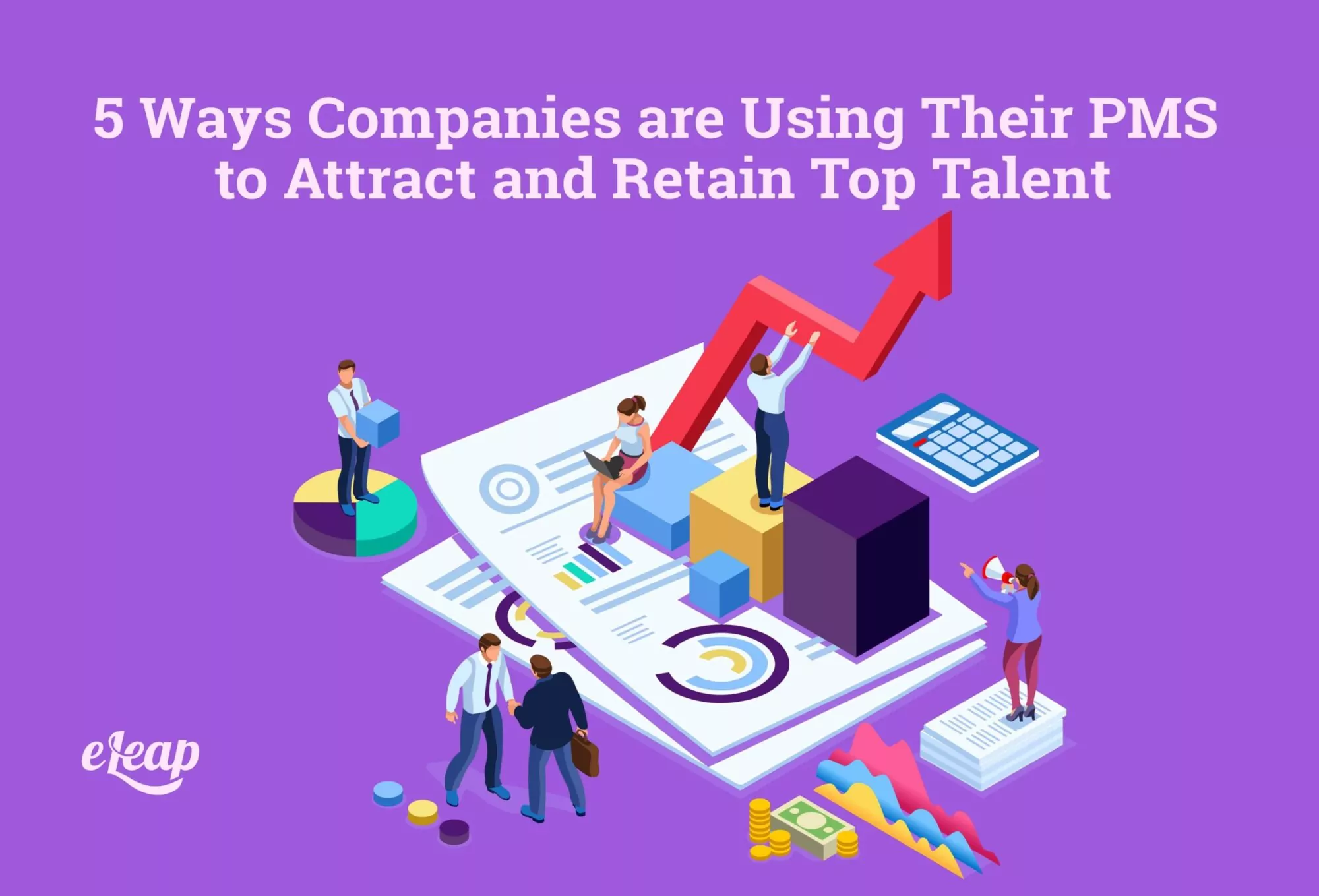 Personalized Learning and Development Pathways
In feeling like a valued member of the team, people want to be more than just another employee. They want you to invest in them the same way that they are invested in your organization as an employee, and they expect that your organization will help them upskill and grow in their position.
No longer is it acceptable to have standard training and development that simply checks off compliance guidelines. Today, you need to have a fully personalized L&D pathway for each employee and make sure that they are on board with it as a part of their career path and future success. Today's candidates are demanding companies that upskill and invest in their professional development, which means a personalized approach to their career success from the start.
Inclusive, Collaborative Culture
Culture is making a huge shift and becoming an integral part of the employee decision as to where to work and what kind of roles to take on. People no longer want to just be an employee at an organization. They are demanding to be a part of something and that starts with an organization that has a collaborative and inclusive culture.
This means promoting things like:
Self-development
Organizational development
Teamwork and relationship-building
Independent learning and career development
Opportunities for growth and diversity
Today's candidates are not even looking twice at job listings that don't promote a positive, people-first employee culture. If you aren't on board with this, you're going to be missing out on some of the top talent that is available. Considering that there's now access to the global world of talent, that's a big miss that your organization can't afford.
Identify Opportunities to Fill Skill Gaps or Improve Personal Development
The PMS is also a great resource to find where things are lacking. Inconsistencies and skill gaps are common no matter the organization. Even the best training programs and development tools can still see people slipping through the cracks or missing opportunities. That is, unless there is an intentional focus on improving personal skills and career development. Along with creating a personalized approach to learning, you can use the PMS to find gaps in skills and upskilling opportunities. These can be focused on the individual employee or the organization as a whole, depending on the size of your company and your strategy for L&D.
When you utilize performance metrics appropriately, you can incorporate them into your discussions and reviews with employees to help them upskill and improve their own abilities. Companies today are taking advantage of these metrics to show people that they have a plan to develop their employees along with growing their organizational success.
Having an Integrated LMS and PMS as Part of a Learning Culture
Today, being a learning organization can definitely get the attention of high-caliber employees. To be a learning organization, it is required that companies take advantage of all of the tools and resources out there today to identify opportunities for new growth and success, development opportunities, and ways to enhance employee skills to deliver a better cohesive experience overall. Learning cultures are becoming one of the most desired options for candidates today.
Integrated tools like a dynamic LMS and PMS will ensure that your candidates see that the organization is committed to monitoring, managing, and assisting with employee development and skill-building. They will also be pillars of the learning culture that the organization claims to have, and when used properly, they will help both the organization and its people to grow and thrive. This is what today's candidates are looking for.
Identify Opportunities to Set the Organization Apart
Companies are also using their performance management systems to identify opportunities for the development of new roles and positions within the organization. The metrics contained within these systems can offer a clear, cohesive view of the workforce and the overall performance of the organization so that it can continue to thrive.
Today, employees are not willing to work just anywhere. They are looking for companies with strong cultures, a commitment to learning and development, and a focus on treating people like the value-added asset that they are. The world is a different place than it was before the pandemic. Organizations that want to keep pace will need to embrace PMS tools and other advanced solutions that focus on individual growth and development as a means for business growth and success.
The Bottom Line
The way people work today is different, as is the way that they find work in the first place. No longer are people going to take a job just to have a job, and they're certainly not going to work with organizations that aren't focused on creating a learning culture. People want to be valued and they want to be a part of something. If you're utilizing your tools correctly, your PMS can become a big selling point to attract the top candidates.