Writing a Self-Assessment Performance Review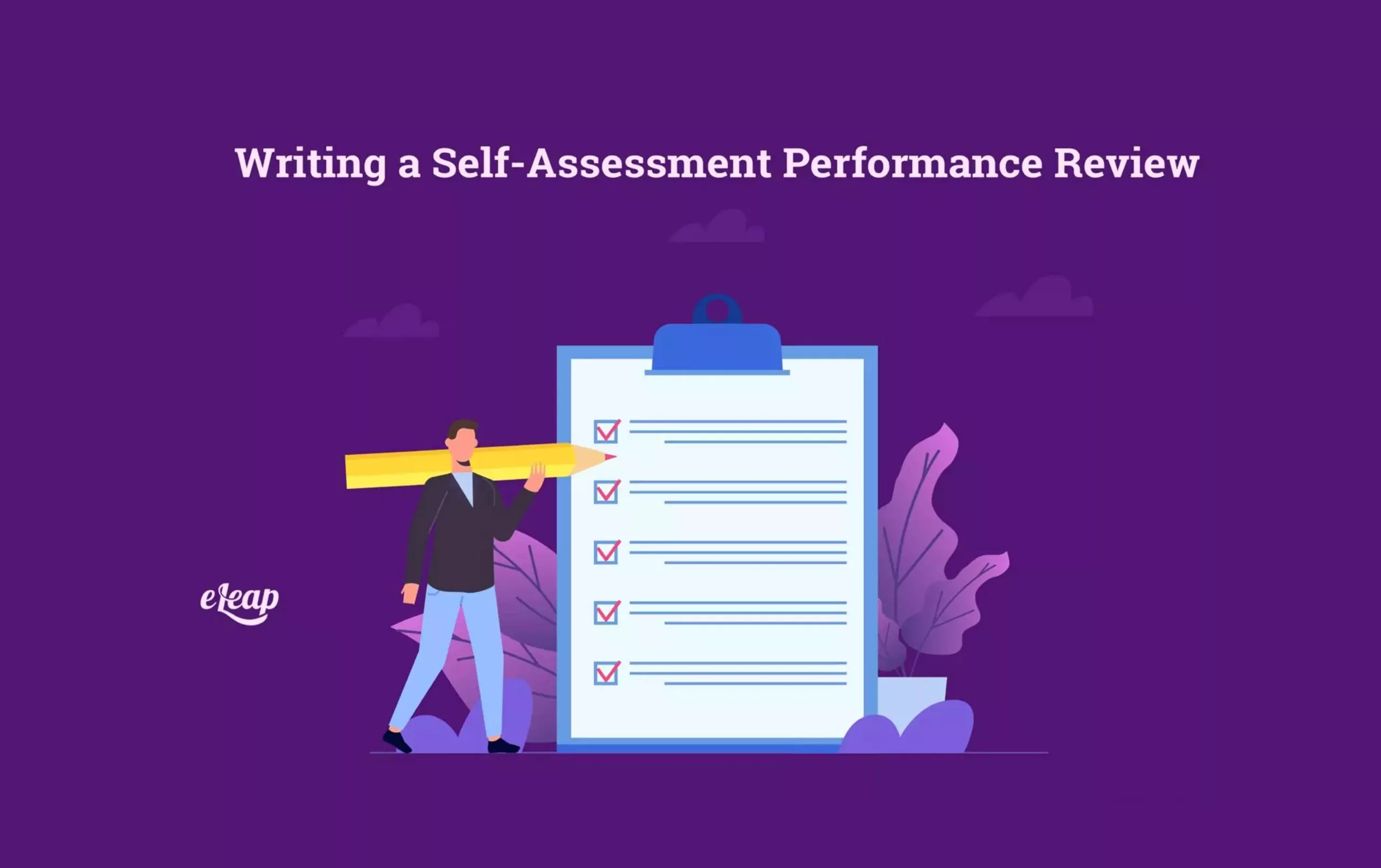 Most companies use self-assessment performance reviews with their employees each year to gauge their team members' performance, achievement of goals, and successes or areas for improvement.
If you've never written a self-assessment before. The task can feel daunting. It might even be strange to talk about yourself and the things you know you do well. However, these annual reviews are an opportunity to showcase your strengths and remind your superiors how valuable you are to the company. In fact, that's what they want! Managers are looking for their employees to talk about what they have brought to the table over the past year, as well as the places where there is room for improvement.
Let's delve into the things you can (and should) write in your self-assessment for your performance review.
The Mindset for Approaching Your Self-Assessment Performance Review
If it feels awkward to think about writing this evaluation, step out of the box a bit. Pretend that you're writing this self-assessment for a colleague or peer. What type of vocabulary, phrases, or situations would you use when talking about another person? What types of situations would you want to include and bring light to? If you were discussing a difficult situation, how would you show both sides of the story?
You could also imagine that you were defending your position at the company. Hopefully, this annual review isn't determining whether or not you'll keep your job but is simply a resource to acknowledge success and discuss opportunities for improvement.
You could pretend, though, that what you said during this meeting would be the place to discuss your role and how the team might not have functioned so well without you. What unique qualities do you bring to the table that no one else has? Do you have knowledge and experience that influences the company for the better?
Professionally Reviewing Your Job Performance
Your job performance should be at the forefront of your mind during the entire year, not just when the annual review is looming on the horizon. However, as the time to begin writing this evaluation comes closer, you can organize your thoughts regarding how well you are doing the job expected of you.
The first step should be to collect your honest feelings regarding how you performed over the past year. Where did you succeed and where did you struggle? Did you feel supported, pushed to the side, or overwhelmed? Were you adequately challenged and encouraged throughout projects? Was your voice heard during team collaboration? Don't shy away from negative experiences or frustrations, either. Your manager doesn't expect everyone to come in and only say positive things about themselves and the company. Good managers with an eye on future progress know the value of improvement and growth, and they want to ensure that their business team feels supported in asking for what they need.
Next, identify the goals you set after the last performance review meeting (or that were added to your plate during the year). A year is a long time, and you've probably worked on myriad projects and tasks within those months. If you didn't keep a list of goals to work on and check off over the past year, try going back through your desk calendar or important emails to refresh your memory. Check in with a few of your close colleagues to see if they remember any partner projects that you can add to your self-assessment for your performance review.
Did all of these goals get met? If so, what were the things that helped you achieve them? Where did your strengths shine? If some of the things you were working toward were unsuccessful, why? Did you need more support or scaffolding? Were the initial thoughts about how something should happen unrealistic in real life? Unmet goals aren't failures, though, so don't be afraid to address them. Instead, approach them with a mindset of learning through adversity and being able to try again with a fresh perspective.
The third thing to address in your performance review self-assessment is feedback from your teammates and your boss(es). (Again, if you didn't keep a formal or informal document with feedback notes after the last review meeting. Start one now for next year.) Gather information about how people viewed your communication, collaboration, and efficiency during the times that you worked together. How do people view you compared to how you view yourself? Constructive criticism isn't always the easiest pill to swallow, but the good news is that if you can accept it well and use it to improve, then people's feedback for you will be easier to take in the future.
If you feel that your manager might have some negative feedback or bring up assumptions about your performance that you'd like. To clarify or provide context on, then you can prepare for these situations ahead of time so that you aren't blindsided and stuck nodding along when you'd rather have a respectful, professional discussion.
Talking about Accomplishments and Areas for Growth with Confidence
Speaking confidently without apology for either positive or negative situations is a skill in and of itself. You don't want to sound self-righteous or braggy when discussing your successes. And you don't want to come across as pitiful or as a victim when bringing up areas in which you struggled. There is a middle ground here for both situations, though, in which you can talk about the positive and negative parts of your job performance as an assertive professional.
As far as positive contributions go, you can discuss your successes in a few different areas. Use metrics and concrete data wherever you can to ensure that your boss remembers your accomplishments and can see how they directly affected the company. Here are some examples that should spark ideas about your unique situation for discussion in your self-assessment performance review.
Projects and Specific Goals
"I developed a streamlined system for contacting and following up with leads so that not a single opportunity slips through the cracks."
"I gathered 500 customer satisfaction reports through an easy-to-use feedback system, and we implemented these reviews to improve the customer experience."
"I increased efficiency in project management so that resources could be better allocated to new projects."
Collaboration and Communication
"People seek me out as a part of their team and tell me that they appreciate my honest contributions and helpful nature."
"I consistently meet deadlines and help review projects promptly so that others aren't inconvenienced."
"I send out weekly and monthly newsletters to various groups so that all teams are on the same page."
Client Satisfaction and Improved Profits
"My clients often send thank-you notes stating that I made them feel heard and helped in the process of buying their home, and they refer me to others who need a real estate agent."
"I reduced waste in this area so that our profit margins increased by 27% this year."
"I brought in more leads this year than in the past two years combined, and secured 50 new contracts."
Areas in need of improvement are also an important part of your self-assessment performance review, and you should give these just as much thought and attention as you do to the more enjoyable parts of the meeting. Take care in this area and it can be just as beneficial to you as discussing your strengths.
Tone and Attitude
Everyone has places where they can grow. Admit your faults and ask for help and guidance toward getting to where you want to be. Speak about this as if you are taking pride in the fact that you want to better yourself.
Owning the Issues
Position yourself as a problem-solver who is aware of your weaknesses. You don't want to let these struggles overtake you; instead, you are choosing to use them as a stepping stone toward growth.
Ask for What You Need
Your management team is there to guide you and give you support. They want you to develop into a leader who brings value to the company. So if you can positively address the places where you need help, they will be happy to invest in you.
Conclusion
It's good practice to take notes during your self-assessment performance review meeting. So that you don't immediately forget everything that was said. Your manager dedicates days (possibly even weeks) to engage in these meetings with every member of the team, which means that they value the process. When you show up having prepared a detailed, well-thought-out personal evaluation and you automatically go forward to put their feedback into practice, it shows that you value their input, time, and relationship.
Performance reviews are opportunities for change—fresh starts if you will. These meetings are the times where you can go forward with a perspective of what you should continue doing. What you should stop doing, and how you can adjust your communication, job performance, and collaboration to improve yourself and the company as a whole. Advocate for yourself and listen with an open mind.