Why Having A Skilled Workforce is Essential
Business leaders, company owners, and managers will agree that an essential part of running a successful operation is the team you surround yourself with. Highly functional and accomplished organizations can only achieve their objectives with the right people.
There is fierce competition in every industry, and top performers tend to rely on the most skilled and devoted teams. Organizations with knowledgeable, dedicated, and well-trained employees will likely end up at or near the top of their industry charts.
Having a skilled workforce is a non-negotiable if you want to ensure a smooth-running and successful business; here's why: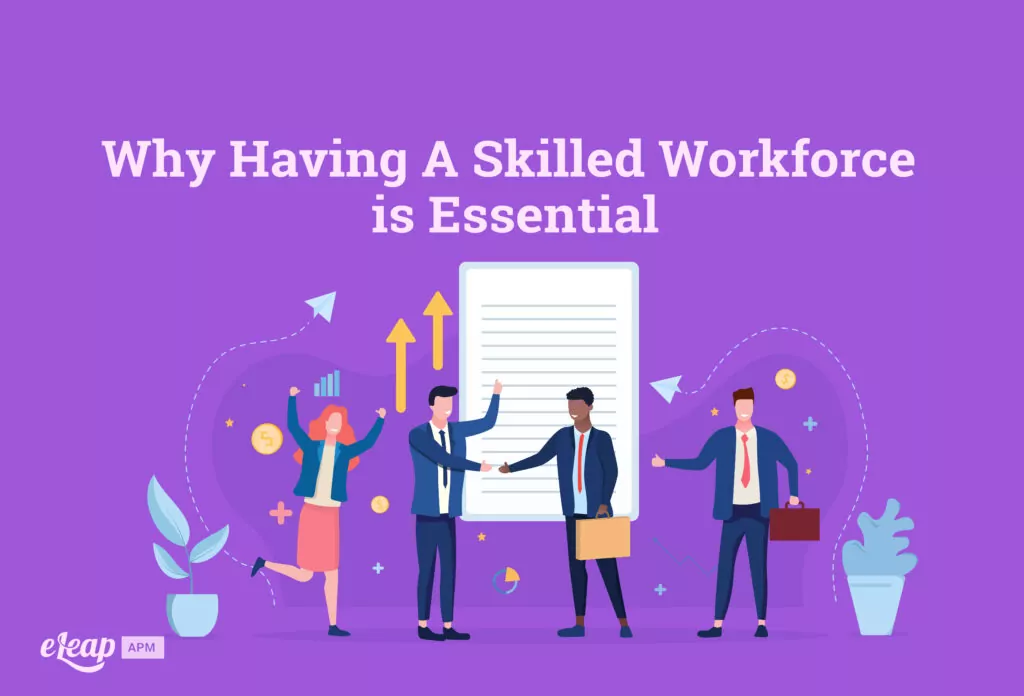 It Maximizes Profitability
A single skilled worker is worth their weight in gold. They can handle double the work of a non-skilled worker, if not more. Your bottom line will be much more successful if your employees are all working at high levels of skill. This results in a greater profit margin, which means more profit and more money to invest back into your organization.
If maximizing your business' profits is the ultimate goal, employing a skilled workforce is a surefire way to get you there. Even though setting up the right learning management system to ensure you can train your workers can be expensive, it's well worth the cost. Far too many organizations are put off using training tools because they think it isn't in their budget. But the truth is, investing in an LMS to improve the skill of your workers will pay off dividends in the long run. Take a free trial of eLeaP for 30 days and see these improvements come to life.
Skilled Workers Actually Save You Money
This might seem counterintuitive since it makes sense that skilled workers would demand higher salaries. Unfortunately, too many business leaders make the mistake of hiring unskilled workers just because they are cheaper. This certainly isn't the right way to go about things. If you want work done well, with minimal mistakes and high customer satisfaction, you need to spend the money upfront to pay for skilled workers.
Unskilled workers might be less expensive to employ, but they're also less productive, have a lower quality of work, and are much more likely to make mistakes, all of which will cost you money in the long run. Invest the time in hiring skilled workers or on an LMS that allows you to properly train the workers you already have.
Safe and Improved Workplace Wellness
Most industries experience an increase in accidents and dangerous mistakes caused by hiring inexperienced workers with little knowledge and experience. Or, by the same token, they fail to properly train their employees using a good LMS. A lack of knowledge on the part of employees will increase the likelihood of them making mistakes that might injure themselves or cost your organization a lot of money. In addition to being dangerous for employees, workplace injuries can cost a whole lot of money, especially if they're frequent. Injuries aren't the only problem; unskilled workers are also less likely to be able to handle customer satisfaction or could fail important tests or compliance regulations.
Furthermore, skilled employees who understand their job and how best to accomplish it are going to suffer from significantly less work-related stress. Those workers who know what they're doing and take it all in their stride are the ones who are going to remain comfortable and assured. They're more likely to maintain optimum job satisfaction and wellness levels, which will keep your turnover rate low and decrease the number of sick days you're dolling out.
More Innovative Workforce
Employees who know what they're doing and how to do it and are comfortable performing work-related tasks have a better chance of coming up with innovative ideas. A skilled employee's mind is free to think outside the box instead of worrying about how he or she is going to accomplish their tasks; this leads to finding more creative solutions. Training your workers properly can lead to an improvement in skillsets, as well as allow them to think more effectively on their own.
A good LMS can provide training that goes far beyond simply helping your employees absorb knowledge. It actually provides them with the skills they need to be the most well-rounded workers possible.
Finding and Maintaining Your Skilled Workforce
Your business will succeed from day one if you have a skilled labor force. Not only are they knowledgeable and experienced, which is why they're a valuable resource in training new employees, but they're also a great resource for keeping existing employees trained.
If your employees don't feel they've received the proper training to undertake jobs safely and highly, they'll eventually abandon you. It is important for your company to have skilled workers who can train new employees, who will then become skilled workers themselves. This way, you will avoid people jumping ship and keep your turnover rates low. Keeping things together is very important. It's imperative that you have a solid foundation of skilled workers upon which to build and train your other employees.
So, you know that having a skilled workforce, to begin with, is important for the success of your organization; that's understood. But it's also easier said than done. You might want to hire the best of the best, but finding them and holding on to them can be tricky. Skilled labor is quickly snapped up; the best employees aren't just sitting around waiting for your phone call.
In order to make sure you can maintain your skilled workers, you don't only need to hire them; you also need to keep them around. Good training is one of the best ways to do this. Employees who aren't trained well are being set up to fail. By making sure you have a good LMS that is accessible and provides your employees with the ability to improve their skill sets, you're giving them the tools they need to succeed and be more efficient.