What to Look for in Performance Management Technology
If there was any doubt that we live in a technology-centric world, the business response to COVID-19 surely put those to rest. When the pandemic struck, most businesses almost immediately moved to a remote work-scenario, and many remain there. Technology is the great enabler here, allowing teams to work, collaborate, and communicate with one another across vast distances without interruption.
Technology has a role to play in most aspects of business operation today, too, and that includes performance management. This goes far beyond using digital performance reviews, though. The right tech can make performance management much simpler across the board.
Which technology should you consider? More importantly, what should it bring to the table?
In this post, we'll take a look at some of the most important features to find in performance management technology.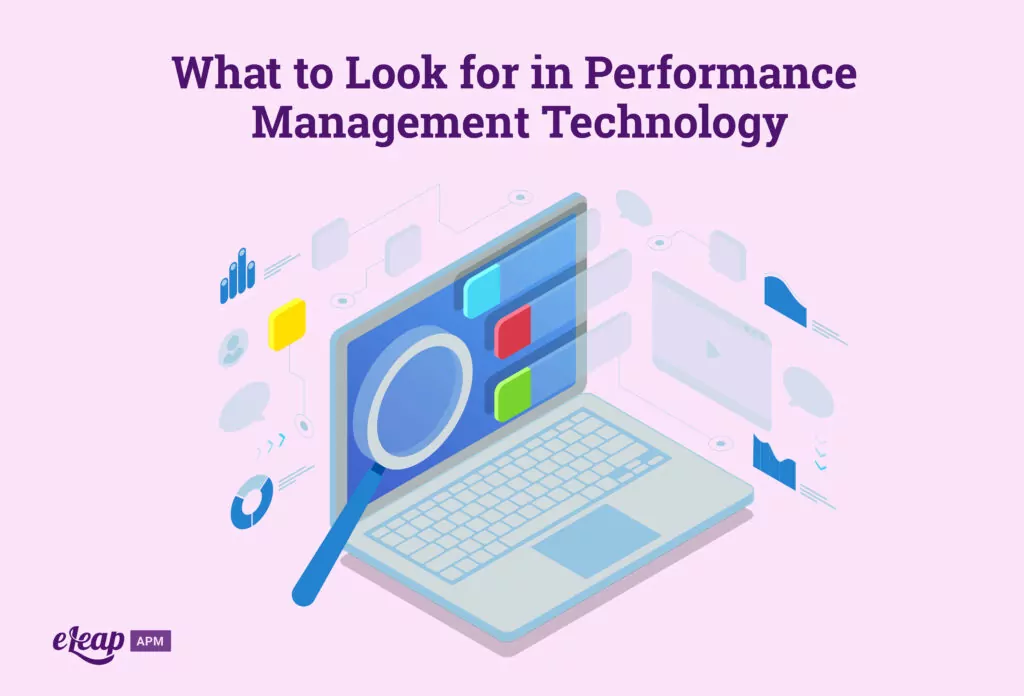 Mobile Friendly
Let's start with a feature that is not as widely available as it should be – mobile access. Many of the performance management tools out there today are not cloud-based, nor do they have an associated mobile app. That means all information must be entered through a workstation.
That might have been acceptable pre-pandemic, but in the post-COVID world, we all understand how crucial mobile access is. Without it, managers and HR professionals will find it incredibly challenging to add data, manage information, and improve employee performance. With the realization that mobile accessibility is so important, look for this to become more widely available moving forward.
Goal-Setting
Performance management often focuses on goal-setting. A goal tool helps to ensure that you're able to update performance-focused goals in the system and then track employee progress toward achieving those goals. The right tool will also provide the means to attach supplemental information along the goal path, including employee milestones, setbacks, challenges, and more. Note that these tools should also provide the ability to make sure that goals align with organizational objectives and the employee's current position and career path.
Performance Appraisal
Today, many companies have moved away from annual performance reviews and toward more frequent assessments. In fact, monthly and even weekly performance reviews are becoming more normal. However, this generates a great deal of information that must be tracked and managed. A performance appraisal module within your PMS system provides the means to do that and more. Here, you can store employee performance information over time, track changes, and dig deep to make informed decisions based on accurate data.
Talent Profiles
One of management's key responsibilities is retaining top talent and nurturing it over time. That's challenging to do without the right tools. A talent profile module within a performance management tool allows managers and HR professionals to flesh out talent profiles for employees, creating an accurate picture of their experience, education, training, career goals, and more. With a detailed view of an individual's skills and proficiencies, it becomes simpler to close skill gaps, create accurate job descriptions, and even create detailed succession plans.
Feedback Management and Tracking
Feedback plays several crucial roles in performance management. For instance, managers must provide feedback to employees on performance-related efforts, progress toward goals, and more. However, in the world of modern performance management, feedback also flows in the other direction. Any tool needs to provide feedback management and tracking capabilities that allow you to collect, organize, and evaluate feedback from both managers and employees. This provides the means to create a holistic view of the situation, as well as to accurately track changes related to that feedback.
Coaching Management
A coaching management module can be essential. These help streamline and even automate many processes, while also making it simpler to organize reports, assessments, communication, and other information related to performance management. Some modules can even offer support for career plan building and tracking the learning and development of employees.
Bonus and Commission Tracking
While not true across the board, many organizations base bonuses and commissions on performance, as well as progress toward stated goals (or exceeding goals by a certain amount). A pay for performance module makes it simpler to track these metrics accurately over time and ensure that pay is pegged directly to performance metrics.
Evaluation Form Options
Some firms might be fine using one or two generic evaluation forms. However, understand that this can undermine your performance management efforts in several ways. For instance, if the forms are too vague, managers might skip filling in critical information simply because of time constraints. However, there is also the chance that they will be detailed but too generic. That is, they could focus on areas with little relevance to your organization.
Look for a performance management tool that offers access to customizable evaluation forms that can you adjust to fit your needs. This will allow you to create accurate forms based on metrics and KPIs relevant to your organization. It also allows you to create a broad range of forms for different use needs.
Multi-Rater Functionality
Once upon a time, employees were reviewed by their managers and that was it. Today, that's not the case. Many multi-rating methods are in use, such as 360 reviews and peer reviews.
A multi-rater function allows you to add information about an employee's performance from multiple sources. This can provide a much broader yet nuanced image of employee performance, and can surface insights not available through a manager-only review. It can also expand the ability to provide review-focused information from multiple levels within the organization.
Making Your Decision
There is a lot to consider when it comes to performance management tools. It's important that the one you choose fits your business now, but provides scalability to account for future needs. It should be agile-friendly and able to accommodate rapidly-shifting business priorities and goals, and it should also integrate automation to help streamline mundane yet important tasks. Mobile accessibility, frequent assessments, and multi-rater functionality are all important, as well.
At eLeaP, we would love to discuss your performance management needs. Contact us today to learn more about how our cloud-based system can help.