What Is the Definition of Inclusion in a Workplace?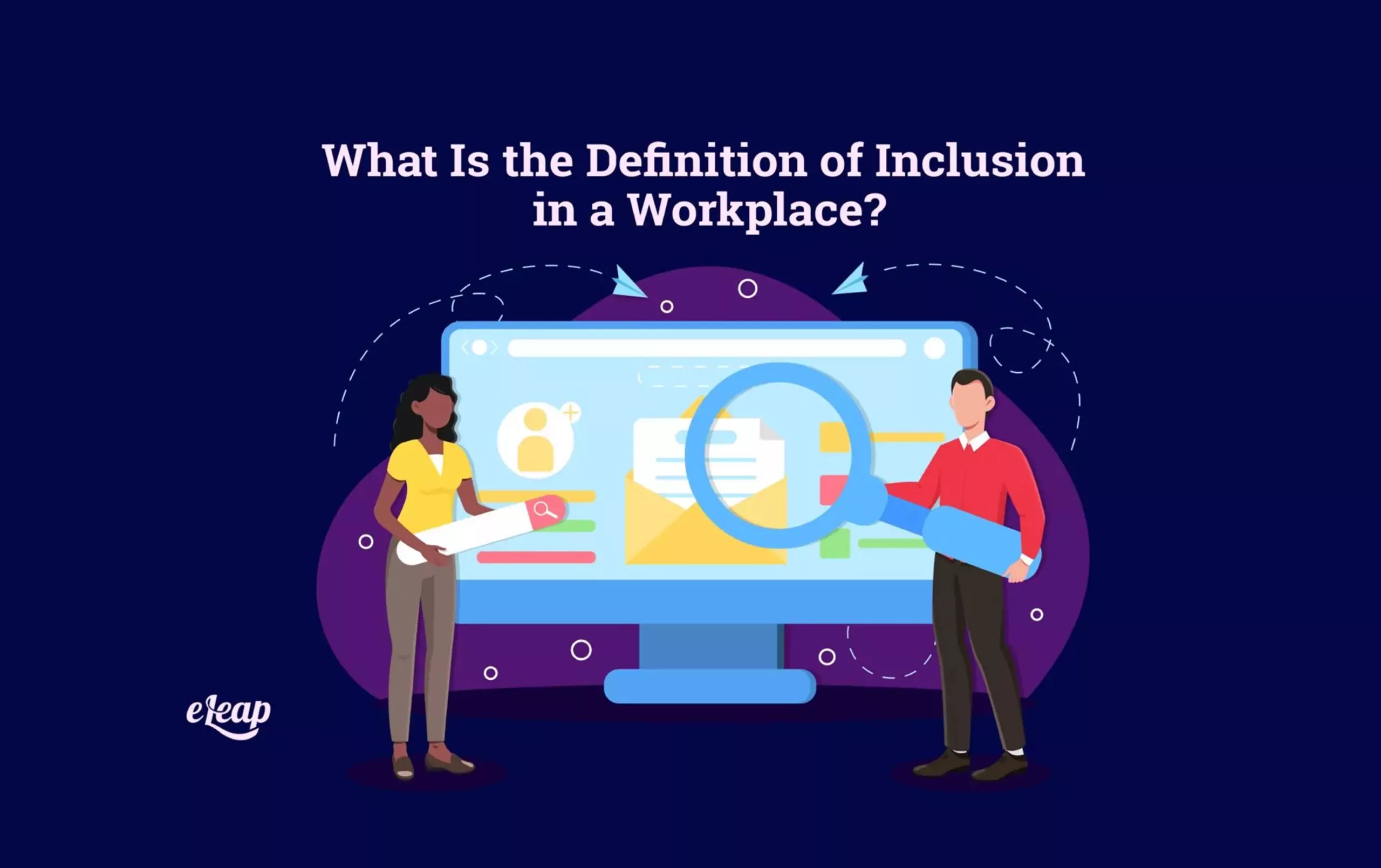 The definition of inclusion in a workplace has been discussed quite a bit recently, as well as how it differs from diversity. Inclusion is essential for the health and well-being of all your employees. Unfortunately, when inclusion is lumped in with diversity. Managers might think that once the diversity goals are met, their job is done. Consider the following scenario.
As a manager, you take pride in the efforts made by your business to hire people of a variety of ages, nationalities, religions, and worldviews. Finding and employing individuals with such a variety of backgrounds and traits is a success, and it's a target your team has been working toward for a while. Are you done now that you've reached it? Is a diverse workplace sufficient? Also, do you require more?
You might be shocked to hear that cultivating a culture where individuals are respected and valued calls for additional work that might not be receiving the necessary support. The cost of hiring talent for your company is significant. After they arrive, the work is not done. You must keep making efforts to make your surroundings inclusive, not merely different.
Definition of Inclusion and Diversity – How Are They Different?
Consider diversity similar to selecting ensemble members with various backgrounds and abilities. The inclusion component entails ensuring that the finished piece feels and looks as if each member played a part and participated in a way that was both valued and heard. In other words, diversity provides the players, while inclusion ensures everyone has the opportunity to get off the bench.
Creating a workplace with your definition of inclusion in mind is not always a simple task, but following a plan that is created with inclusion in mind can help your company attain its goals. With communication, understanding, and grace, your space can be a haven for all your employees.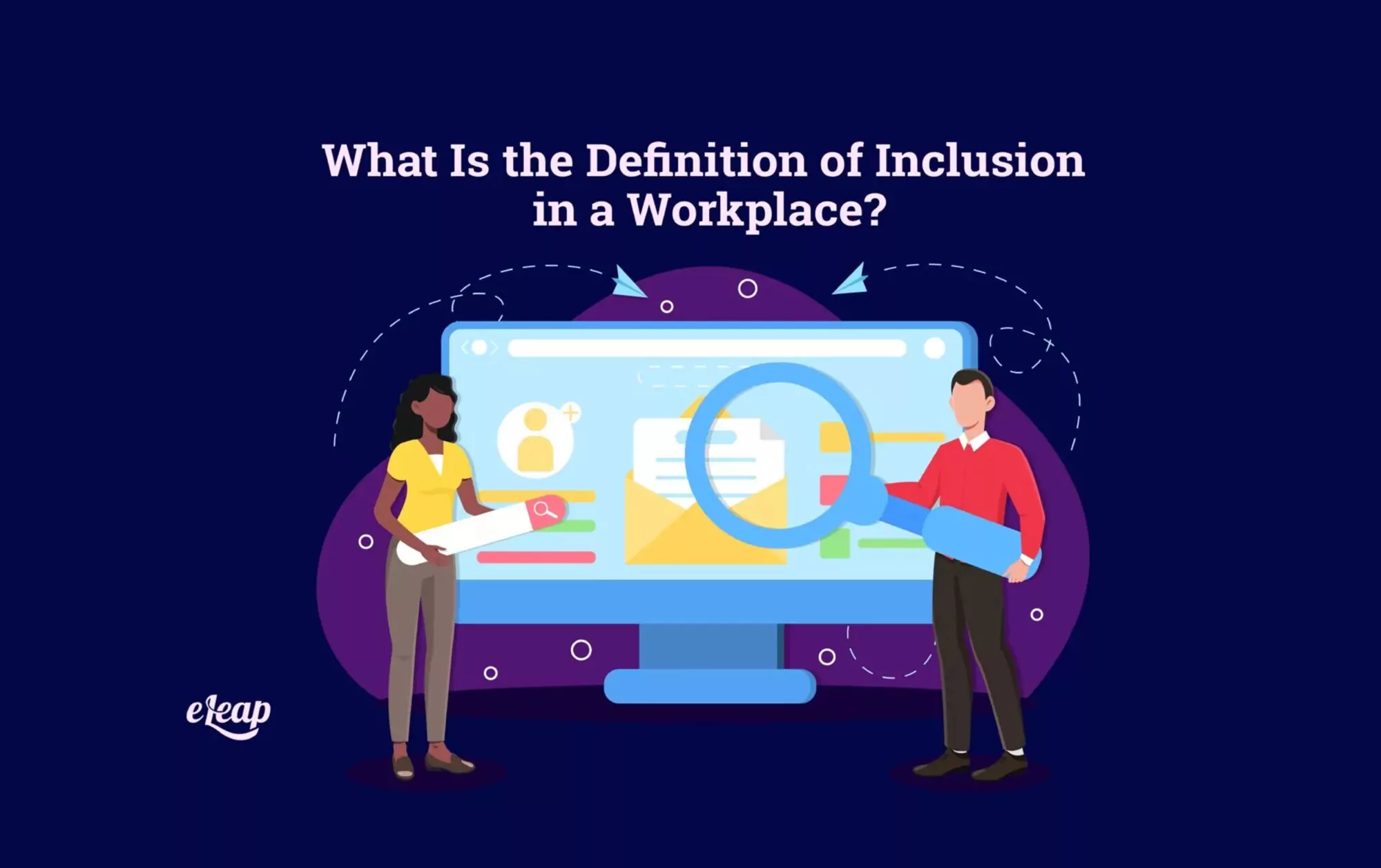 Inclusion Starts from the Top
Your organization's top leaders play an integral role in shaping your business for the future. Leadership needs to understand what is needed and why. It is essential that they not only buy into the company's values but understand them as well. You may consider offering inclusion training for all leaders so they can fully embrace the path your company is on. This will allow them the chance to ask questions and experience what it means to put inclusion at the forefront.
Inclusion training emphasizes the value of setting an inclusive example and aids in raising awareness of this type of bias. As well as providing a good definition of inclusion. Active listening during performance reviews, supporting other points of view in meetings. And using precise language are all instances of inclusive behavior.
The training can offer introductory basics as well as problem-solving for when employees have issues to work through. If you have leaders who struggle with the concept, take them aside and talk with them about the issues in an open and respectful manner.
Ongoing evaluation of training and practices is needed to ensure everyone is still on the same path. Don't take for granted that once the training is completed. It won't be needed again. Continuing education allows leaders to discuss scenarios they've encountered since the first training.
Leaders should also be expected to show a dedication to diversity and, more crucially. To take responsibility for the atmosphere in their individual teams. Holding people accountable also involves linking the objective to their performance reviews and providing ongoing feedback from their own managers.
Inclusion Requires a Team Effort
Consider assembling a dedicated group of leaders into a council. Carefully choose them based on their passion for and commitment to diversity. You need employees who are committed and willing to put in a lot of work to achieve the business's objectives and create a definition of inclusion for the company that works within its values. This means advocating for diversity when speaking with senior executives, when appropriate.
Employers should seek out, keep, and advance diverse employees. In order to address any concerns with employee involvement among underrepresented employee groups, councils should be involved. Make sure the council meets a few times a year to discuss issues and what policies should be put in place.
The councils ought to be as diverse as they can be, with members representing different business sectors, geographical areas, ethnic and gender diversity, as well as distinctions in gender and racial identity. This can be difficult if your present structure doesn't vary much. This scenario also highlights the need for diversity as well as inclusion.
Sometimes the conversations that take place in these groups even provide a warning when issues begin to arise within the business.
Spend Some Time Honoring Your Staff and Diversity
Inviting employees to share their histories and customs at work is one of the most crucial ways to demonstrate your appreciation for them. You may provide your team opportunity in many different ways. Here are a few instances:
Provide a place where staff members can unwind, meditate, or pray during the day.
Sponsor a business potluck where participants may bring food representative of their heritage.
Host employee appreciation days that highlight the backgrounds and histories of your staff members as another option.
It is common knowledge that diverse teams make better decisions, are more innovative, and are ultimately more productive. But inclusiveness is what binds people to the company, and we think it's a big part of why they stick around.
When Considering Your Definition of Inclusion, Listen to Your Employees
It is recommended that businesses think about conducting employee surveys and arranging focus groups in order to study issues of engagement and what their definition of inclusion is in order to acquire a more in-depth comprehension of the experiences of their workers. Suppose you want to design particular techniques to encourage inclusivity. In that case, you might discover that you need to perform an in-depth examination of the demographics of your firm as well as the processes it uses. This could be the case if you want to design specific methods to encourage inclusiveness.
Think about the kind of company culture you want your business to have and how you can create one that is consistent with your brand while meeting the needs of your employees. In order to bring yourself into alignment with the goal of inclusion, you are going to have to make some choices regarding your strategic approach.
Add Inclusion in a Workplace to Your Meetings
The interactions that an employee has on a daily basis with their fellow workers are the single most important indicator of the inclusivity of a company.
The best illustration of this would be meetings. Consider sending out the materials for the meeting in advance, as well as the questions that will be covered. This is beneficial for individuals for whom English is a second language, as well as for employees who are more introverted and perform better when they are given time to assimilate information before reacting to it.
Make sure to check in with remote workers, hybrid workers, and anybody else who might need the items. You are going to require the appropriate technologies if you are going to be working with a hybrid or remote model. Since the pandemic, you have probably put in some effort to ensure that your system is up to date; nonetheless, it is possible that ongoing updating will be required.
Be sure to give credit to those who deserve it during the meeting. In the event that someone is honored for an idea that was initially presented by someone else earlier in the meeting, it is important to point out who initially contributed the concept.
Take into consideration the manner in which you communicate. Avoid making the mistake of assuming that you know more than other people by attempting to explain topics that they may already grasp.
Encourage engaged discussion while maintaining a respectful tone. If one of your coworkers interrupts another, you should draw attention to it to emphasize how important it is to give everyone a chance to be heard.
The development of a mindset that is inclusive is not a step-by-step procedure. It will require patience as well as continuous work. You need to be ready for setbacks and times when you might just stall out. The process of cultivating inclusiveness is one that is always changing, and its goals are in a state of perpetual flux. You are never truly finished with something.
Once You Know Your Definition of Inclusion – Create a Plan
Establish and clearly communicate specific, measurable, and time-bound goals as you would with any other strategic aim. Every company should first benchmark its culture before they begin investing in it.
You should conduct a full audit of your people processes—from recruiting and hiring to developing and retaining employees. Couple the data with engagement and other workforce survey data to gain a full measure of your climate.
As you continue to develop your plan, consider the following:
Find any problems and differences that can be measured.
Plan inclusion strategies based on data, and then measure how well they work.
Set a clear business plan for how a more inclusive culture will help the company.
You will also want to ask the following:
What are our goals for everyone?
Why do you want to reach those goals?
How do we measure inclusion?
Summary
Your definition of inclusion and increasing its visibility in your company is key to moving forward. Promoting a better workplace for your whole team. Invest in your employees by creating an inclusion council. Allowing space for your team to thrive within their own heritage and value systems. Lastly, create a plan to incorporate inclusion that can grow with your team as you work on your goals.