Virtual Happy Hour Is Dead: New Team-Building Options for the Remote Work Age
The pandemic and ensuing shift toward remote work made 2020 a difficult year. However, most teams have learned to cope with their new normal, and many people no longer face the same challenges when it comes to working remotely. That does not mean there are no issues, though.
Team-building remains a critical challenge for pandemic-stricken businesses, and it is no less important in the second year than it was back in 2020. As everyone waits impatiently for nationwide access to COVID-19 vaccinations, though, they are also growing bored with the team-building efforts we've all come to know (and secretly loathe).
So, if virtual happy hour no longer brings your people together, what options are left? Actually, you'll find many different team-building activities that can help bring your remote people together and help them feel connected, while simultaneously building trust and helping team members bond with one another.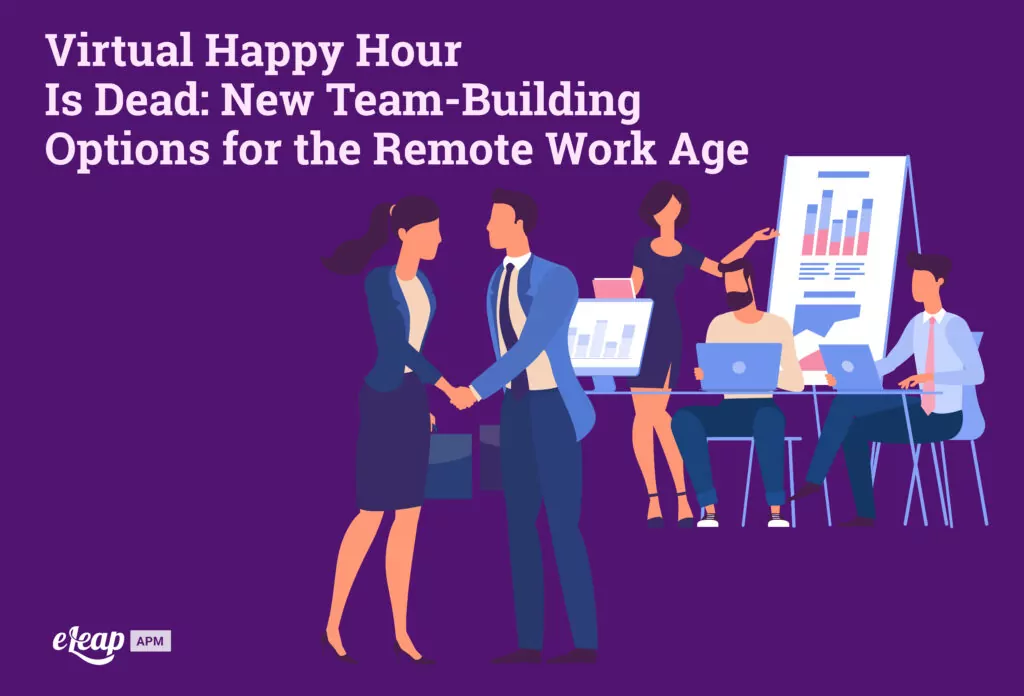 Trivia
Whether you combine it with happy hour and snacks or not, there is a lot to be gained from a round or two of trivia between coworkers. They can generate friendly competition, but also help build connections between team members who are forced to rely on one another to compete against other teams. Another benefit here is that trivia can help people build thinking skills, while also taking pride in their knowledge.
What about the mode of operation? You can feel free to get creative here. Go simple with a deck of questions and answers from Trivial Pursuit and an hour or so of time, or opt for something more elaborate by having a host create trivia questions (themed or not) and dedicating a couple of hours to gameplay.
Make sure to pay attention to team formation. Ideally, you can rotate team members so that everyone has a chance to play with everyone else. That way, the whole team feels connected.
Shared Cooking
Nothing brings people together quite like food. However, since we cannot get together to break bread in large groups, it's time to take the culinary experience virtual. While you can certainly all sit down to a meal ordered from the same restaurant (unless you're pretty geographically dispersed), another option is to have everyone cook the meal (or a version thereof).
Wondering how to pull this activity off successfully? Again, it's flexible and you can customize it to any degree necessary. A simple option would be as follows:
Decide ahead of time what the team will cook. Double-check things like food allergies or lifestyle choices, such as vegetarian/vegan, and find options to suit everyone.
Make sure everyone can purchase the ingredients and give them time to do so (it's often best to plan a week ahead so that everyone has time to get their groceries).
Have everyone set up their webcam in the kitchen so that the whole team can cook together. Note that webcams are only one option – you can also use things like Facebook's Portal, or the Echo Show. This does mean that you'll all need to agree on the connectivity platform, though.
Have everyone prepare their own version of the dish live.
Once it's cooked, everyone can sit and eat (with a glass of their preferred tipple if they want).
Wine or Beer Tasting
With your team stuck at home, it makes conducting in-person wine and beer tastings pretty challenging. However, there are ways to get around this. Many wineries and breweries sell their products online, making it simple to order and have them delivered to your team's homes. However, note that regulations on this vary by state, so double-check what applies to your situation.
Not really into wine or beer? Don't worry – you can do the same sort of thing with other beverages. Go with gourmet coffee or unique tea blends, for instance. They will provide a very similar experience, and allow your team members to kick back, relax, and explore what their beverage of choice brings in terms of flavor, aroma, mouthfeel, and more. Combine the visceral experience of taste testing with learning about the ingredients, the vinting/brewing method, and other pertinent information.
As a note, you can combine this with culinary exploration, too. It will take more time, but it can be a great way to spend a couple of hours.
Go with Watercooler Sessions
Socialization is one of the things employees miss most with remote work. However, it's not necessarily the big events – nights out, for instance. Often, it's the small moments – the quick comment on someone's outfit, the brief discussion about last night's ball game, and the like.
You can recreate those pretty easily in the virtual world. Just set aside some time for watercooler sessions. It doesn't have to take a big chunk out of the day, either. Shoot for 10 or 15 minutes at the most and just give your team members time to hang out, bond, and talk with one another.
Note that watercooler sessions should be completely unstructured. That means no themes and no agenda.
Let Team Members Teach One Another
Skills development doesn't have to involve your LMS, and it should be part and parcel of team building. One option is to identify something that each person is good at, and then have them teach others how to do it. For instance, someone from accounting probably knows more Excel or Google Sheet shortcuts than others – let them spread the knowledge. Someone from your digital marketing team might have critical insights into consumer behavior that they can share with your sales team.
The point is that each employee has unique strengths. Find ways to let them share those strengths with others. Not only will it bring people closer together and build a better realization of what each team member can bring to the table, but it can help your people learn new ways of doing things, which is never a bad thing.
Keep On Keeping On
There's really no shortage of team-building activities that can be made to fit the new remote work normal. Keep an open mind, stay flexible, and keep building your people up.