Creating a Robust Self-Evaluation and Using Areas of Improvement at Work Examples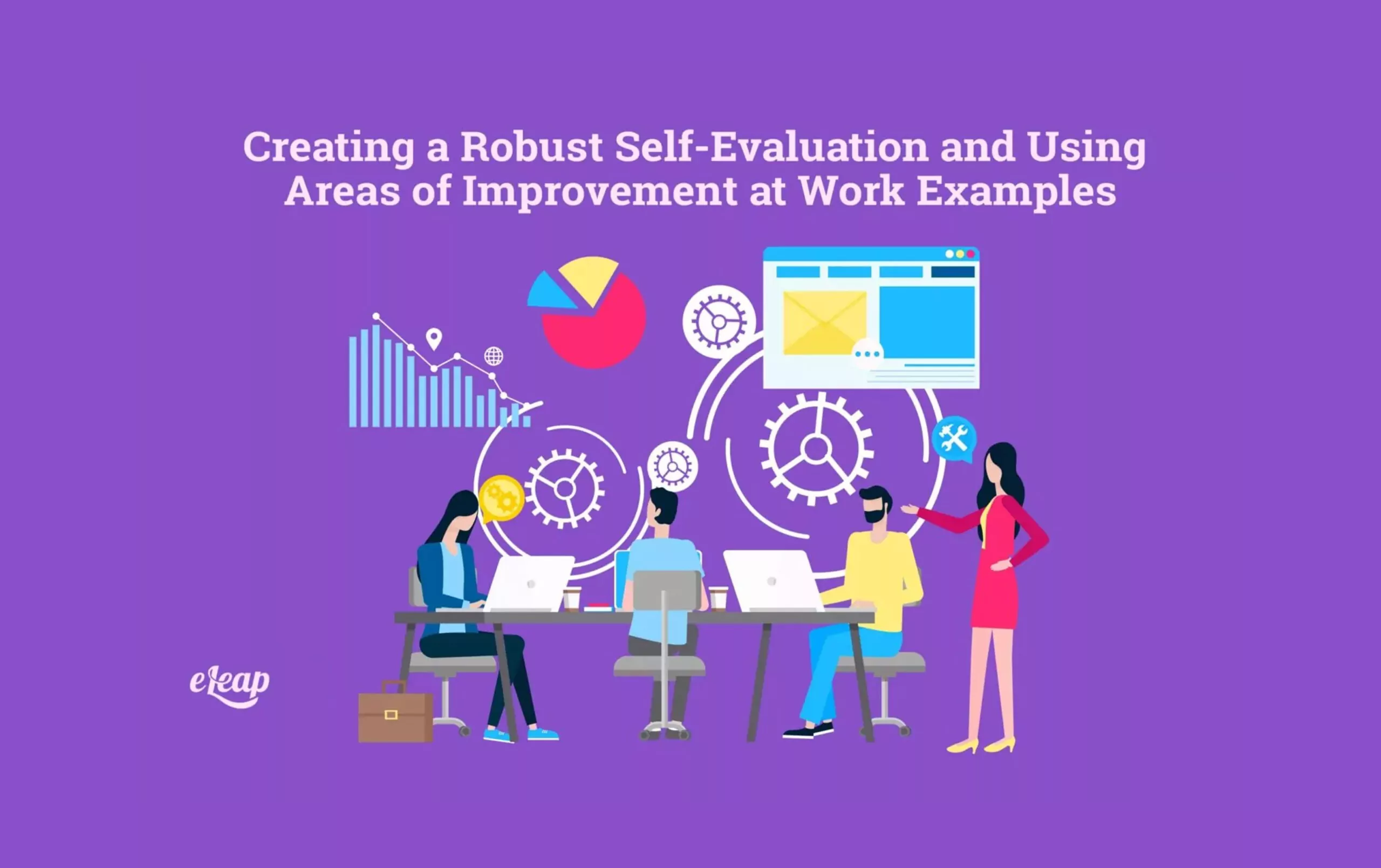 Self-evaluations are more popular than ever today and using areas of improvement at work examples can help you create a more effective evaluation. It's all part of modern performance management. Self-evaluations offer an opportunity to influence a manager's decision, build your skills, and more.
The challenge, of course, is creating an effective, robust self-evaluation that puts you in a good light, but is also based on reality. Using areas of improvement at work examples, we'll walk you through how to do that.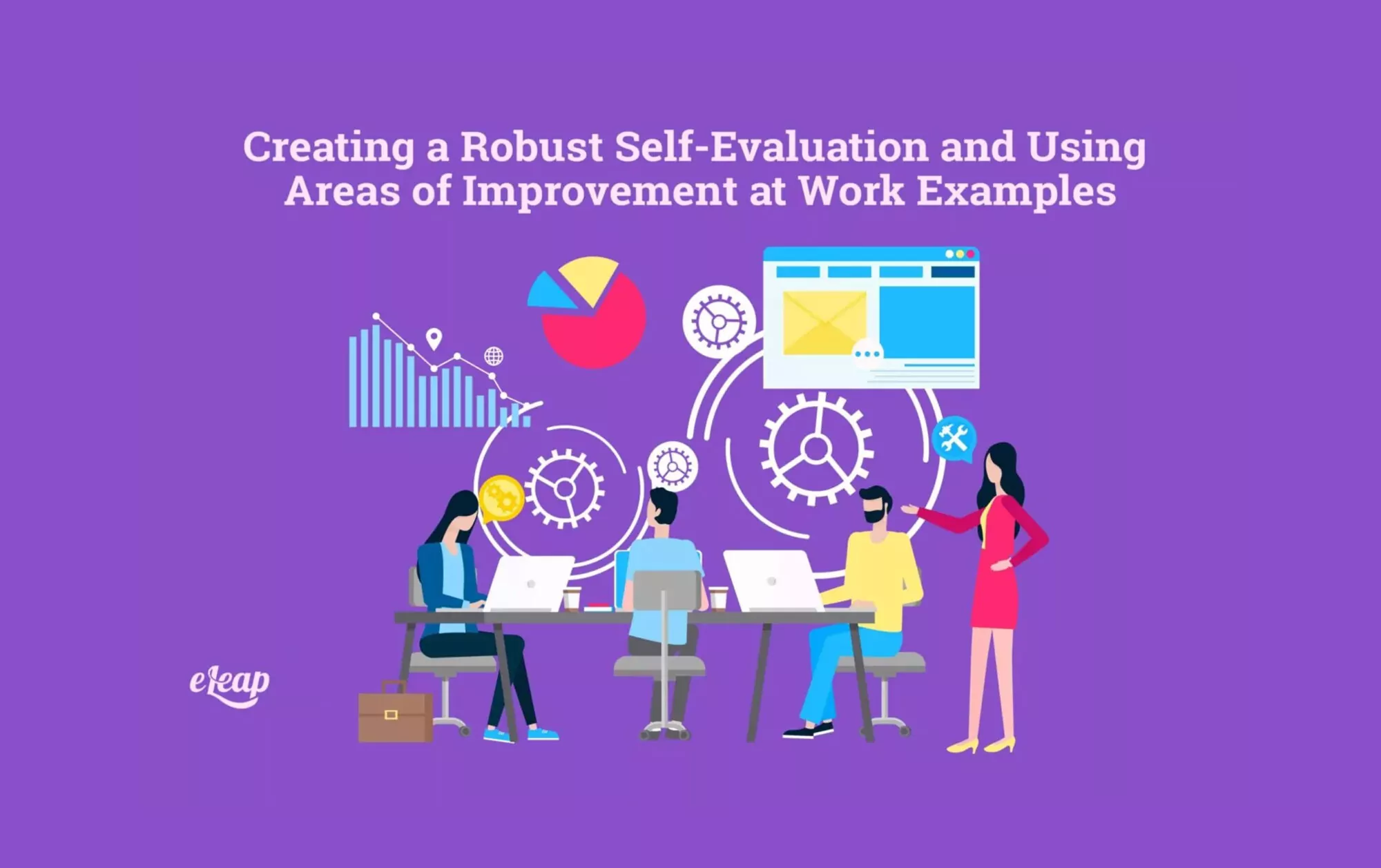 Why Self-Evaluations Are Important
Before we discuss using improvement at work examples to create the most effective self-evaluation possible, we need to explore why these evaluations matter in the first place. It's all about getting around the shortcomings of annual performance reviews.
Performance Reviews
Once upon a time, annual performance reviews were the primary way that employees received feedback from managers about their performance on the job. They were uncomfortable at the best of times and were mostly punitive – "shape up or we're not going to give you a raise" best sums up that way of thinking.
Other problems with traditional annual performance reviews include the following:
Too infrequent to do any good – Providing feedback to an employee once per year is not going to get them to change their behaviors because they're usually so far removed from incidents that the entire process is pointless.
They're seen with dread – Annual performance reviews are seen with dread by almost all employees. They're not seen as opportunities for advancement, but for the employer to tell them everything they've been doing wrong.
They're one-sided – Annual performance reviews are almost always exclusively from the employer's point of view. Sometimes employees are allowed to provide some feedback, but it's usually very limited and tagged on at the end of the review as an afterthought. Employees are usually not given any time to prepare feedback either, so when they have the opportunity to say something meaningful, they cannot.
Today, things are beginning to change. Annual performance reviews are no longer seen as the only performance management tool. Many companies have done away with them entirely, while others are limiting their use and implementing other tools that have more benefits for employees, including self-evaluations.
What Are Self-Evaluations All About?
Self-evaluations are precisely what they sound like – performance evaluations conducted by the employee in question. They can be performed as standalone reviews, or they can be part of a larger performance review. They can also be conducted annually, or they can take place multiple times per year.
You'll also find that self-evaluations vary a lot from organization to organization. In some cases, they're more like scorecards. In others, they're essays. In yet others, they might follow a fill-in-the-blank format. They can be formal or informal, long or short, but they all provide you with an important ability – the chance to show your value to the organization.
What Benefits Do Self-Evaluations Offer?
Self-evaluations can offer many different benefits that go beyond the chance to highlight what you've accomplished to your immediate manager. Those include:
Lay the Groundwork – One of the benefits here is that you're able to lay the groundwork for what will be discussed during the full performance review. It's important that you include both accomplishments and challenges in your self-evaluation, and that you use areas of improvement at work examples to flesh out your evaluation fully. Writing your self-evaluation will also allow you to refresh yourself on what's occurred (both good and bad) during the last six to 12 months so that you're ready for whatever your manager might bring to the table.
Create a Reminder – Self-evaluations offer the chance to remind your manager that you're a valuable asset to the team, department, and the overall company. It does that through concrete examples of how you've gone above and beyond, as well as real successes that you've experienced. In addition, you can showcase personal and professional growth by discussing areas of improvement at work. Examples might include interpersonal communication, dealing with stressful situations, following up, and more.
Highlight a Path Forward – A self-evaluation, particularly when completed using areas of improvement at work examples, allows you to create a roadmap for the future. This map shows areas for growth and demonstrates your commitment to improving your performance to exceed company expectations. In addition, you'll have the opportunity to advocate for the resources that you'll need to make those improvements, whether you need new tools, software, time, or something else entirely.
Creating an Effective Self-Evaluation, Including Using Areas of Improvement at Work Examples
Creating an effective self-evaluation isn't rocket science, but it will require intentional, specific steps. We'll walk you through them below.
Use Examples and Be Specific
Whether you're making the case for your value as a team member or highlighting how you plan to improve, it's important to be specific. For instance, if you're discussing areas of improvement at work, examples should be used that speak to the issue in question, how you plan to address it, the results you expect your efforts to have, the time it might take, and more. The same idea applies to things like how you've achieved your OKRs.
Your enemy here is vagueness. Claiming that your people skills are responsible for you being able to exceed expectations in terms of teamwork and customer service might be true to a degree, but it's too vague to move the needle with your manager. Be specific – your ability to defuse stressful situations, your empathy with distressed or irritated customers, or your ability to put yourself into another's shoes should be discussed instead.
Perhaps the best advice is this: realize that a combination of different factors leads to your successes (and your challenges). Brainstorm and create a list of skills, talents, and expertise that speak to those situations.
Use Metrics
Managers love to be able to measure things. By using metrics, you give them that, but you also forge a strong connection between the results of your actions and your performance. Think of metrics as the evidence of your claims of achievement.
You can also use metrics to speak to goals set for you during onboarding, one-on-one meetings, and previous performance reviews. These allow you to show exactly how much you've been able to grow or improve.
Overcome Weaknesses by Using Areas of Improvement at Work Examples
Everyone has weaknesses. Self-evaluations will require that you address yours. However, you don't have to frame them as weaknesses. Instead, you can frame them as opportunities, particularly if you use areas of improvement at work examples that feature positive language or that are solution oriented.
For instance, if dealing with heightened emotions in the workplace is your weakness, don't say something like, "Yes, I struggle here." While that honesty is commendable, it's not action-oriented enough. Instead, reframe it. Say, "I'd like to focus on the area of dealing with these tough emotions while on the job," or something along those lines. It's all about turning that problem area into an opportunity for growth and development.
Track Your Successes
We all suffer from recency bias. We tend to focus on things that we've achieved recently. In some instances, we completely forget the victories that we've won. We also often focus on what we did wrong, rather than on what we did right.
To help make your self-evaluation as compelling and robust as possible, keep a running list of your accomplishments. Go beyond listing what you did, though. For every entry on your list, ask yourself – what was the impact of this victory? Who else was affected? How did this change processes or outcomes for others? You should also note any details that you can because those will be more than a little fuzzy if you're writing your self-evaluation six months later.
Areas of Improvement at Work Examples
Now that we've discussed self-evaluations in greater depth, we should focus for a moment on how to reframe some common shortcomings as opportunities for improvement.
Communication/Cooperation
If communication and cooperation are your weak point(s), explain that stress and excitement can make it hard to communicate your ideas or concerns. Because you're a visual communicator, you plan to change the situation by taking notes before sharing information.
Achievements
Not meeting your team's OKRs? Consider reframing the situation by saying that you would like to set up meetings with your direct reports to make sure that they have the training necessary and to build your confidence in delegating tasks.
Collaboration
Have a hard time sharing responsibilities? Reframe that by saying that you'd like to work more closely within the new hire onboarding process to make sure that all new hires have the skills necessary to shoulder those responsibilities.
In Conclusion
Ultimately, self-evaluation is a powerful tool that can unlock new career paths and make you a more valuable employee. However, it must be used correctly to showcase your strengths and turn weaknesses into opportunities for growth and development. Use the information above to create a robust self-evaluation, reframe weaknesses as opportunities, and communicate your true value to management.
The eLeaP continuous performance management system provides organizations with powerful options to attract and retain high caliber team members.